---
Submissive slave girl Tillie tied on the bed as a sexy cheerleader – hogtied and gagged for her master's pleasure.
---
---
Her mysterious captor has finally relented enough to remove Bad Dolly from the dungeon where she has suffered so much torture and abuse. Blindfolded, she was bundled into a van and awoke in a strange hotel room. Silence. Ballgagged, again. Her arms locked into a restrictive arm-binder. Ankles and knees tied, and a rope to the end of the arm-binder to turn it into a hogtie. Surely her assailant assumes she is safe to be left for a few hours? But they have reckoned without Bad Dolly's resolve! If she can get free, she will wreak her REVENGE! This is NOT over!
Read More »
---
---
Here's a little glimpse behind the scenes of shooting Tillie's cheerleader bondage video.
Read More »
---
---
So guys, as you know I needed money fast to pay my debts so I have sold myself into slavery for just ONE WEEK. My new owner wanted to see me naked and in a hogtie, and of course I am going to be as thorough and as perfectionist with how I am tied up as I am with tying my slaves. I am a domme, and I should not be hogtied to the bed. But if I am going to be, the ropes are going to be super-tight. I am going to be tied to a framework on the bed, making it impossible for me to move. Make the most of it. This is the ONLY time you are going to see Mistress Hannah hogtied. And I think the bit gag is quite effective, but maybe it isn't the perfect gag for me….
Read More »
---
---
Trashy romantic novelist Janey loves her main character, Mary Sue. Poor Mary Sue gets to do all the things Janey doesn't… but more to the point gets to have all the things done to her that Janey would really love. Like being tied up by pirates. Or being tied up the Mafia. Or tied up FOUR times as a pioneer. Andnow the character has had enough. Either Janey just loves causing women pain… in which case she wants Janey to know how it feels so she maybe places less reliance on that particular plot device in future. Or she has some secret desire to be tied up herself. In which case she should get it out of her system and maybe at least be able to write about it with a bit more variety.
Her action heroine finally takes her revenge and leaves gorgeous Janey tied up tight in a hogtie on her own bed to learn her lesson! Now the novellist gets to experience for real what she was always writing about in her stories. How does it feel to have rope cutting into her wrists, constraining her movement, forcing her to arch her back… and how is Janey going to take her revenge on Mary Sue in the next book? She's going to make sure she gets tied up a lot! And emphasise how much she enjoys it. That'll teach her! Characters should stay in books, safely where they were written.
Read More »
---
---
Anita's present is to be wrapped up like a festive parcel herself! Ball-gagged and bound, barefoot and beautiful, enjoy the holidays with a taste of deBauch-ery.
Read More »
---
---
London River has got Bonnie Day in a tight squeeze and Bonnie knows it. She's terrified. Laid down on top of a table on her back, each one of her limbs tied down to a different one of its legs, she starts to writhe and whine before anything even really happens to her. As London slices her dress off, she knows whatever is coming is bad news.
London wants to squeeze Bonnie a little tighter, inch by inch. After flogging her for a minute to get her used to the kind of pain she'll be experiencing, London takes out some clothespins. One after another she clips them to Bonnie's hairy pussy until there is almost no skin able to be seen that isn't being pinched by them. Then London presses a hitachi to Bonnie's clit and sees which sensation will win out.
London liked the kind of response she got from the clothespins, so she wants to keep moving in that direction. She clamps binder clips onto Bonnie's feet, her arms, and her thighs. Each time London gives them a new spot on the body, she follows them up with some kind of torment right where they hurt Bonnie, and right where Bonnie can be hurt most. Maybe our model should learn to be less sensitive.
Read More »
---
---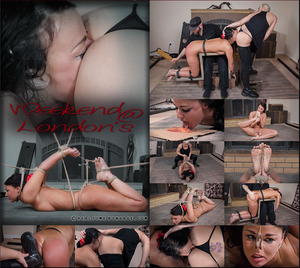 It's time to go back to London's place and rejoin her for the second portion of her all out weekend of having her ass beaten, banged, and bruised. She is still riled up from the first session and raring to keep going. When we arrive, she is face down on the floor, bare ass naked, having her limbs pulled together and tied up in a hogtie. Face down in some food, London is absolutely humiliated and disgusting.
After finishing her meal of only condiments, London is given the chance to set herself free. She unties herself, rolling around on the floor until she is done, and then stands up. This moment of freedom is all too brief, as Matt Williams almost immediately pulls a rope between her legs to form a crotch rope and London is promptly forced back down to the ground and into a more elaborate tie than she was in last time. Her arm are held tight in a strappado and she is bound at various points to the walls and ceiling.
They then move London again. Bent over a small table, held down with belts at her back and her calves, she is unable to move. Her friends have a good time taking turns beating her ass in whatever way they see fit. They spank her and punch her ass so that it jiggles. They turn her ass bright red. She squirms as best she can, but there is only so far she can move. Instead she reminds herself that she wanted this. She asked for this.
Read More »
---
---
Dee Williams has been in the game longer than just about any of our models. She is one of the top bondage models on the scene today, and we are so proud to have her as one of ours. Today she is going to start off with our handler Matt Williams and see what kind of plans he has in store for her today.
The dress Dee is wearing is tight and she isn't wearing a bra, which is incredible for us because Dee has some of the finest tits in the industry. Matt can only hold himself back for so long before he cuts the dress right off of her and takes the next logical step of tying them off in a rope harness. This way, as her heart starts pounding, her tits get more pink and perky as time goes on. Having her arms tied back, her nipples squeezed by clamps, her back bent in a hogtie, and her pussy vibrated by a hitachi, her heart rate gets going pretty quickly.
Thinking that perhaps he should be generous, and share Dee rather than keep her and her incredible tits all to himself, Matt decides it's best to hand her off to O.T. so that he might have some fun of his own. When O.T.'s got her, apparently all he wants to do is spread her wide open. He attaches clamps to her cheeks to hold her mouth open, letting drool spill out over her bottom lip. He uses rope to tie up and spread her legs so her pussy is exposed. He ties her nipple clamps to her toes so even her tits are held parallel. And then he goes at her with the celebrator.
Read More »
---
---
Spotlighted Submissive Gets Sublime Surprise
Just about every model who comes through our dungeon has inhibitions about one thing or another. At some point during their time with us, almost every single one has a moment where they are clearly only scared or only in pain, almost like they don't want to be doing what they're doing anymore. Blossom, however, never for one second has that moment. She loves every single bit of the work she does and you can read it plainly on her face.
At first, London River has her tied up, face down on the floor, her wrists lashed tightly to her ankles in a hogtie. Slowly, London undresses her, first removing the high heels, then pulling her skirt up so she has access to her ass. London starts caning her feet and moves up her calves all the way to her thighs. The sound of the whacks as the cane makes contact with skin is remarkable, showing just how hard London is hitting, but equally remarkable is the sound of Blossom's laughter as she is beaten. She looks like she is having the time of her life.
London has a field day with her, since it isn't so often that she gets a model who is so ready and raring to try out anything she wants to do to them. She pulls a bag over Blossom's head to make it hard for her to breathe and wraps her mouth in an electrical tape gag. She splays Blossom out spread eagle on the floor, her wrists tied to the ground as far out as they can be stretched. She attaches binder clips all over her body, going as far as to clip one on her tongue. Blossom flinches now and again, but mostly she just eats it up. She lives to take a beating, and right now she is living life to the fullest.
Read More »
---
---
Choking Hazard
Sasha is so excited she can't hardly speak, or perhaps that has something to do with the cloth gag taped into her gaping mouth. In fact, with her wrists tied down to her waist and her knees and ankles roped tightly together, the best she can possibly to to communicate is wriggle a little bit. Not to worry though, O.T. doesn't need her to tell him what to do, he's got plans of his own and he's sure that Sasha is going to love them, or at least feel strongly in some direction.
He takes her hair and wraps it up in string, pulling it tight behind her into a loop. He then strings a rope through that loop and and wraps the other end of that rope around her black high heeled shoes so that her head is pulled back into a kind of hog tie. Then he pulls her elbows together behind her back. She seems to still be able to make some noises, though, so O.T. tries a few ways to stop her. He pinches her nose for a little while, then gets bored and tries choking her. In the end he decides he'd rather play with other parts of her than keep up with that.
O.T. stands Sasha up and ties her wrists to the ceiling. He then takes out his handy dandy knife and slices the shirt away from her perky tits so that they are exposed and she is left even more vulnerable to him, not that she thought that was possible. He whips her breasts until there are red lines up and down her chest, and then he gets ready for her next torment.
Read More »
---
---
---
---
---
---
---