---
This clip starts where Part 1 ended… A big pink shop rag is stuffed in her mouth and then sealed in with clear tape. I rope her ankle and then I tie it off to the top of the pole where I tied off her wrists. Soon after I snug up her crotchrope by tying a rope to it and tying it off at the top of the pole as well. Since she has a stripper pole in her house, I order her to dance for me. She moans, and whimpers through her gag as she tries to sway back and forth. I eventually untie her leg, and then some heavy clamps are added to her nipples. I get out more rope and I tightly tie her legs with many bands of rope as Jennah whimpers through her gag. I also redo her crotchrope, but this time I start with many turns of rope around her waist making sure to cinch it. Then a new tighter crotchrope is added. After her legs are satisfactorily bound, I take a break and just enjoy the view. After a while, I return. I remove the nipple clamps and then pinch her sore nipples. She screams and tries to jerk away, but she obviously isn't going far. I sit her down in a chair as I continue to manhandle her. I untie her wrists and order her to put them behind her. She obeys. They are retied behind her back before I tie her tits up with very thin rope. Droplets of milk form on her nipples as her breasts are bound at their base and squeezed. This is where Part 2 ends.
Read More »
---
---
Drusillas elbows are bound very tightly together, her nipples are clamped again. She is placed on the table and hogtied.
Read More »
---
---
Drusilla is once again manhandled and groped in between her legs being thoroughly bound. I also manage to bind her tits with some thin twine. I let her sit for a while, but she gets a panty gag sealed in with a full roll of vetwrap and some black electrical tape. This is where Part 2 ends.
Read More »
---
---
This clip starts where Part 1 ended. The girl stands, with drool running down her chin and onto her tits, waiting with her wrists tied around the post for what's coming next. It's not long and she knows that it is tight tit bondage. Once bound I spend some time slapping them as The girl yelps through her ballgag. Next a tight crotchrope is added and then attached to a block and tackle and pulled up and forward. I remove her ballgag and stuff an old rag in her mouth before many wraps of black tape are applied over the lower half of her face. Next, her nipples are clamped before her elbows are bound and cinched around the post. Her crotchrope is not tight enough for my liking so I tighten it until her hips are thrust forward and she is standing on her tippy toes. I leave her like this and in agony for quite some time. Before I leave her for the evening, I manhandle her and slap her inner thighs… I have a few more clamps and I don't like to be wasteful, so I apply them to her bound bulging tits. Soon after the lights go out. I think she'll be happy to strip when told to do so next time. I also added a little behind the scenes footage at the end.
Read More »
---
---
This clip starts where Part 2 ended. I sit Ginger back down in the chair. The first thing I do is go get a new gag. I order her to open her mouth as I squish the huge sponge and shove it in her mouth. I seal it in with clear tape. I remove her neckrope and then I crush her elbows together and tie them. I continue adding ropes to her upper body. Her arms are chicken winged and then rope is wrapped around her arms and body and cinched tight! I put her on the dirty concrete floor and make her struggle for our enjoyment. After a while I add a little more rope before I arch her into a very strict hogtie. I tell her that it is perfect, but then I change my mind. I soon tie her head back by the rope in her hair. Now it is perfect. She looks very happy in this tight hogtie. I add some nasty clamps to her nipples and she seems to like it even more! After a while of her being on her stomach, I ask her to see if she can roll on her side. It takes her a little bit, but she manages to do it. I am pretty impressed. Now that she is on her side, her tits took slappable, so that's what I do. She moans through her gag as I slap her bound tits. I add another length of rope which runs through her legs. I then re-attach the nipple clamps. I leave her for the remainder of the clip until the very end. I ask her if she's ready to be untied and a few other questions so I can hear a little gag talk before I release her. I start to untie her as the clip ends.
Read More »
---
---
Not many people on the planet can edure the Sexaully Live live show. It's intense helpless bondage, and some the roughest sex in mainstream porn and it's 45 minutes of straight no cut, no breaks, rough sex! We only do 12 a year, and we carefully pick our girls for it. Dee Williams is one of the best all around models in the industry, able to take the most hardcore bondage and fucking.
Dress to kill in her stocking and black high heels, Dee is ready as she can be. Soon the boys of Sexaully Broken are going to bring the cock, and those boys know how to fuck a helpless girl. From brutal face fucking and deepthroating to hard fucking that causes Dee to squirt out several mind blowing, screaming orgasms, this update has it all.
Read More »
---
---
Anna De Ville is a pretty petite anal whore who came to The Training of O to have her ass stretched to its limits. We start with Anna tied in rope bondage with her ass in the air and a ball gag in her mouth. Tommy Pistol spanks and stretches Anna's ass with his hands getting it ready for a big acrylic toy. Tommy then fucks her ass with the toy, violently stirring it around and pops it in and out of her ass with ease making Anna's asshole gape so big you can see all the way into her pink butt tunnel. A short distance away, Tommy has placed two glass butt plugs on the ground. He explains that the only way she'll get any cock is to waddle over and shove both glass butt plugs up her ass and waddle back. As she does so with ease, Tommy rewards her with a proper face-fucking and crams his cock and balls all inside her whore mouth. Tommy then makes Anna give back his toys. As suspense builds, Anna eventually pushes both glass toys out and reveals to us her pretty rosebud. With her ass still in the air, face shoved on the floor with her legs and wrists tied with rope, Tommy double dips and pounds Anna's ass and pussy in pile driver back and forth. Tommy then has Anna fist her own ass while he flogs her. In the next scene, Anna De Ville shoves Tommy Pistols cock in her ass in reverse cowgirl with clamps on her nipples and breast bondage and rides his cock until she cums. Anna then finds herself on a table completely naked in missionary with one leg in a frog tie. Tommy wrecks her gaping ass once again until he blows his load all over her face.
Read More »
---
---
We start in a well lit white bedroom with Dolly Leigh sitting at the edge of the bed with her skirt up, fingering her pussy. James Mogul, dressed in all black is asking her questions about her fantasies while The Gimp, Owen Grey jerks off in the corner. Dolly has often had the fantasy of being taken, tied up, and taught how to worship cock and wants nothing more than to be molded into an observant obedient fuck toy. James Mogul along with the help from our Gimp, Owen Grey and his massive cock are both here to fulfill all of Dolly's slutty desires. James gets right to it and ties Dolly's wrists with rope behind her back, lowers her to her knees holding only her head and guides Dolly to Owen's cock to give her the first lesson of the day. Cock Worship. He explains that there are four steps to cock worship; observe the cock, kiss the cock, pleasure the cock, and indulge in the cock. Although challenging at first, a few cracks of the flogger helps Dolly get it right. Next James has Dolly standing in a french doorframe, tied with rope to all six hinges along with breast bondage and a vibe tied to her inner thigh, smashed up against her pussy. Also on her thigh are electrodes sending a charge into her leg from a tens unit. Mogul commands Dolly to not cum despite how much she would like to. She lets one slip and pays for it with the flogger. Dolly holds back another orgasm as long as she can and gets rewarded with Moguls thumb right up her pussy, pressing on her g-spot, sending her flying in the air for the biggest orgasm of her life. Next Dolly is tied up and fucked in pile-driver, doggie and missionary. Owen "The Gimp" Grey stretches Dolly's pussy with his fat dick while Mogul crops her pussy and zaps her natural tits with high voltage if she breaks any of the days rules.
Read More »
---
---
Torment for Tiny Tramp with Tremendous Tits
Alyssa Lynn has one of the craziest pairs of tits anyone on our staff or elsewhere has ever seen. They stick out a solid nine inches from her tiny little rib cage and it's honestly a miracle her petite frame can hold them up at all. And Matt Williams is so excited to get his hands on them.
Alyssa's breasts may not be the focus of all of Matt's torment today, but they are absolutely the focal point of their time together, and Matt would like to make that very clear. After getting her undressed, one of the first thing he does to Alyssa is tie her tits off in a rope harness so that they look even rounder and bigger than they usually would.
He ties her ankles and spreads her legs so that her pussy is exposed. Then he drills a pole into the ground, a dildo and a hitachi taped to the end of it. Matt sticks the tip of the dildo inside her and pushes the hitachi up against her clit. Since she's strapped down there's nothing she can do to move away from the sensation as he begins to flog her tits and covers her face with a plastic bag so she can't breathe.
Read More »
---
---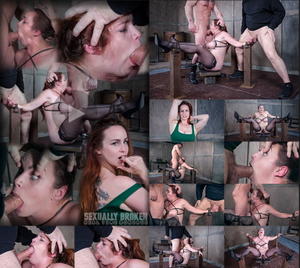 Big tited slut, has her tits bound and vibrater stuck on her clit. Face fucked to subspace!
Bella Rossi BaRS Part 1: Today we update with scene one of the March live show, the big titted and flexible Bella Rossi finds out fast, what helpless and subspace looks like while you're completely dick drunk!
Bound in a modified sitting strappado position, Bella has her huge tits tightly bound and a vibrater is locked onto her wet shaved pussy. She is completely helpless and about to get the face fucking of her life.
Orgasms after orgasms, that is Bella's new life, she can't stop the vibrator from making her cum, and she can't halt the brutal throat fucking the boy's of Sually Broken are giving her. Deepthroating, massive throat spit and a girl cumming uncontrollably! This is just the warm up and Bella is already broken, the next 3 scenes are going to be special!
Read More »
---
---
Riley Reyes has been too up tight lately, stressed and tense. Matt Williams is here to get rid of some of that tension for her through whatever means he deems necessary. To start her treatment, Matt has Riley down on her knees, tied up to wooden posts by rope around her arms, shoulders, thighs, and neck. He fits her quickly with a black ball gag and removes any fabric protecting any part of her body from his torment.
Matt flogs Riley, working her over with the many leather tails turning her chest and her ass red. He clips some clamps onto her nipples and hangs weights on them, tugging her tits down, stinging them and drawing some of her attention away from her pussy where Matt is giving his attention. He presses a hitachi hard against her clit and vibrates it as she moans and sighs. Still, it doesn't seem quite enough. He's going to have to turn his treatment up a notch.
The clamps on her breasts are removed and replaced by a rope harness, squeezing them tight. The hitachi, in turn, is replaced by a sybian, the most powerful vibrator we have in our dungeon. Riley is sat down on the sybian and vibrated to the point of madness as Matt flogs her ass and tits. After this many orgasms, she should have no choice but to relax.
Read More »
---
---
Dee Williams has been in the game longer than just about any of our models. She is one of the top bondage models on the scene today, and we are so proud to have her as one of ours. Today she is going to start off with our handler Matt Williams and see what kind of plans he has in store for her today.
The dress Dee is wearing is tight and she isn't wearing a bra, which is incredible for us because Dee has some of the finest tits in the industry. Matt can only hold himself back for so long before he cuts the dress right off of her and takes the next logical step of tying them off in a rope harness. This way, as her heart starts pounding, her tits get more pink and perky as time goes on. Having her arms tied back, her nipples squeezed by clamps, her back bent in a hogtie, and her pussy vibrated by a hitachi, her heart rate gets going pretty quickly.
Thinking that perhaps he should be generous, and share Dee rather than keep her and her incredible tits all to himself, Matt decides it's best to hand her off to O.T. so that he might have some fun of his own. When O.T.'s got her, apparently all he wants to do is spread her wide open. He attaches clamps to her cheeks to hold her mouth open, letting drool spill out over her bottom lip. He uses rope to tie up and spread her legs so her pussy is exposed. He ties her nipple clamps to her toes so even her tits are held parallel. And then he goes at her with the celebrator.
Read More »
---
---
---
---
---
---
---