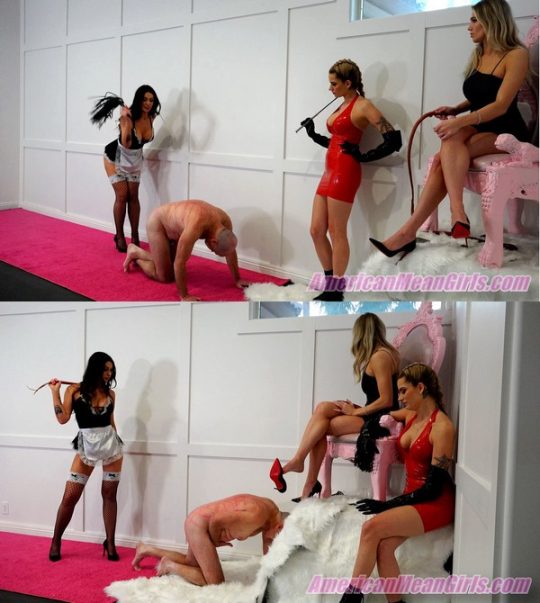 In the world of The American Mean Girls, it is KNOWN that beta males live to serve us as the HOT goddesses that we are! This gives a purpose to their sad lives. WE make the rules, and the uggos following it blindly. Basically, the hotter you are, the more POWER you have.
In the slave realm, there's a classification of losers too. There are some benefits to being a better slave than others… in this scenario, FEMALE SLAVES are above the pathetic beta male slaves. That's just facts, because girls are better at everything- INCLUDING being submissive to HOTTER women.
Princess Alexandria has a NEW FEMALE SLAVE named Semi (because she is only HALF as hot as we are lol) She is super obedient and DESPERATE to serve us. Like even she knows that there is a HIERARCHY of superiority! At the Mean Girl Manor, slaves serve us. When the slaves fuck up in some way, they get punished! And when us Mean Girls don't feel like punishing a loser, we get OTHER slaves to do the bidding for us!
Slave girl Semi is taught how to whip for the FIRST time! This old demented piece of male trash had pissed me off by misbehaving. And because I am super hot, I don't even have to lift a finger to discipline this losers…that's what OTHER slaves are for! LOL So to make MY life EASIER, Princess Alexandria explains to Semi how to whip a loser. And like we don't even care if she does a "bad job" whipping it cause then WE get to PUNISH HER! LOL (its a WIN-WIN for the hottest girls!)
Unfortunately for this old geezer, Semi ALSO hates it because it is a lazy, stupid slave that she has to work next to. Semi takes advantage of her newfound POWER of this old geezer and whips it as HARD as she can- at MY COMMAND of course! I just casually sit back on my throne, as the loser slave looks up at me and begs for mercy. (It can't believe I am letting another slave whip it FOR ME!) I explain to the male freak at my feet that this is how the domination hierarchy works. And then I casually rest my stilettos on its head as it receives its punishment…
– Princess Amber
*Featuring: Princess Amber and Princess Alexandria*
Read less
Category: WHIPPING
Related Categories: FEMALE DOMINATION, DOUBLE DOMINATION, SUBMISSIVE / SLAVE TRAINING, GODDESS WORSHIP.
Keywords: whipping, riding crop, pain slave, female domination, double domination, slave training, mean girl manor, goddess throne, amg, american mean girls, miami mean girls, americanmeangirls.com, amber, alexandria.

Format: mp4

Duration: 00:13:22
Size: 2.25GB
Resolution: 3840×2160
Download:
Download | Play it online