---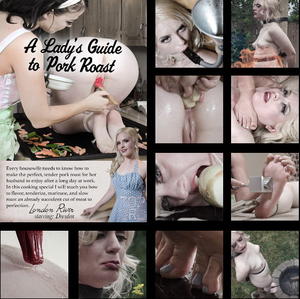 Every housewife needs to know how to make the perfect, tender pork roast for her husband to enjoy after a long day at work. In this cooking special I will teach you how to flavor, tenderize, marinate, and slow roast an already succulent cut of meat to perfection. -London
Dresden is more than willing to help demonstrate how to perfect the process to please even the most discerning tastes. Dresden chokes down a honey infusion, is marinated with ginger and onion, trampled until perfectly tender and slowly smoked. Don't worry Dresden, it only hurts a little while.
---
anal penetration
BDSM Anal
Belt Bondage
Big Ass
Blonde
Blue eyes
Bondage Lesbian Movie
Bondage Lesbian Story
Bondage Lesbian Video
Breath Play
Cloth Gag
corporal punishment
Crying
Female Dominant
Figging
Fire
Foot Torture
Gagging
Heat Play
kicking
Leather Straps
lesbian
Lesbian Bondage
Lesbian Bondage Movie
Lesbian Bondage Story
Lesbian Bondage Video
Natural Breast
outdoor
Outdoor Bondage
Pale Skin
rope bondage
Shivering
Skewers
Small tits
Tape Gag
Tears
Tit Slapping
TOPGRL
trampling
Water
WATER BOARDING
---
PD sets an agonizing pace. Felonie's confined in a cage, hanging in the barn for hours. Every step plays like a psychological thriller as PD slowly transforms Felonie's terror.
In the beginning, PD lets Felonie's confinement do its work. Then he gives her an orgasm. Just a little one. Just enough to relax her.
She's anally impaled, rammed with a rigid set of stainless steel ass beads. Using forceps, PD grasps her tongue and ties it outward. This presses her neck against the steel of the cage. Then vaginal impalement and she's given another orgasm, more intense.
The vibrator again. At the same time, he chokes her by forcing her throat hard against the bar of her cage. Another orgasm, this one huge. PD sucks Felonie into her own torment, winning her compliance and complicity.
She's sprayed down with cold water. Another orgasm puts Felonie in la-la land. PD's permanently altered her inner terrain.
The head cage with a metal bit holds her head even more still. Clamps on her labia are weighed down with chain. Her pussy's swollen, engorged from all her orgasms.
She sobs, and the tenor of her scream changes, slightly warped, an unsettling sound. The vibrator nearly disappears inside the swelled lips of her pussy.
Another orgasm, and another. PD slips his hand inside of her up to the knuckles. He rams all of her holes and she comes again, over-stimulated into some never-never land of sexual exhaustion.
Now she's standing, tightly strapped with leather, held up by her hair. A singletail brings her to tears again. She begs PD to let her down. She promises him anything. He tells her she must make herself stop crying. Her face slowly reduces. It becomes a face that is not crying. She exchanges one unbearable condition for another. The dissolution of one self. The emergence of another.
---
anal penetration
Asking Permission To Cum
bastinado
Bit Gag
Breath Play
Bullet Vibrator
cage
Cage Suspension
cattle prod
Choke collar
Eroscillator
Face Bondage
Hair Tie
head bondage
Hood
Labia Clamps
metal bondage
Metal Dildo
Mittens
nipple clamps
orgasm
Shackles
Shivering
single tail
Tongue Leash
Tongue Ring
Vaginal Penetration
VIBRATOR
Wooden Dildo
---
---
---
our friends
ilovebdsm.net | free bdsm blog
---
---
---