---
A ritual can hold a potent magic.
The Visitors are coming to partake in Master James offering of slave 525-871-465 for a sexual ceremony, 'The Rites of Passage. Witness Black Snake Magic and Miss Raven Rose perform with Master James and slave Abigail in this intense dance of pleasure and pain. A maelstrom of carnal energy flows around the epicenter of slave Abigail within this ritual. She succumbs to her flesh as the play thing for these three primal energies. Take part in her torment and pleasure. Master James offers His slave to be tested upon an altar of steel; bound, licked, caned, fucked, used, and abused, she will not go unscathed. Be part in her entranced pleasure and torment.
'The Rites of Passage': The ritual is a gate way to unbridled sexuality that a sex slave must embrace to become the embodiment of sensual and painful pleasure, in full service to its Master. Part of the rites of passage for sexual enslavement, are what have been termed 'rites of separation' from the asexual world. In order to be incorporated into the world of sexuality, a relinquishing of all rights to its Master is required.
The impression that a long-established rite was to be enacted with magic from the spiritual realm and performed with powerful medicine by the practitioners, the awake, not belonging to this world, but of the universal knowing.. Join us as the visitors, Miss Raven Rose and Black Snake Magic, devour this sensual sacrifice in their honor
Read More »
---
---
Soft Girl Takes Tough Beating
Phoenix Rose is an extremely soft person. Her skin is so white and so smooth it has the appearance of untouched snow. That kind of skin is aesthetically pleasing for most people, but for someone as sick and twisted as O.T. it's just begging to be marked and bruised all over with whatever tools he has handy. Once he is done with her, that lily white ass is going to be black and blue all over.
Phoenix begins her time in our dungeon all wrapped up in rope bent over on her hands and knees. It's a beautiful sight, but what would make it better is less clothing between O.T. and his play thing. So he takes out his trusty knife and starts cutting away the pretty little dress Phoenix wore for us. She lets out little shrieks each time he makes a cut in the fabric letting us know just how scared she is to have a blade that close to her soft skin. Once the fabric is cut away, it's time for her to begin receiving the beating she came for.
O.T. has her all over the place, bound bent over or standing up in her sexy high heels against a wooden board, moved from place to place so he can access whatever bit of her he wants to mark. He first uses the flogger on her ass, then on her perky tits. Her cries are pretty consistent until he brings out the whip and her sounds become sharper as the pain does. When O.T. holds the hitachi vibrator against her clit she really starts screaming. She lets out cries of "no!" as she squirts all over herself and our set. She'd better hope her resolve isn't as soft as the body O.T. is abusing.
Read More »
---
---
You would expect a girl that finds herself tied up in a strange room to be clawing at the walls, but Paintoy Emma knows that there is no way out of this dungeon. Her only option is to submit her body to whatever punishments her new owner has devised, and hope that she has enough willpower to send her mind elsewhere. Every new torment brings its own challenge, but after the first few strikes her eyes glaze over and her screams turn to moans as she enters deeps subspace.
O.T. won't have any of that, though. He needs Emma completely present if he's going to get the reactions he wants. He's going to go through his arsenal, pulling out toy after toy until he finds something that scares her enough to make her beg for mercy and pledge her cooperation and obedience.
O.T. ties Emma's hands to her feet so that she is forced to stand on her tip toes, then takes a cane to the backs of her calves. He takes his whip and uses it to color her body in red with lash marks. He ties her in all different positions, and through all of it she manages to keep her mind in some other place. But as soon as the cattle prod comes out Emma is on the floor squirming around and begging for mercy. And now that he has broken her will the true slave training can begin.
---
---
Amy Nicole made a mistake by not shaving before she came to see us today. O.T. and his pliers have something to say about that. Together they will make sure Amy knows the taste of regret so she never ever makes the same error again.
Amy is a wonderful sub. That doesn't mean she isn't going to be punished, it just means she is going to have a huge smile on her face while it is happening. It is hard to tell from her expression whether she feels the difference between when O.T. is whipping her ass and when he is fucking her senseless with the pogo. The only thing that clues us in is when the sounds she makes change from moans to whimpers and back agai
---
---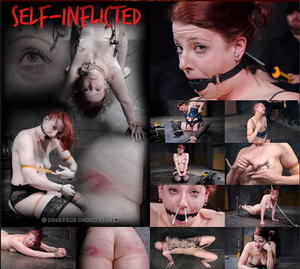 Kel Bowie is one of those people who loves bondage so much that she can't get enough of it, no matter who her handler is. She's a hot, little redhead who is willing to do the sickest things that our members come up with. In fact, we barely have to lay a hand on her, because she will enthusiastically punish herself as vigorously as we would.
Nothing is off limits for her, either. She'll gladly put clamps all over her body and pinch the hell out of her cunt if it will please the viewers. We like seeing her beat her own ass, especially with the dragon tail whip. She even contributes her own ideas on how we can make her life even more miserable. We brought out the butt plug. We told her to fuck her own ass with it. But she was the girl who thought it would be best to smear it with a mixture of wasabi and her own snot, get it nice and lubed up, and then drive it home.
This is what a quality live feed is made of. A submissive so into the torment that she can't get enough.
Read More »
---
---
After a long wait we finally have Ana Foxxx back in our dungeon. Her perfect body is contorted and stretched into menacing positions to ensure that her suffering is monumental. She is completely helpless and unable to stop the brutal torment that is sadistically administered to her. She is overwhelmed with pain and domination but then rewarded with earth shattering orgasms.
Read More »
---
---
When beautiful brunette Chanel Preston meets Bill Bailey on a blind date, Bill introduces Chanel to a world of dominance, submission, bondage and rough anal sex.
This update includes: bondage, gags, nipple clamps, ball gags, anal toys, gaping asshole, drooling blowjobs, bound orgasms and sexual humiliatio
Read More »
---
---
Juliette has a way to take pain and turn it into pure pleasure. This slut sexualizes everything that happens to her, and I plan to fuck her world up today. I know that she's capable of taking a lot, but this may be more than even she can handle. Her body is made helpless by the grueling bondage, her flesh is tormented, and her pussy controlled with pain and pleasure. This pain slut struggles to get through the day just to get her pussy a little pleasure.
Read More »
---
---
Charlotte Sartre can forget about freedom for a while. Too sexy to let go of, this hot piece of ass is going to spend the day riding O.T.'s favorite device, the Tilt-A-Girl. A metal frame that can be locked into place, this device piece of work lets him flip his bitch upside down or send her spinning. Whenever he finds a position he likes he chocks the evil iron item and begins to work her over.
Corporal punishment is probably the fastest way to a girl's heart, if she is a dedicated submissive like Charlotte. Gag her, beat her, and degrade her and you'll hardly have to work at all to get her off. Too much pleasure and pain overwhelm her senses. Charlotte is lost in subspace. Her eyes lose focus, most of her body goes numb. All she can feel is what O.T. wants her to. Bondage, pain, and a profound need to satisfy him.
---
---
A pathetic drooling mess. No matter how hot Endza Adair is, she'll always end up reduced to a pathetic, drooling, sobbing mess by the time O.T. is done with her. She doesn't want to be so turned on by the extreme corporal punishment and intense bondage that he puts her through, but she can't help herself.
She is screaming through the black ball gag in her mouth, but she isn't even trying to form words anymore. She would be running away if her bondage didn't keep her in place so well. The metal shackles and chains let her shake and struggle, but they won't let her get away. The leather straps that hold her to the wooden and metal frame are more than enough to hold her steady while O.T. works her over with the whip.
Orgasms are overwhelming after so much build up. She can't hold them in as the magic wand vibrates her clit furiously. She'd be crying if she wasn't so busy cumming, and while she would probably like to beg for mercy, all that she can manage to get out is a mixture of moans, screams, and cries of "Oh, God!"
---
---
It's been a restless night for Rain DeGrey. She was reading every housewife's favorite bit of smut before turning in, but unlike most she didn't find it all that appealing. Her subconscious, on the other hand, appears to have really taken a liking to it. Every time she falls asleep she slips back into the dreams. First the men came and used her holes, mercilessly. Then one came along and tried to break her body in a different way, with rope bondage and pain. And as she dozes off again she wonders what fresh torment awaits her.
She was expecting men. She was wrong. This time there is a beautiful blonde with huge tits waiting for her on the other side, and she is just as evil as the others. Tying off her tits, clamping her pussy, and beating her while Rain cries her eyes out, this mistress is a savage domme. Rain is quivering, literally shaking as her pussy is flogged and then fucked. The woman of her dreams has a huge strap on, Rain has a tight hole, and the two are going to become intimately acquainted.
Body rocking orgasms blank out her thoughts. How can this keep happening? She never thought about bondage or discipline before. She thought it was idiotic when she read it. But now all of her dreams are consumed by it. And every time she wakes up she is wetter than the last. She is so horny she is touching herself in her sleep. And what happens next at InfernalRestraints.com will push things even further.
---
---
Taking a break from family holiday obligations, Darling wanders into the local dyke bar where Daisy Ducati and Mona Wales are visiting their hot bartender friend Mistress Kara. It doesn't take long for Darling to succumb to the advances of the three ladies who take her to the basement, sit on her face, finger her cunt, and run a orgasmic lesbian strap-on train on all of her holes! The adventure includes florentine flogging, cropping, spanking, pussy licking, pussy clamps and tons of pussy, anal, and DP strap-on fucking!
Read More »
---
---
---
---
---
---
---
---