---
We know you need me. You want me. You can't have enough of me. That's why you watch my videos. That's why you keep coming back for more. You never get enough. You always need more. It's perfectly natural… you're ADDICTED to me. That's the way… it's ALWAYS going to be. And now, I want your addiction to deepen. Yes, I'm going to play a major role in your everyday life. I already do… and now, even more so. Everyday things, everyday scenarios, are going to make you think of ME. You're going to get so hard, just as you are now. And you will always, always have me on your mind and in your LIFE.
BUY NOW to experience goddess worship, female domination, lingerie, dirty talk, masturbation instruction, jerk off encouragement, mental domination, mesmerize, cleavage, big breasts, nipples, topless, bare shoulders, breast bouncing, cum countdown …and the exclusive, intensely intimate experience of being with ME.
Read More »
---
---
Its the final day of the 72 hour smother marathon! Mistress Kawaii has just woken up and checks to make sure her smother toy is still alive. She kept the slave trapped in the sleep sack with his face trapped beneath her legs and ass all night while she slept and she's happy to see the slave survived to be smothered even more! Mistress Kawaii wastes no time, immediately pushing her massive breasts into the slave's face for some brutal (and wonderful) breast smothering! Still zipped up in the sleepsack and with all of Mistress Kawaii's body weight pressing down on him, there is nothing at all the slave can do except lay still and hope to survive. "You can squirm all you want," she laughs as the slave tries to find some small pocket of air, but Mistress Kawaii's big, soft breasts make a perfect seal over the slave's face. It isn't long before Mistress Kawaii decides to take things up another notch though. She pulls her stretchy sports bra out far enough to slip the slave's entire head inside her bra! Now there is really no chance the slave can escape! "Don't squirm around so much, you're not going anywhere. You're going to stay here," she says as the slave tries desperately to breathe from inside her tight sports bra. The only time he can get any air though is when Mistress Kawaii decides to lift up and let him breathe! "You're easy to forget about," she says, teasing the slave as she presses down onto his face again. The slave's face turns deep purple and red and he suffocates between her tits, but that only makes Mistress Kawaii want to smother him more! Eventually the sports bra comes off and the topless breast smothering begins! She keeps pushing the slave, but ultimately decides to leave him trapped in the sleep sack while she goes to get breakfast. She sits on the slave's face for a second as she gets out of bed and heads out to eat. As soon as she gets back the slave's face will be going right back underneath her ass for more smothering!
Read More »
---
---
Description: London is watching a video from her favorite porn site while pleasuring herself when she realizes that someone is spying on her. She isn't frightened on a creeper peering in on her like most women would be. Instead she is excited because she knows just how to punish him for his transgression.
After capturing him, she ties him down and gags him. She kneels on his chest making him struggle to breath as she slaps his face and punches him. She then wraps him up like a mummy and punishes his feet with a cane and teases his cock, but she refuses to let him enjoy himself.
Finally she canes his ass hard. He moans with each stroke but she doesn't let up. His voyeuristic habit landed him in her clutches and she is happy to show him the error of his ways.
Read More »
---
---
Stephie Starr was last month's live show guest. If you missed it live check out this update edited, it's great.
No breaks, three bondage stations, one straight jacketed porn star, and rough sex. We move Stephie from station to station without ever giving her a break. We fuck her real hard and push dicks into her throat hole with some aggression. She quickly goes into subspace and checks outs. We love fucking real life rag dolls. Don't miss this amazing edited liveshow.
Download:
Download or WATCH ONLINE – 981.0 MB
Download or WATCH ONLINE – 981.0 MB
Download or WATCH ONLINE – 981.0 MB
Download or WATCH ONLINE – 981.0 MB
Download or WATCH ONLINE – 168.1 MB
---
---
Not many people on the planet can edure the Sexaully Live live show. It's intense helpless bondage, and some the roughest sex in mainstream porn and it's 45 minutes of straight no cut, no breaks, rough sex! We only do 12 a year, and we carefully pick our girls for it. Dee Williams is one of the best all around models in the industry, able to take the most hardcore bondage and fucking.
Dress to kill in her stocking and black high heels, Dee is ready as she can be. Soon the boys of Sexaully Broken are going to bring the cock, and those boys know how to fuck a helpless girl. From brutal face fucking and deepthroating to hard fucking that causes Dee to squirt out several mind blowing, screaming orgasms, this update has it all.
Read More »
---
---
Syren De Mer is back on the pages of Sexually Broken, In our opinion this is your MILF of the year. Syren does all the pretty vanilla porn, and can also do the Hardcore bondage sex porn. Those two almost never mix.
Today Syren is fully tested. She is complety sexaully destroyed, bound down on the worlds most powerful vibrater and cumming about every minute with each one more and more destructive. Now add the catastrophic face fucking in, and it doesn't take long to send a girl into deep deep subspace. The lights are on but she's not home. That perfectly describes this scene. We blast Syren into subspace early and keep her there. It is hard to use words that really describe the intensity of this scene. So really, check out the free trailer, and then we will see you inside.
You do not want to miss this one!
Read More »
---
---
Kenzie Taylor is one of our favorite sexy bimbos, huge tits, a perfect ass, full lips, tan and sexy. Kenzie loves cock loves pussy and loves sex.
Bound on her back with her legs held open, and head over the edge of the table, Kenzie is completely helpess and exposed. Today we are going to overload our big tittes slut with pussy and cock. Dee will control her breathing with her perfect wet shaved pussy, her phat ass and massive boobs. Matt will stuff her throat with cock, not all of it fits in Kenzie's throat but enough so she can't breath while she is being throat boarded upside down. The pair completely controls Kenzie air intake. In the end our sex slave is spent from being made to cum over and over and over. A drooling dripping mess!
Read More »
---
---
We have Angel Allwood back and helpless as ever as Sergeant Miles and Dee Williams complety destroy her sexaully while bound and helpless!
Nine inches of cock blocks Angel's ability to take in air, she breaths when the cock want her to. She is mercilessly deepthroated to panic as she is being made to cum over and over. That deep throat spit is covering Angel's eyes and nose, she can no longer see or breath except when the cock let her. In the end she is a broken slut, cummed out and drooling all over herself.
Read More »
---
---
Kenzie Taylor is bound and helpless, while getting face fucked and pounded to several screaming O's
Severely bound down, sexy Kenzie Taylor is destroyed by huge hard cock.
The battle is on, in this corner we have a sexy big titted helpless blond porn star. In the other corner we have bodybuilding, Purple Heart Veteran, American Hero, who now fucks like every day could be the last day. Who you betting on?
Read More »
---
---
Welcome back to Sexually Broken , the hottest Cougar in porn today, Syren De Mer. This women should be studied by every new girl that enters porn. This is how it is done!
We have Syren stuck and helpless in beautiful leather straight jacket from The Stockroom. With her huge tits out, this jacket give complete access to your sluty slut. We call today's scene, The Man Handler. It's the scene that the boy's of Sexaully broken just go bat crazy fuck on our helpless slut. We toss her all over the stage and fuck the living shit out of her. We roughly face fuck her into subspace, then continue on to fuck the living bejesus out of her.
She never has a chance, all she can do is struggle for air and cum. All she does is cum, she squirts, she screams, she cums and when she is done cumming we make her cum some more. We abuse her tight shaved pussy with hard pounding cock, in the end, Syren is is smiling and wanting more, that's how it is done!
Read More »
---
---
Who is the hottest and best performing ALT girl in porn right now? It's Lily Lane, by a far margin. This girl knows how to let go and enjoy a moment, most porn girls could learn a thing or two from her!
Bound onto our custom spanking bench, Lily is about to get destroyed by cock. She is going to have her throat fucked deep and deeper, the best breathplay on the planet, while getting pussy fucked from behind while she cums uncontrollably over and over. It takes minutes for Lily to be blasted deep into subspace. We pull the deep deep spit from her throat and use it as lube for her tight pussy.
In the end Lily is barely conscious, her eyes are vacant, and drool is still just falling from her blasted mouth hole. We love making sluts stupid!
Read More »
---
---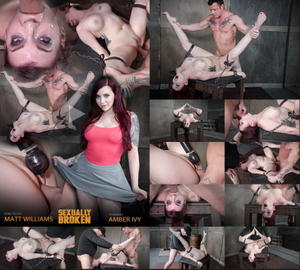 We have the beautiful Amber Ivy, bound hard, and fucked harder today on Sexaully Broken. This girl loves to be filled and the boys of Sexaully Broken know how to FILL a girl!
Upside down throat boarding, and brutal pussy fucking brings Amber to full on subspace. We have Amber completely at our mercy, she can't stop from cumming, and we can't stop fucking her amazing face! Screaming orgasms, subspace, brutal throat fucking and the best breath play on the planet. Another Wednesday here at Sexaully Broken.
Read More »
---
---
---
---
---
---
---