---
Scene Queen Made to Scream
Another day, another girl with winged eyeliner and a seemingly endless need for a beating crawling her way into our dungeon to spend some quality time with our handler Matt Williams. This week, her name is Lydia Black and she is about as tiny and sexy as they come. Matt could probably wrap all the way around her rib cage with just his two hands. Let's hope he doesn't break her in half as he beats and vibrates her until she breaks.
Matt has Lydia tied down to the floor, her legs spread in a walking split and her wrists lashed to the ceiling to help her balance there so she doesn't tip over. He sticks a ball gag in her mouth so that he won't have to deal with as much of the whining and moaning that is inevitably about to come out of her. Once that precautionary measure is put in place, he goes to work caning, whipping, and flogging her feet and her little tits. With each strike she lets out a muffled squeal.
Matt has been known to play games with our models, and today is no different. He gives Lydia a range of numbers to pick from to represent the intensity with which he will be flogging her pussy. After a few good hits, though, it's time to give the girl what she wants: a good, hard orgasm. Matt puts the hitachi down on her clit and turns it on high. Lydia's feet begin clenching and flexing before he even sticks his fingers inside of her. Matt finger fucks Lydia until she screams and cums, her juices flying from his hand and dripping from her pussy. After that it looks like she's barely there. It's all over for Lydia Black.
Read More »
---
---
Gushing Girl Gets Gagged
Dee Williams needs a little bit of TLC: tying, lashes, and cum, and Matt Williams is ready and willing to help her out getting just that. She is dressed, however briefly, in a short and tight gray dress that shows off just how round and lovely her ass and tits are. Matt can't wait to get his hands on them. He pulls the dress up over her head and wraps her tits up in rope, creating a harness that squeezes them and makes them even perkier than they are on their own.
Matt ties Dees arms behind her back in a brutal strappado, then bends her over a small table and lashes her legs so that they are folded into her body. He takes the rope and strings it through a hook on the ceiling and hoists her up so tha she is dangling in the air, suspended by her elbows and tits.
Matt then takes the hitachi and places it on her pussy, vibrating it harder than any other handheld device can. She cries out as he presses it against her clit, begging for release, pleading with him to let her cum. The truth is Matt couldn't care less what she does, he just wants to have his fun with her. In no time Dee is squirting all over the place. Matt thinks this is funny, so he puts her into a few more suspensions, seeing just how wet she can get the floor. He might need a caution sign by the time she's done.
Read More »
---
---
Cry Baby Babysitter
Nora Riley is just your average college girl, out to earn a buck or two taking care of kids. When she comes across an ad looking for a babysitter for two adults looking to relax, she thinks nothing of it and immediately follows up. Today Nora is going to learn a thing or two about why background checks are important when going to a stranger's house.
From the moment she arrives, the situation is clearly unusual. A woman comes to the door, aggressively introducing herself as London River, and then leads her into the living room to meet O.T., not how the parents she works with usually behave. Then, when she gets to the room she notices the strangest thing about the whole situation: there isn't a child. When asked about it, O.T. and London readily admit that they don't have any children, and that they are willing to offer her $1000 to take care of them for the day instead. And for that kind of money, there is no way Nora can say no.
The work they have her do is pretty unusual. They tie her up and have her make them sandwiches, use her as a footstool, and position her between them tied so that she holds their chips and drinks while they play video games. All of this is fine to Nora, until she needs to use the bathroom. O.T. and London dress her up in a diaper and a binky, tied down to the floor so that she doesn't have any choice in where it is that she goes. And when she's done, since she's so conveniently placed, they figure they'll just have some fun with her body. A hitachi and a steel dildo wouldn't go amiss. Now Nora is left to wonder if the money is really worth all the work.
Read More »
---
---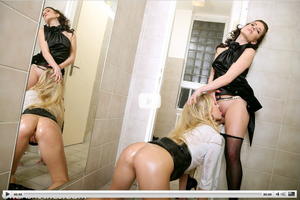 Cayla Lyons is a bitchy babe with a grudge against schoolmate Leony Aprill, so much so that she snuck into the bathroom just to write "Leony is stupid" in lipstick on the mirror, but wouldn't you know it, Leony had been tipped off and caught her red-handed in the act. Well, Leony can play the part of a bitch, too, and she quickly shows Cayla who's boss as she roughs her up classic bully style in the school bathroom. However, instead of going fist-to-fist Leony has a special weapon aimed directly at Cayla's tight, pink pussy, a super intense vibrator that's gonna teach her a lesson! Intimidated at first, Cayla realizes this is a lesson she really wants and needs to learn, so she hangs on tight as Leony brings the buzz, waking that pussy up like never before and suddenly making her realize that Leony is one cool ass chick. Leony's not done with just pleasing her "new friend", though, because she makes sure that Cayla's tongue works its magic on her pussy, and once she's used up Cayla she makes sure to take a picture to capture the beautiful moment before leaving her exhausted on the floor.
Format: MP4
Duration: 00:20:49
Size: 596.15 MB
Resolution: 1280×720
Read More »
---
---
This fashionable chick is about to find out that when the vibrator cometh you can run, but you can't hide – bitch ass beauty Nessy has a vibrator and a mission to dominate this hottie, and she always gets what she wants! Our scared starlet does her best to find an escape, looking for any open door she can find, but the only place she can eventually hide is in a dark, dank basement, but Nessy is always one step ahead of her and finds her with vibrator in hand, ready to show her who's boss! With plenty of oil to soak through her cute, white blouse and expose those tits, she sets up the mood and works that pussy before showing her what a Magic Wand vibrator is all about! Sucking face and making sure her own pussy is satisfied, Nessy treats this chick like her little fuck doll and doesn't stop until she's screaming from the vibrator intensity! But hey, Nessy didn't go through all this trouble not to get pleased herself, so once she gets her vag nice and buzzed she's got what she cam for and can push her slut buddy aside with her high heels before walking away. She can run, but ultimately she's glad she was found for the oily lesbo experience of her life!
Format: WMV
Duration: 00:27:27
Size: 785.21 MB
Resolution: 1280×720
Read More »
---
---
---
---
---
---
---
---