---
Billy arrived to have some girl time with her friend, but London isn't in a talkative mood. She would rather listen to Billy than say much herself. She doesn't want her to talk necessarily, but moan, whimper and scream. Once she has Billy's hands tied, Billy realizes that girl time with London is over.
London ignores Billy's questions about what she is up to while she gropes and plays with her helpless friend, but things go from a little creepy to intense when London adds nipple clamps, a strenuous position and a bit of foot torture to the play time. Billy giggles nervously as London gleefully shocks and whips her. Billy has an electric dildo pushed inside her and she can't escape as London applies even more electricity to Billy's pussy. London isn't done though. She might let Billy have an orgasm eventually, but even then she is vicious. Billy may have been looking for some traditional affection today, but London doesn't cuddle like other girls.
---
---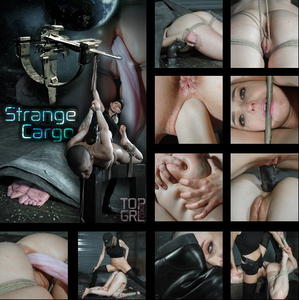 Rain DeGrey does a brisk trade in human flesh all across the galaxy. She's not so cruel as to sell her people by the pound, but sometimes they end up wishing that she had. Abigail Dupree is the next bit of cargo that she's hauling, en route to the auction block on some distant planet. Every girl that she sells needs to be top notch, prepared to pleasure whatever hideous monster is her new owner.
A lively little tentacle that is sharing the hold with her finds its way inside of Abigail. It's buried in her ass deeper than anyone thought possible before Rain notices and decides to give her a hand. If she can take something that deep inside of her then she may be able to fetch a nice price on the block. Rain just needs to make sure she can take it rough as well.
Abigail has never even been fucked with a strap on before, and Rain is a pro when it comes to pounding holes. She's going to give her the most brutal dicking of her life so far, but Rain is well aware that her cargo is destined to be poorly treated in whatever new home she is going to, so she had better get used to a bit of brutality.
---
---
I want a new slave girl to keep in my house. A qualified applicant needs to be able to serve clients continuously, faithfully, and completely. Each girl that comes to me, hoping for a position, must be put through rigorous testing. Devilynne is certainly one of the cutest and most enthusiastic little numbers that I have had the pleasure of using in a while. It is time to see exactly what she is made of.
The men who come here aren't just looking for a quick lay before they head home. They pay top dollar for these sluts and they expect to be able to use and abuse them in any way that they see fit. Devilynne doesn't just need to be pretty, she needs to be tough. I'm going to flog her ass until it is bright pink from the impacts. She can scream all she wants, beg if she needs to, but the only requirement I have for this part of the test is that she suffer. I won't take quitters into my house.
I have a thick, hard strap on that I use to test the girls, too. We have some clients with dicks you have to see to believe, and I need to make sure that my stable of sluts is ready to suck and fuck for their pleasure. Devilynne has a deep throat, one of the best in the business, but even it can barely fit the foot long monster I have hanging between my legs. How she handles me punishing her holes is the true test of whether or not she is ready to serve under me. She needs to be tireless when it comes to giving her body over for another person's satisfaction. If she can't keep fucking through multiple, incredible orgasms then I will have to just use her up and throw her away.
---
---
It's a long day at work. but there isn't much to do. I hate being bored, and O.T. is busy, so I've decided to ask him if I can borrow his little pet. London River is kept in a cage in his office, but I'm going to take her down to the playground. Not outside, but down in the basement, where all of my toys are set up.
My dungeon is well stocked with all of the things it takes to make a slutty little animal like London scream and cream. Bending this flexible fuck toy to my will is going to be a lot of fun. Caning her, vibrating her, or, my favorite part, fucking her with a strap on while she is bent over the metal pipes. London has tears streaming down her face while her juices are dripping off my rubber cock.
---
---
Savannah Fox is a sinner. She is haunted by lustful thoughts, dirty impure urges and the devil is deep inside her loins. She can not help her wicked ways, for she is weak of flesh and full of desires. Luckily for her, Mother Superior Rain DeGrey is here to set her straight upon the path of righteousness. She is here to save our sinner.
Today will not be easy, but Rain is determined to purge Savannah and will stop at nothing. She has her ruler, the word of God and an almighty cock of destruction. She will win out in the end. Savannah is bound up on a cross to contemplate her sins while Rain works her over. In no time at all, Savannah's squirt is running down her legs and dripping off her shoes. This is a hard case indeed.
Rain binds her to a prayer bench and spanks her with a bible before facefucking communion wafers into Savannah's mouth hole with a huge cock. Savannah chokes and sputters upon the flesh of God. The sin is deep inside this one. Time for harsher measures. In an all out epic dicking down, Rain unleashes the might of our Lord and Savior, reducing Savannah into a twitching puddle of squirt covered sinner. Her eyes roll into the back of her head as she speaks in tongues.
Truly the Lord was with us this fine day. Mother Superior finishes up by sticking our soaking sinner in a cage to contemplate the error of her ways and to pray for redemption. We will save this sinner yet…
---
---
It's been a restless night for Rain DeGrey. She was reading every housewife's favorite bit of smut before turning in, but unlike most she didn't find it all that appealing. Her subconscious, on the other hand, appears to have really taken a liking to it. Every time she falls asleep she slips back into the dreams. First the men came and used her holes, mercilessly. Then one came along and tried to break her body in a different way, with rope bondage and pain. And as she dozes off again she wonders what fresh torment awaits her.
She was expecting men. She was wrong. This time there is a beautiful blonde with huge tits waiting for her on the other side, and she is just as evil as the others. Tying off her tits, clamping her pussy, and beating her while Rain cries her eyes out, this mistress is a savage domme. Rain is quivering, literally shaking as her pussy is flogged and then fucked. The woman of her dreams has a huge strap on, Rain has a tight hole, and the two are going to become intimately acquainted.
Body rocking orgasms blank out her thoughts. How can this keep happening? She never thought about bondage or discipline before. She thought it was idiotic when she read it. But now all of her dreams are consumed by it. And every time she wakes up she is wetter than the last. She is so horny she is touching herself in her sleep. And what happens next at InfernalRestraints.com will push things even further.
---
---
---
---
---
---
---