---
Not many people on the planet can edure the Sexaully Live live show. It's intense helpless bondage, and some the roughest sex in mainstream porn and it's 45 minutes of straight no cut, no breaks, rough sex! We only do 12 a year, and we carefully pick our girls for it. Dee Williams is one of the best all around models in the industry, able to take the most hardcore bondage and fucking.
Dress to kill in her stocking and black high heels, Dee is ready as she can be. Soon the boys of Sexaully Broken are going to bring the cock, and those boys know how to fuck a helpless girl. From brutal face fucking and deepthroating to hard fucking that causes Dee to squirt out several mind blowing, screaming orgasms, this update has it all.
Read More »
---
---
Kel Bowie is the quintessential Girl Next Door. Take a good look at the cute girls that live near you, chances are they are in porn, enjoying their secret life.
Kel get the entire SB experience. Bound to a Sybian, brutally deepthroated and face fucked into subspace. She is bound in a strict strappado, and made to cum over and over while hard cock fill her throat past the ability to even breath. She is completely helpless and used as a proper cock sheath, over and over we deepthroat her until she is a drooling spaced out slut. In the end she takes one of the most brutal fucking we have ever done on the site. Kel is completely wrecked and smiling.
Read More »
---
---
Bound onto a sybian we start by fucking our helpless sluts throat while the most powerful vibrator in the world makes her cum over and over. Then we put her upside down and mummify her to a bench so we can fuck her face into subspace. While getting throat blasted we step in and fuck her ready wet pussy to yet more orgasms. In the end we put her perfect ass up in the year and fuck her tight pussy to several screaming orgasms!
This girl love the big cocks and now she love the bondage as well!
Read More »
---
---
Mona is 30 minutes into a no break brutal live Sexaully Broken show. It almost a non-stop brutal cock pounding and face fucking. Only a few girls can even handle one of our live shows, only 12 get invited in any given year. Only the best of the best make it to the most exclusive gig in porn today.
Bound in custom leather cuffs, we have Mona helpless in a backbending hogtied. It won't take very long for Mona to be face fucked, throated and cumming. With a vibrator we make her cum and squirt, all the time cock is stuck deep in her throat. It is hard enough to take a face fucking on a vanella set, but here at Sexaully Broken, they take the hard face fucking, the bondage, and the brutal orgasms all at the same time. It is an overload that most girls can even begin to handle, but Mona is one of the very best our industry has to offer!
Read More »
---
---
Mona Wales BaRS Part 2: Chair bound and brutally double fucked, Squirting screaming deepthroat!
Bound with rope in the fuck chair, mona finds herself completely helpless and at our mercy. Her shaved pussy is perfect height for a deep and brutal fucking, her pretty face is ready for an extreme deepthroating, face fucking!
Mona is one of the girls that takes it, doesn't matter how hard, how rough, or how brutal, she takes it. She take a pussy pounding until we fuck squirt out of it, she take a throat fucking until we pull up the deep throat spit! We have liquid being drained from each hole, sometimes in an explosive release. Few girls can take it like Mona, so few.
Read More »
---
---
Welcome back to Sexually Broken , the hottest Cougar in porn today, Syren De Mer. This women should be studied by every new girl that enters porn. This is how it is done!
We have Syren stuck and helpless in beautiful leather straight jacket from The Stockroom. With her huge tits out, this jacket give complete access to your sluty slut. We call today's scene, The Man Handler. It's the scene that the boy's of Sexaully broken just go bat crazy fuck on our helpless slut. We toss her all over the stage and fuck the living shit out of her. We roughly face fuck her into subspace, then continue on to fuck the living bejesus out of her.
She never has a chance, all she can do is struggle for air and cum. All she does is cum, she squirts, she screams, she cums and when she is done cumming we make her cum some more. We abuse her tight shaved pussy with hard pounding cock, in the end, Syren is is smiling and wanting more, that's how it is done!
Read More »
---
---
Tiny Eden Sin is cock blasted to several deep orgasms, double fucked and throated while bound!
Eden Sin BaRS part 2: Without a break, Edin is quickly strapped into the "Board of Destruction".
Bound helpless, with her perfect ass and throat at the ready, the boy are about to give Eden a proper fucking. The angle makes it so the boy's cocks are banging her "G" spot relentlessly and making her cum over and over. Between her cumming, she has to deal with one of our most brutal face fuckings. Eden loves cock and handles it like the pro fucker she is.
This scene is one of the best we have to offer. If you want to see a girl get sexaully used to the max, without pain or being hit, this is best of rough sex and bondage you can buy.
Read More »
---
---
Dee Williams shows you what it's like when a legendary bondage model becomes a porn star!
There are not many true bondage models left, I'm talking old school grit and determination bondage models. Dee Williams is a legend in The bondage world and does the porn thing better than almost all of them. The new models we have today could learn a thing or two.
Bound in a Category 4 upside down suspension, with arms strappado'd, and her huge tits, severly bound, Dee is primed for a professional grade throat fucking. I can count on one hand the numbers of girls who could handle this tie. The count gets even smaller when you add in a Sexaully Broken throat fucking. I can go on and on, about the scene. Watch the trailer, then you will understand everything I just said.
Sexually Broken, the best Rough Sex and Bondage site in the fucking world.
Read More »
---
---
Tiny little sex demon, is brutally deepthroated, made to squirt, and roughly fucked to orgasms!
Our tiny future performer of the year is back and in her 3rd scene of the day, she laughs at us and begs for more. She's not Human.
Edin Sin is bound on her back legs up and head upside down, for future reference this is now called "The Breaker" Getting fucked and having cock rammed down your throat upside down, will break most girls and quickly, not Edin.
Edin screams, cums, chokes, drools, cums, screams, squirts, Drools and cums, and that just in the first 3 minutes. What this girl can take and handle is well above ordinary. We don't break this one, this one, this tiny Edin Sin, wins the day!
Read More »
---
---
Hard to find someone who enjoys Bondage, brutal fucking and deepthroat more than London!
We have discovered why London River needs to be bound for rough sex and brutal face fuckings. Because if she is not she will probably kill you and eat your soul. This girl cums so hard, so intense, that she destroys most bondage with superhuman strength. If you want to fuck this sex beast, make sure the bondage could hold a sexy demon from the 7 layers of Hades, or your life might be forfeit. Seriously, London is amazing and real, let me say that again with meaning. This is what real SEX looks like, not the fake moaning vanilla porn crap you all turn your volume down to watch, this is the real deal!
Read More »
---
---
Cry Baby Babysitter
Nora Riley is just your average college girl, out to earn a buck or two taking care of kids. When she comes across an ad looking for a babysitter for two adults looking to relax, she thinks nothing of it and immediately follows up. Today Nora is going to learn a thing or two about why background checks are important when going to a stranger's house.
From the moment she arrives, the situation is clearly unusual. A woman comes to the door, aggressively introducing herself as London River, and then leads her into the living room to meet O.T., not how the parents she works with usually behave. Then, when she gets to the room she notices the strangest thing about the whole situation: there isn't a child. When asked about it, O.T. and London readily admit that they don't have any children, and that they are willing to offer her $1000 to take care of them for the day instead. And for that kind of money, there is no way Nora can say no.
The work they have her do is pretty unusual. They tie her up and have her make them sandwiches, use her as a footstool, and position her between them tied so that she holds their chips and drinks while they play video games. All of this is fine to Nora, until she needs to use the bathroom. O.T. and London dress her up in a diaper and a binky, tied down to the floor so that she doesn't have any choice in where it is that she goes. And when she's done, since she's so conveniently placed, they figure they'll just have some fun with her body. A hitachi and a steel dildo wouldn't go amiss. Now Nora is left to wonder if the money is really worth all the work.
Read More »
---
---
Sexy Girl Next Door, gets bound on her back and brutally fucked until she is screaming and squirting
Sierra Cirque is not your typical porn star. She is local to the Seattle area, and has never done the LA thing. However she can take a fucking like the best A listers this industry can muster and then some!
Bound on her back, sexy stockings and heals on, we bind Sierra so her legs are wide open and we have access to her tight shaved cunt. We gag our little sexy bitch with a extremely tight ball gag. Her pussy is wet and ready, she knows what is about to happen to her and it excites her. She loves coming to Sexually Broken we know how to fuck a whore.
Brutal non-stop pounding, we fuck that shaved pussy for miles. Sierra screams though the gag as we pound orgasm after orgasm out of her helpless body. She thrashes, she moans she screams, she cums! In the end she is nothing but a squirting mess as make her cum so hard the squirt just flies across the room and everywhere else. Another satisfied slut destroy at Sexually Broken!
Read More »
---
---
Hot MILF is bound, roughly fucked, deep throated, and made to cum over and over. Broken and used!
Alana Cruise as never been severely bound and abused before. Never had her tits tied so tight, never had her face fucked upside down. So there were a lot of firsts on her day of shooting.
If you ever want to see a girls first brutal bondage and rough sex scene and how they handle it this is your update. The boys push her as far as they dare, that right there, is why Sexually Broken is the most respected bondage and rough sex site in the world. Our boys KNOW how to read a model, we know when to push, we know when we have to pull back a bit. We can play a womans body better then any of the brutish mindless guys that just jam their dick in a hole and pump. We use finesse, and we use it expertly.
In the end our broken MILF is exhausted, completely fucked and orgasmed out. She just has one of the hardest but completely awesome sexually experiences of her life, and yes she would love to come back and work with us again. Breaking hot sluts the right way is our specialty!
Read More »
---
---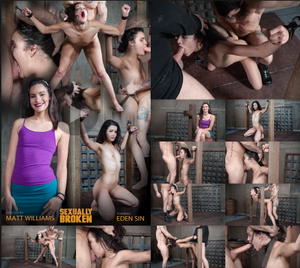 Eden Sin, has no gag reflex, loves cock, loves rough sex, loves bondage and is unbreakable!
I have worked with the best, I worked with a young Sasha Grey and told her to her face she was going to the top. I worked with Bonnie Rotten and told her the same. I worked with Kleo Valentine and told her she would soon win best actress and she did. So when I say this girl will be a performer of the year trust me, I know what i'm talking about. Eden Sin remember this girl, you will hear a lot about her in the upcoming years!
All I can say about this hot tiny sex machine is WOW! She is unbreakable, she is a real performer who genuinely loves her job and it shows. We are the best at destroying sluts, but this newcomer is amazing! We bring it and we bring it hard, and she just smiles and wants more, more more! Do not miss this update, and keep your eye on this amazing talent!
Read More »
---
---
The best slut on the planet just ran into the best slut breakers on the planet, who won?
What happens when the immovable object gets hit by the irresistible force, that is exactly what is happening in this conclusion of last months live show.
The best slut on the planet just met the best slut breakers on the planet, The boys of Sexually Broken have defeated the very best the porn industry has to offer, over and over again. So what happens when two gladiatorial force collide?
One of the best ending we have ever had in a live show, do NOT miss this!
Read More »
---
---
---
---
---
---
---