Tag: Thigh High Stockings
---
---
Not many people on the planet can edure the Sexaully Live live show. It's intense helpless bondage, and some the roughest sex in mainstream porn and it's 45 minutes of straight no cut, no breaks, rough sex! We only do 12 a year, and we carefully pick our girls for it. Dee Williams is one of the best all around models in the industry, able to take the most hardcore bondage and fucking.
Dress to kill in her stocking and black high heels, Dee is ready as she can be. Soon the boys of Sexaully Broken are going to bring the cock, and those boys know how to fuck a helpless girl. From brutal face fucking and deepthroating to hard fucking that causes Dee to squirt out several mind blowing, screaming orgasms, this update has it all.
Read More »
---
---
Sexy Girl Next Door, gets bound on her back and brutally fucked until she is screaming and squirting
Sierra Cirque is not your typical porn star. She is local to the Seattle area, and has never done the LA thing. However she can take a fucking like the best A listers this industry can muster and then some!
Bound on her back, sexy stockings and heals on, we bind Sierra so her legs are wide open and we have access to her tight shaved cunt. We gag our little sexy bitch with a extremely tight ball gag. Her pussy is wet and ready, she knows what is about to happen to her and it excites her. She loves coming to Sexually Broken we know how to fuck a whore.
Brutal non-stop pounding, we fuck that shaved pussy for miles. Sierra screams though the gag as we pound orgasm after orgasm out of her helpless body. She thrashes, she moans she screams, she cums! In the end she is nothing but a squirting mess as make her cum so hard the squirt just flies across the room and everywhere else. Another satisfied slut destroy at Sexually Broken!
Read More »
---
---
Hot girl next door with huge nipples and ass gets bound, deep throated and brutally fucked!
We have the perfect girl next door, Sierra Cirque back on Sexually Broken, this time she gets the two boy treatment!
Bound on the plank, Sierra is completely helpless, her ass is at the perfect height for the cocks to slip in her shaved pussy and pound on her G spot from this angle. Her beautiful face hole is perfect height to throat pound her into next week. You have to give these local girl next door types we find up here some credit. Most of them put the LA girls to shame. Sierra takes a brutal face and cunt fucking. So many orgasms are fuck out of our little whore you can't even count them. Sierra is left broken and dazed, dripping out of each hole.
Read More »
---
---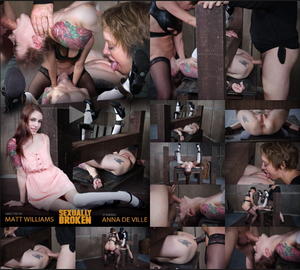 Sweet innocent Anna De Ville sucks cunt and cock while bound and cumming like a common slut!
Tiny, innocent, sexy, beautiful, slutty, perfect. That's how we would describe Anna De Ville. This cute nubile unit is sex personified.
Bound with her head hanging off a table in the perfect 'fuck me' position, Anna finds herself completely helpless and vulnerable. With her little white socks and black heals, Anna body and face is perfectly posed for abuse. And we aim to misbehave.
Dee with her massive 34 DDD boobs and big cock bring the dick to our sluty slut slut. Anna is getting it from both direction as cocks and pussy fill her mouth. Soon Anna is fighting for air as we fuck her tight pussy. Anna is a cumming machine. It doesn't take long for Dee to smother our tiny helpless play toy with her shaved wet pussy. Breath play at its finest as Anna struggles to breath though Dee's hot pussy and ass.
Read More »
---
---
Tall leggy redhead is rope bound, face fucked, pussy fucked and made to cum over and over!
We have the tall leggy, Katy Kiss back. Her beautiful body just begs to be bound and sexually abused. She has a special lust for Dee Williams and her massive boobs and dick, so by Katy's wish Dee is back to bang the fuck out of our sexy redhead.
Katy is rope bound elbows together and strappado'd, her legs are frogged and she is completely helpless. The look of pure lust when Dee walks toward her alone, is worth the price of admission. A rope from Katy's neck is actually holding up her strappado, so if she tires she slowly begins to choke herself out.
Then we bring the cock, we work over Katy's throat with big hard dick. It doesn't take long for the neck rope and penis to make our sexy redhead struggle for air. Katy receives a brutal face fucking that sends her deep into subspace. Soon the throat is not enough, and we hike Katy up so we can get at her perfect shaved pussy.
Katy is fucked hard and brutally. She cums over and over while the neck rope does it's job. Soon Katy is cummed out and broken, we leave her struggling to breath as her strappado is slowly taking Katy into the darkness.
Read More »
---
---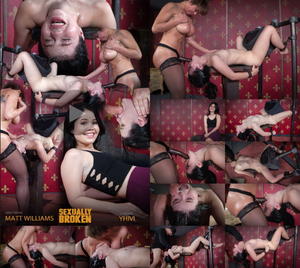 Little Yhivi is back doing what she does best, getting face fucked till shes stupid. We fuck all the drool out of this helpless throat slave.
Bound on her back her legs spread and head hanging over the edge of a table, Yhivi finds herself in a brutal predicament. The most powerful vibrator in the world is stuck on her clit and the mouth is helpless to stop the cocks that are coming to fuck her tight and messy throat into next week.
This is where Sexually Broken excels. No bullshit talking, no bullshit fake acting, no bullshit fake orgasms, no bullshit fake porn moaning, none of the bullshit that you hate about porn, we deliver you real girls, being completely sexually destroyed. We bring the real deal, and the girls have no choice, they can't fake it, because it's honest. They can't "act" they are to busy trying to survive the overload of cock and orgasms. It is pure, and it's only here at Sexually Broken.
Read More »
---
---
This is Part 2 of Odette Delacroix live Sexually Broken show. The most Brutal challenging hour and 20 minutes of non-stop pure rough sex and bondage on the net.
We have tiny Odette strapped over a bench, her pussy and throat at perfect height to get destroyed from both ends. The bondage makes her completely helpless, and the non stop throat fucking and banging send her to deep sub-space. We literally fuck her until she collapses. Continuous deepthroating, continuous fucking, continuous orgasms! It's amazing how much cock, a little five foot, 88 pound girl can take, but we found the breaking point.
Nothing like controlling a little sex beast by the neck, A simple belt around Odettes tiny neck makes all the difference as we fuck our toy in to LA LA land. Dee Williams makes Odette her little bitch and the world is right again.
Tired of your rough sex and bondage scenes ruined by stupid talking, unnecessary hitting and slapping. Cock is the only thing we punish our girls with and it glorious!
Read More »
---
---
Sexy Cougar Syren De Mer is back on the Sexually Broken stage, with Dee Williams, the Premiere female Dominate that is taking the internet by storm!
Dee Williams is back with Matt to completely wreck Syren De Mer. Dee has been training under the tutelage of Matt Williams for about a year now. Matt is considered one the best Male dominates in the scene today, and is ready to unleash his student on the sluts of the world.
Syren is bound spread with a powerful vibrator locked onto her shaved pussy, her helpless mouth ready for plundering. Today we are going to wreck Syren with massive amounts of cock to the throat, all the while as the vibrator rips orgasm after of orgasm from our powerless Cougar.
Sexually Broken specializes is destroying even the most talented and experienced porn stars of the world. Join today to see why Sexually Broken has been nominated so many times by the leading industry experts. Often copied but never duplicated, Sexually broken gives you the best value, hottest stars and most realistic rough sex in the industry, with world class bondage to boot!
Read More »
---
---
Welcome yet another fresh face, sexy body to the pages of the hottest Sex and Submission site on the net. Yhivi loves bondage and rough sex, the harder the better and we bring it better then anyone.
Yhivi is bound on the floor, her hands tied under her legs. Both ankles and knees are bound and Yhivi's hot mouth is at perfect cock height. Dee Williams and her massive boobs and cock step in, Yhivi's throat is about to get wrecked. Dee sports 9 inches of doom and Yhivi's helpless throat is her target. Eyes water, and Yhivi struggles for oxygen, soon Matt brings his cock to bare and Yhivi is sent to subspace as she tried to handle the double assault on her throat.
Yhivi is a master of deep throating and the Williams' bring the hurt. After completely dominating Yhivi's hot mouth hole, she is picked up and placed on a fuck table. Now Yhivi is being roughly fucked from both ends. Her throat is brutally fucked upside down and her wet pussy is pounded to several orgasms. In the end, Yhivi is a mess of spit and cum, her eyes glazed over with a empty and blank stare.
Read More »
---
---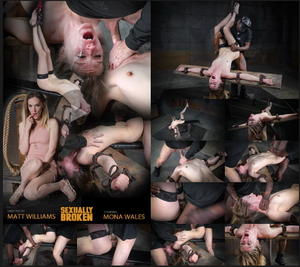 When it comes to Mona Wales, you can't just slack off. This star deserves nothing but the very best. We are happy to oblige. We need more than just some dick for Mona, we need to crucify and invert her from the ceiling before we make use of those tight holes of hers.
Belts hold Mona's lean arms down onto a wooden board. The board is slanted at the perfect angle for facefucking. Her toned pale legs are encased in black thigh high stockings and she is bound by her ankles from a suspension point.
We step up to that open waiting mouth and make it custom fitted as drool pours out, covering her upturned face. Three cocks run tag team on that moaning mouth before we lower her legs enough to get access to that pussy.
The relentless dick does the trick. Our sexy starlet is now a drooling moaning mess, her face flushed red. The three hard cocks chased her composure right out of her holes. Mona always gives her A game and today was no exception. It was a pleasure my dear.
Read More »
---
---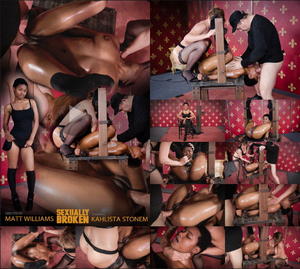 Welcome fresh face Kahlista Stonem to the best sex and submission site on the net, Sexually Broken! This tiny ball of sex can deepthroat and take a rough fucking with the best of them.
Bound on her back with custom leather straps, Kahlista's legs are bound up, her head is left over the edge of the table. Her pussy and throat are at the perfect height for a brutal fucking and her huge natural breasts are left to swing freely as she is pounded deep and hard from both ends.
The Williamses bring the dick, and soon Kahilsta is cumming and cumming. Dee Williams pulls out her massive breasts and smothers our helpless slut as she is fucked and fingered to a massive squirting orgasm. Back and forth the couple destroy our tiny victim with cock. In the end, Kahilsta is broken and laying in her own squirt, her eyes glued shut with her own deep throat spit.
Join Sexually Broken today, the most creative rough sex and bondage site on the net. Sexually Broken, taking the fast forward out of porn since 2012!
Read More »
---
---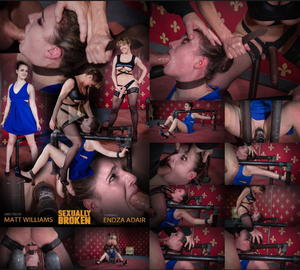 Endza Adair, the perfect girl next door, is severely bound and throat fucked to the ground in today's Sexually Broken Monday Offering.
Bound sitting between to pipes with her arms Strappado'd back and her legs spread open and wide, Endza finds her self completely helpless and at the mercy of two aggressive face fuckers. Dee Williams, in her high heels and sporting a huge strap on, takes to opening Endza's throat. The onslaught from the two cocks is overwhelming. Endza's face is used hard and deep, with no mercy. We add a vibrator to her wet shaved pussy and Endza is reduced to a cumming whore as the cocks bang away at her helpless throat.
In the end, Endza collapses to the ground completely dazed, confused and and broken. Cum drips from her wet pussy, and deep throat spit covers her entire face and body. All she can do is moan on the floor as she leeks from every hole.
Read More »
---
---
We have the Couger-tastic Syren De Mer and her amazing body, helpless and ready for cock today on the most creative bondage and rough sex on the planet.
Today we called in Dee Williams (Formerly Darling) and her huge feeldoe to help destroy our sexy Couger Syren. Dee with her amazing athletic body, huge tits and big cock, loves fucking up bitches. We have Syren bound face down ass up and oiled to perfection, bound with custom leather, in a custom device. She is completely helpless and about to be solidly used and abused by cock.
Back and forth, the couple blast Syren with cock. Amazing deep throat and brutal fucking make Syren cum over and over. There is nothing Syren can do but take and cum. Dee's huge strap on fills Syren's hungry throat to the bottom. Both cocks attack and Syren can only cum. In the end Syren is left dripping, shaking and moaning as reality slowly slips back into her cum drunk brain. Another victim of Sexually Broken is left wondering what the fuck just happen and why did it stop…
Read More »
---
---
The beautiful Mona Wales loves her some sybian. A sybian is the most powerful vibrator in the world and a force to be reckoned with. The orgasms are guaranteed. The strict bondage means she can not get away or escape the sensation.
We shackle Mona down onto a sybian between two large metal poles. The poles serve a dual purpose as once we have that clit properly warmed up, we remove the sybian, stand her up and bend her over for pussy access. The shifting bondage holds her as she bends.
Once Mona is bent over, 3 hard cocks run tag team on both ends as she cums and screams and moans. This is a happy slut getting all of the attention she can possibly desire. She is stuffed full of dick like a pin cushion.
The disheveled look she starts sporting shows just how far she has been pushed. When makeup and composure meets dick, dick always ends and composure always cracks. And here at Sexuallybroken, we wouldn't have it any other way!
Read More »
---
---
---
---
---
---
---