---
A ritual can hold a potent magic.
The Visitors are coming to partake in Master James offering of slave 525-871-465 for a sexual ceremony, 'The Rites of Passage. Witness Black Snake Magic and Miss Raven Rose perform with Master James and slave Abigail in this intense dance of pleasure and pain. A maelstrom of carnal energy flows around the epicenter of slave Abigail within this ritual. She succumbs to her flesh as the play thing for these three primal energies. Take part in her torment and pleasure. Master James offers His slave to be tested upon an altar of steel; bound, licked, caned, fucked, used, and abused, she will not go unscathed. Be part in her entranced pleasure and torment.
'The Rites of Passage': The ritual is a gate way to unbridled sexuality that a sex slave must embrace to become the embodiment of sensual and painful pleasure, in full service to its Master. Part of the rites of passage for sexual enslavement, are what have been termed 'rites of separation' from the asexual world. In order to be incorporated into the world of sexuality, a relinquishing of all rights to its Master is required.
The impression that a long-established rite was to be enacted with magic from the spiritual realm and performed with powerful medicine by the practitioners, the awake, not belonging to this world, but of the universal knowing.. Join us as the visitors, Miss Raven Rose and Black Snake Magic, devour this sensual sacrifice in their honor
Read More »
---
---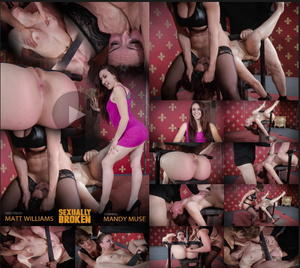 Mandy Muse likes her intense. She needs it to be to get off. Matt and Dee Williams know how to provide just that.
She is bound on her back to a device that keeps her body locked in a perfect "fuck me" position with her head back to expose her eager mouth. Matt and Dee work her pussy and mouth in tandem as desperately tries to catch her breath. Mandy likes breath play though, so Dee things on other ways have fun with her. Dee straddles Mandy and smothers her with pussy. Mandy isn't complaining though. She just wants more. Finally she is writhing and having a massive squirting orgasm. This girl is an all you can fuck buffet and we are going back for seconds.
Read More »
---
---
---
---
---
---
---