---
Lucious little Ziggy Star is so cute in her pigtails, but she's far from innocent. Dee has her spread and bound to the Hitachi as she giggles and moans before greedily gobbling down the strap on dildo as it's shoved into her mouth. Ziggy drools shamelessly till her spit mixes in with her sopping wet pussy and she's a filthy mess and covered in her own slime.
Read More »
---
---
Rick Hunt saw Topgrl and knew he had to apply to be in a shoot with London. He was so enthusiastic that she decided that he wouldn't go home disappointed. London loves a hard cock, especially when it only gets harder when she introduces pain.
London first ties Rick on his knees, securing his member to the floor. She attaches some binder clips to some of his more sensitive areas before pulling out the single tail and adding stripes to his exposed chest. She canes his inner thighs as his screams are muffled by his tape gagged mouth. She then removes the clips, dragging them off his skin agonizingly slow and pinching the marks left over to get a few more screams out of him.
London Then bending him over, propping his ass up by his balls and proceeds to whip him and shock his exposed testicles. She giggles with delights as he wails some more. Finally she puts a leather hood on him and bends him over, securing his cock in a fleshlight as she fucks his ass. She has a vibrator tied to his junk so she can play with him some more while she rails him hard. Rick cums hard before she is through with him and through with him, she leaves him panting in the darkness of his hood.
Read More »
---
---
Slave jess was sent to the Sensual Pain Dungeon by her Master, to be put through a rigorous series of tests at the hand of Master James. Tests of strength, endurance, will, tolerance, honor, submission and pain.
To begin, Master James has her kneeling on the slave seat and adorned with heavy, rugged stocks on her wrists and neck.
Where perfection and a confident will to achieve are expected from an alpha slave like jess, she tends to forget her place and opens that mouth of hers a bit too often for her Master's liking. Master James has created (or rather recreated) just the device to put her to the test… The Scolds Bridal, also known and referred to as The Branks.
Historically, the branks was used as an instrument of punishment and a form of torture and public humiliation for women that were taken to gossip and overall riotous speech. In order to mirror the punishment for verbal iniquities, an iron muzzle in an iron framework that enclosed the head was crafted. A bridle-bit, about 2 inches long and 1 inch broad, projected into the mouth and pressed down on the top of the tongue. In some other more torturous models you may find a spike or blade attached to the curb plate causing a piercing or laceration of the tongue if the accused were to try to speak.
Master James needed to hear her responses to His questions so slave jess is spared the bit this time around but she looks very humbled in this beautifully crafted head gear.
A test of endurance and pain tolerance comes with the bite of the cane on her inner thighs, leaving bright red stripes on her porcelain skin. With her thumbs tied to her neck stocks holding up her heavy wrist stocks, Master James canes her palms and has her stick out her tongue for a bit of mental fuckery as he pokes and prods her face through the muzzle and rings her bell by rapping on the heavy steel encasing her head, causing an overstimulation of her senses. She is left shaking and near tears wondering what is to come.
She is fitted with an even heavier set of stocks with the added weight of a steel grid back piece and hoisted under the gallows to a squatting position. A test of endurance and muscle strength. She is finding too much relief by alternating between each leg to maintain this position so Master James pulls out the Galley Whips and goes to work on her breasts, stomach, pussy and already tender thighs.
There is a struggle to get her into the next set of stocks and in position for a thorough inspection of her slave holes but it's well worth the trial and gives you an honest look into what goes on behind most scenes you will see in this type of setting. All in all, slave jess has passed all of the tests that were set before her today and undoubtedly has made her Master proud.
Read More »
---
---
Run Ragged Wrapped in Rope
London River has claimed yet another sexy young victim. Bella Rossi was enticed and snared in by London's mischievous look and her tight body, but there is no way she could have understood the extent of what she was getting herself into. Now she finds herself stood up with her wrists and ankles bound in rope so that they are held spread apart, with London baring down on her with a pair of fabric sheers and that same look she had found so intriguing a little while ago. And once her skirt is cut away, it's time for London to have her fun.
She takes a piece of the skirt she just cut off of Bella, balls it up and stuffs it in Bella's mouth so that her shrieks are muffled, then tapes it there so there's no chance of it coming out. She takes out a whip, the sight of which alone is enough to make Bella jump back in fear, and starts lashing up and down her body. With each lash, Bella pulls away a bit, so London decides she needs to make that a little more difficult. She takes one of Bella's legs and strings it up to the ceiling so that she now has to struggle to balance and can't pull away so much. Then she cuts away the rest of her clothing and takes to the newly exposed skin with a flogger and a BBQ skewer.
London lays Bella down on her back and ties her down to a table, her ankles tied so that her legs are spread and raised up by her chest. For a little while she sits there spanking her, but after a moment it's time to give the girl what she was looking for. London leaves and comes back wearing a strap on dildo. She touches Bella's pussy gently with her hand at first, before sticking the thing inside her and fucking her hard. But London knows that isn't enough, and she wants Bella to have a good time, so she takes out a hitachi vibrator and puts it right on her clit. Now Bella is crying out with pleasure, cumming hard like she wanted from the beginning.
Read More »
---
---
Local college coed is severely bound, vibrated to several orgasms and face fucked into subspace!
Cute as a button, our sexy local college coed, Nora Riley is slutty as they cum, and this one cums a lot.
We have this amazing girl next door all bound up and helpless. A vibrator is stuck on her sweet shaved pussy, her arm and legs bound in hard unforgiving metal. We have Nora's face at fucking level, she is completely helpless and we are going to take full advantage of that. Both Matt and Dee bring the cock to our coed's wet throat. Breath play at it's best, brutal orgasms she can not stop. It doesn't take long for our bondage power couple to destroy Nora's brain. Brutal face fucking is something Nora loves and lives for, but even she is overwhelmed, you can tell by the vacant look in her eye, and the amount of drool dripping down her body.
Read More »
---
---
Hot Asian is bound, hooded, gagged, blindfolded, brutally fucked and licked, made to cum!
We have Milcah Halili bound and helpless on the only Bondage and rough sex site on the net. We don't hit our models (unless they beg), we fuck em!
Completely bound and helpless, our hot tiny Asian girl is hooded, gagged, and blindfolded, while stuck in a "fuck me" position. Matt and Dee bring the cock. Over and over they make Milcah cum. One cock after an another, non stop brutal pounding. Milcah can only scream into her gag as she is made to orgasm over and over without any hope of reprise.
From cocks to tongues, to vibrators, Milcah is powerless to stop any of those from ripping orgasms out of her exhausted body.
We update 3 times a week, with a different girl and unique custom bondage predicament! We have a live show each month so you can see how we really destroy these girls in real time. Often copied, but never duplicated, Sexually Broken is the only Premium hardcore bondage site on the net!
Read More »
---
---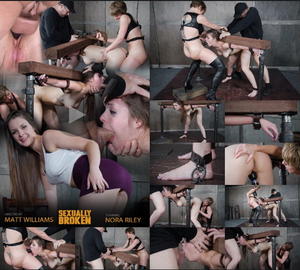 Cute girl next door is made to squirt from brutal fucking and deepthroating!
Nora Riley is as cute as a kitten and super slutty. She loves bondage and rough sex. She also loves MILFS and Daddies so today is the day most of her sexaully fantasies come true.
Bound, standing spread and helpless, we have Nora ready to spit roast. She is going to get brutally fucked in both holes from, both sides. Extreme throat fucking and deep throating from one side, fucked and made to squirt from the other. Dee and her massive tits and strap on make Nora squirt over and over. In the end our cute girl next door is breathless, standing in her own squirt, and exhausted from cumming so many times during deepthroating. A day this college student won't soon forget.
Read More »
---
---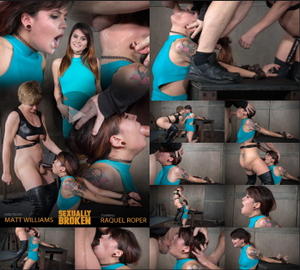 Girl next door, gets bound and face fucked while cumming on a sybian. Overwhelmed and broken!
Welcome Raquel Roper to the pages of the best bondage and sex site on the net. Our cute girl next door is in for a new experience, overwhelmed and broken.
Innocent girl next door Raquel Roper, is bound down on the world's most powerful vibrator, the Sybian. Her arms are bound back behind her, she is completely helpless, our little sex slave for the day. Raquel has to deal with with two cocks, Dee turns out being the bad cop as she fucks our helpless sluts face through several orgasms and massive amounts of throat spit. Matt is the breath play expert and keeps our slave in a constant state of subspace. Orgasm after orgasm get ripped from Raquel as her face and throat is brutally fucked while cumming and cumming.
Read More »
---
---
Local college girl endures, brutal face fucking and massive orgasms while completely helpless!
Welcome Nora Riley to the AVN, ZBIX, 3 year running, nominated best BDSM site, Sexaully Broken. This local college girl is as cute as a kitten and as sexy as a mink!
Today we have Nora bound creatively on her back with her head over the corner of the table. Her shaved pussy and mouth are at cock level, her legs spread and helpless. Nora is completely at our mercy, and if you have ever watched Sexaully Broken, we don't have any mercy left.
Nora soon finds her throat filled with cock. Relentlessly, the cock fucks our helpless coed's throat, deep and brutal, breath play at it's finest. Then Dee with her big custom strap on and DDD boobs steps in and starts fucking Nora to several intense orgasms.
In the end our little coed, is dripping out of each hole, cummed out! Eyes glazed over and almost unable to catch her breath. Nora got a professional dick down today, one she won't soon forget.
Read More »
---
---
Tall leggy redhead is rope bound, face fucked, pussy fucked and made to cum over and over!
We have the tall leggy, Katy Kiss back. Her beautiful body just begs to be bound and sexually abused. She has a special lust for Dee Williams and her massive boobs and dick, so by Katy's wish Dee is back to bang the fuck out of our sexy redhead.
Katy is rope bound elbows together and strappado'd, her legs are frogged and she is completely helpless. The look of pure lust when Dee walks toward her alone, is worth the price of admission. A rope from Katy's neck is actually holding up her strappado, so if she tires she slowly begins to choke herself out.
Then we bring the cock, we work over Katy's throat with big hard dick. It doesn't take long for the neck rope and penis to make our sexy redhead struggle for air. Katy receives a brutal face fucking that sends her deep into subspace. Soon the throat is not enough, and we hike Katy up so we can get at her perfect shaved pussy.
Katy is fucked hard and brutally. She cums over and over while the neck rope does it's job. Soon Katy is cummed out and broken, we leave her struggling to breath as her strappado is slowly taking Katy into the darkness.
Read More »
---
---
Madelyn Monroe is the kind of hot blonde that men dream of. She is bound on her back and has her mouth and pussy fucked by Matt and Dee Williams. She clearly loves having her holes filled with cock and when they add a vibrator to the mix she finds herself cumming uncontrollably. By the end of the scene she is a sexually broken, cum drunk, dazed slut. So, a happy girl. Thank you Madelyn, we are sure to see you again.
Read More »
---
---
Yhivi has already had some intense scenes in her live show. But we aren't finished with her yet. Matt Williams and Dee Williams have just a little more up their sleeves. She is tied to a table, for easy access. Matt and Dee continue face fucking her without mercy and Yhivi is happy to take it. She cums on both dicks as they fuck her relentlessly and she and Dee share a hot kiss. This is rough sex at it's best.
Read More »
---
---
After a divorce every woman seeks something a bit different than what she is used to experiencing and Rain is no different. She uses social media to find the perfect new experience in the form of a couple looking for a submissive third to join them in some devious play. She answers the ad and finds herself in a situation that might just be a little over her head. She isn't just getting a little threesome action like she might have been prepared for. Instead they tie her up and use her mouth hole to suck cock and eat pussy and they make her cum over and over while tied to their banister.
They aren't done with her yet though. She is tied to a rolling chair and turned into a fuck toy on wheels. They pass her back and forth using her pussy and making her cum even more. Finally, they decide to keep her around, but maybe not in the way she expected. She is now at their service as sex-bot, maid, and living room furniture. Matt and Dee Williams know how to treat a lady.
Read More »
---
---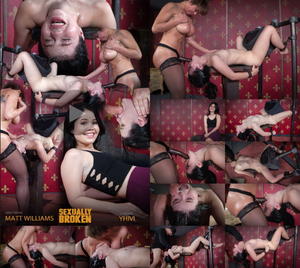 Little Yhivi is back doing what she does best, getting face fucked till shes stupid. We fuck all the drool out of this helpless throat slave.
Bound on her back her legs spread and head hanging over the edge of a table, Yhivi finds herself in a brutal predicament. The most powerful vibrator in the world is stuck on her clit and the mouth is helpless to stop the cocks that are coming to fuck her tight and messy throat into next week.
This is where Sexually Broken excels. No bullshit talking, no bullshit fake acting, no bullshit fake orgasms, no bullshit fake porn moaning, none of the bullshit that you hate about porn, we deliver you real girls, being completely sexually destroyed. We bring the real deal, and the girls have no choice, they can't fake it, because it's honest. They can't "act" they are to busy trying to survive the overload of cock and orgasms. It is pure, and it's only here at Sexually Broken.
Read More »
---
---
Sexy Cougar Syren De Mer is back on the Sexually Broken stage, with Dee Williams, the Premiere female Dominate that is taking the internet by storm!
Dee Williams is back with Matt to completely wreck Syren De Mer. Dee has been training under the tutelage of Matt Williams for about a year now. Matt is considered one the best Male dominates in the scene today, and is ready to unleash his student on the sluts of the world.
Syren is bound spread with a powerful vibrator locked onto her shaved pussy, her helpless mouth ready for plundering. Today we are going to wreck Syren with massive amounts of cock to the throat, all the while as the vibrator rips orgasm after of orgasm from our powerless Cougar.
Sexually Broken specializes is destroying even the most talented and experienced porn stars of the world. Join today to see why Sexually Broken has been nominated so many times by the leading industry experts. Often copied but never duplicated, Sexually broken gives you the best value, hottest stars and most realistic rough sex in the industry, with world class bondage to boot!
Read More »
---
---
---
---
---
---
---