---
Sierra Cirque was stored for the night in Liliyana's cage and she is quite antsy to get out. Wrapped up in an authentic Ledermeister leather armbinder and Ballet Boots she is ready for another day of training.
Read More »
---
---
Sexy Girl Next Door, gets bound on her back and brutally fucked until she is screaming and squirting
Sierra Cirque is not your typical porn star. She is local to the Seattle area, and has never done the LA thing. However she can take a fucking like the best A listers this industry can muster and then some!
Bound on her back, sexy stockings and heals on, we bind Sierra so her legs are wide open and we have access to her tight shaved cunt. We gag our little sexy bitch with a extremely tight ball gag. Her pussy is wet and ready, she knows what is about to happen to her and it excites her. She loves coming to Sexually Broken we know how to fuck a whore.
Brutal non-stop pounding, we fuck that shaved pussy for miles. Sierra screams though the gag as we pound orgasm after orgasm out of her helpless body. She thrashes, she moans she screams, she cums! In the end she is nothing but a squirting mess as make her cum so hard the squirt just flies across the room and everywhere else. Another satisfied slut destroy at Sexually Broken!
Read More »
---
---
Matt Williams has has a long week, all he does is work work work. But now it is the weekend and it's time for him to unwind with one of his all time favorite activities: tormenting a sexy woman until she unravels. He's found himself a fit young thing by the name of Sierra Cirque and the two of them are about to have a heck of a time together. After each brutal session, she will be rewarded with some time with the hitachi, but if she doesn't cum loud or well enough for him, the next session will be even worse.
Matt has Sierra on the floor in a tight little dress, heels, and a black ball gag, tied up with her arms behind her and her knees spread so that her pussy is visible. He slices off the shoulder straps from her dress so that her tits are exposed and beats them some with a flogger, just enough so that her nipples harden and he can tie some twine between them and her thighs. After that's set up, he takes the flogger to her pussy. Drool drips from the ball gag onto what remains of her dress from the pain.
The next few sittings Sierra has more of a say in. He plays some games with her, a different game for each round. The first time he picks the body part and she picks the toy, whether she wants to be hit with a dragon tail, a flogger, or a cane. In another he has her choose a number between one and ten, and the difference between her number and his number is how many times she is struck with the cane. And at the end of all of it it's time to check again if she has learned to cum when told.
Read More »
---
---
Hot girl next door with huge nipples and ass gets bound, deep throated and brutally fucked!
We have the perfect girl next door, Sierra Cirque back on Sexually Broken, this time she gets the two boy treatment!
Bound on the plank, Sierra is completely helpless, her ass is at the perfect height for the cocks to slip in her shaved pussy and pound on her G spot from this angle. Her beautiful face hole is perfect height to throat pound her into next week. You have to give these local girl next door types we find up here some credit. Most of them put the LA girls to shame. Sierra takes a brutal face and cunt fucking. So many orgasms are fuck out of our little whore you can't even count them. Sierra is left broken and dazed, dripping out of each hole.
Read More »
---
---
Sierra Cirque has just demonstrated her superb blow job skills. Now it's time to turn her over to expose her eager cunt. Matt Williams and Sergeant Miles take turns using her tight pussy and she cums over and over again. She violently thrashes against her restraints as the orgasms wash over her. Matt tops off the experience with the Hitachi. If we though she was cumming hard already, the vibrator throws her over the edge. She might be a shaking, hot mess at the end of this scene, but she has one more to go and we can't wait to give it to her.
Read More »
---
---
We thought Sierra Cirque might just be a sexy pain slut, so when she came back for Sexually Broken we were overjoyed that she is actually an amazing cock sucking sensation slut as well. She is bound on her knees, putting her mouth at the perfect height for hard use. Matt and Dee take turns fucking her face hole until Sierra is drooling and struggling for breath. This innocent looking lady is a marvelous slut in disguise. She only gets better when a vibrator is pushed against her cunt as her face is assaulted by cock. Sierra cums and sucks and cums some more. We will definitely be seeing this one again soon.
Read More »
---
---
The entire crew turned up to play with Sierra Cirque because, fuck it, she's hot as hell and we all wanted a piece. It's no wonder so many people tuned in to give us their ideas and see what terrible things we could come up with to do to her.
London River is taking center stage when it comes to pulling apart Sierra. She's getting lessons in caning from O.T. at the expense of Sierra's perfect ass. Soft white skin turns bright pink from the impact, and soon it will be black and blue if London's beatings are as forceful as her victim's screams would indicate.
We weren't lying, though, about everyone getting in on the action. O.T., Matt and more are on hand to see exactly how many screams, moans, orgasms and tears we can manage to extract from this beauty.
Read More »
---
---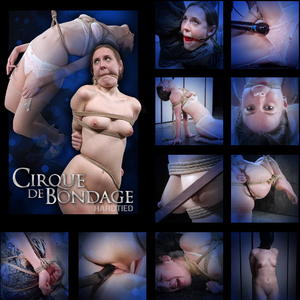 Step right up and see the most amazing acts of rope bondage ever recorded or displayed. Cirque de Bondage presents the amazing Sierra Cirque. This sexy siren is both a contortionist and an aerialist, or at least she will be today. Most girls probably prefer to do it under their own power, but Jack Hammer is going to help our star do her duty.
He begins by tying her up on the floor in her pretty dress, but Sierra will be flying through the air like a sexual trapeze artist in no time. Stripped and whipped, this beautiful babe is bound to be screaming by the end of her performance. Jack doesn't just give her a quick tap with the cane and send her on her way. He has intense corporal punishment with everything from his bare hands to a leather whip lined up to take her show to the next level.
And every performance needs a little something special. For this one, we've decided to have Sierra do something she never has before. It's her first time with the ass hook, and you can tell she is excited because as soon as the metal tool enters her back door, her pussy is dripping wet. Being bound and violated really seems to turn her on. Maybe we'll get an encore from her soon.


Read More »
---
---
---
---
---
---
---