---
In this custom video, it's shaving time 🙂 I'm in the bath and start with my legs, lathering them up then shaving them all the way down to the hair on my big toe 🙂 Then my armpits are quick and easy and last for the "hard" parts of my pussy and asshole 🙂
Read More »
---
---
Stephie Starr was last month's live show guest. If you missed it live check out this update edited, it's great.
No breaks, three bondage stations, one straight jacketed porn star, and rough sex. We move Stephie from station to station without ever giving her a break. We fuck her real hard and push dicks into her throat hole with some aggression. She quickly goes into subspace and checks outs. We love fucking real life rag dolls. Don't miss this amazing edited liveshow.
Download:
Download or WATCH ONLINE – 981.0 MB
Download or WATCH ONLINE – 981.0 MB
Download or WATCH ONLINE – 981.0 MB
Download or WATCH ONLINE – 981.0 MB
Download or WATCH ONLINE – 168.1 MB
---
---
Not many people on the planet can edure the Sexaully Live live show. It's intense helpless bondage, and some the roughest sex in mainstream porn and it's 45 minutes of straight no cut, no breaks, rough sex! We only do 12 a year, and we carefully pick our girls for it. Dee Williams is one of the best all around models in the industry, able to take the most hardcore bondage and fucking.
Dress to kill in her stocking and black high heels, Dee is ready as she can be. Soon the boys of Sexaully Broken are going to bring the cock, and those boys know how to fuck a helpless girl. From brutal face fucking and deepthroating to hard fucking that causes Dee to squirt out several mind blowing, screaming orgasms, this update has it all.
Read More »
---
---
Kel Bowie is the quintessential Girl Next Door. Take a good look at the cute girls that live near you, chances are they are in porn, enjoying their secret life.
Kel get the entire SB experience. Bound to a Sybian, brutally deepthroated and face fucked into subspace. She is bound in a strict strappado, and made to cum over and over while hard cock fill her throat past the ability to even breath. She is completely helpless and used as a proper cock sheath, over and over we deepthroat her until she is a drooling spaced out slut. In the end she takes one of the most brutal fucking we have ever done on the site. Kel is completely wrecked and smiling.
Read More »
---
---
Bound onto a sybian we start by fucking our helpless sluts throat while the most powerful vibrator in the world makes her cum over and over. Then we put her upside down and mummify her to a bench so we can fuck her face into subspace. While getting throat blasted we step in and fuck her ready wet pussy to yet more orgasms. In the end we put her perfect ass up in the year and fuck her tight pussy to several screaming orgasms!
This girl love the big cocks and now she love the bondage as well!
Read More »
---
---
It's the end of an epic live show, there are few people reading this that can possibly understand what it is like to be fucked and deepthroated at this level of intensity for a straight 45 minutes. It's an achievement!
So, the finale is at hand. We pick up a dazed, sub-spaced Mona, bind her to a table so her head is off one side and her shaved wet pussy is off the other edge. Her legs are bound spread with chain and leather her hands trapped in custom leather cuffs.
The next 15 minutes is one of the best rough sex scenes we have shot to date, and remember we don't random slap and hit girls while yelling stupid shit out, just to hear our own voices. This is about Mona surviving a brutal deepthroat, face fucking, throat boarding, while being pussy pounding to several screaming squirting orgasms! This is the real deal, no breaks one continuous shot! Kudos to Mona, there are only a handful of girls that could handle what she just endured.
Read More »
---
---
Syren De Mer is back on the pages of Sexually Broken, In our opinion this is your MILF of the year. Syren does all the pretty vanilla porn, and can also do the Hardcore bondage sex porn. Those two almost never mix.
Today Syren is fully tested. She is complety sexaully destroyed, bound down on the worlds most powerful vibrater and cumming about every minute with each one more and more destructive. Now add the catastrophic face fucking in, and it doesn't take long to send a girl into deep deep subspace. The lights are on but she's not home. That perfectly describes this scene. We blast Syren into subspace early and keep her there. It is hard to use words that really describe the intensity of this scene. So really, check out the free trailer, and then we will see you inside.
You do not want to miss this one!
Read More »
---
---
Mona is 30 minutes into a no break brutal live Sexaully Broken show. It almost a non-stop brutal cock pounding and face fucking. Only a few girls can even handle one of our live shows, only 12 get invited in any given year. Only the best of the best make it to the most exclusive gig in porn today.
Bound in custom leather cuffs, we have Mona helpless in a backbending hogtied. It won't take very long for Mona to be face fucked, throated and cumming. With a vibrator we make her cum and squirt, all the time cock is stuck deep in her throat. It is hard enough to take a face fucking on a vanella set, but here at Sexaully Broken, they take the hard face fucking, the bondage, and the brutal orgasms all at the same time. It is an overload that most girls can even begin to handle, but Mona is one of the very best our industry has to offer!
Read More »
---
---
Kenzie Taylor is one of our favorite sexy bimbos, huge tits, a perfect ass, full lips, tan and sexy. Kenzie loves cock loves pussy and loves sex.
Bound on her back with her legs held open, and head over the edge of the table, Kenzie is completely helpess and exposed. Today we are going to overload our big tittes slut with pussy and cock. Dee will control her breathing with her perfect wet shaved pussy, her phat ass and massive boobs. Matt will stuff her throat with cock, not all of it fits in Kenzie's throat but enough so she can't breath while she is being throat boarded upside down. The pair completely controls Kenzie air intake. In the end our sex slave is spent from being made to cum over and over and over. A drooling dripping mess!
Read More »
---
---
Mona Wales BaRS Part 2: Chair bound and brutally double fucked, Squirting screaming deepthroat!
Bound with rope in the fuck chair, mona finds herself completely helpless and at our mercy. Her shaved pussy is perfect height for a deep and brutal fucking, her pretty face is ready for an extreme deepthroating, face fucking!
Mona is one of the girls that takes it, doesn't matter how hard, how rough, or how brutal, she takes it. She take a pussy pounding until we fuck squirt out of it, she take a throat fucking until we pull up the deep throat spit! We have liquid being drained from each hole, sometimes in an explosive release. Few girls can take it like Mona, so few.
Read More »
---
---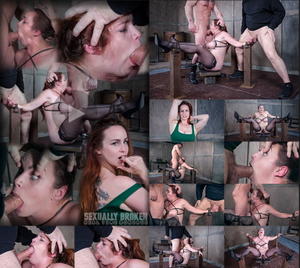 Big tited slut, has her tits bound and vibrater stuck on her clit. Face fucked to subspace!
Bella Rossi BaRS Part 1: Today we update with scene one of the March live show, the big titted and flexible Bella Rossi finds out fast, what helpless and subspace looks like while you're completely dick drunk!
Bound in a modified sitting strappado position, Bella has her huge tits tightly bound and a vibrater is locked onto her wet shaved pussy. She is completely helpless and about to get the face fucking of her life.
Orgasms after orgasms, that is Bella's new life, she can't stop the vibrator from making her cum, and she can't halt the brutal throat fucking the boy's of Sually Broken are giving her. Deepthroating, massive throat spit and a girl cumming uncontrollably! This is just the warm up and Bella is already broken, the next 3 scenes are going to be special!
Read More »
---
---
---
---
---
---
---