---
Not many people on the planet can edure the Sexaully Live live show. It's intense helpless bondage, and some the roughest sex in mainstream porn and it's 45 minutes of straight no cut, no breaks, rough sex! We only do 12 a year, and we carefully pick our girls for it. Dee Williams is one of the best all around models in the industry, able to take the most hardcore bondage and fucking.
Dress to kill in her stocking and black high heels, Dee is ready as she can be. Soon the boys of Sexaully Broken are going to bring the cock, and those boys know how to fuck a helpless girl. From brutal face fucking and deepthroating to hard fucking that causes Dee to squirt out several mind blowing, screaming orgasms, this update has it all.
Read More »
---
---
Bound onto a sybian we start by fucking our helpless sluts throat while the most powerful vibrator in the world makes her cum over and over. Then we put her upside down and mummify her to a bench so we can fuck her face into subspace. While getting throat blasted we step in and fuck her ready wet pussy to yet more orgasms. In the end we put her perfect ass up in the year and fuck her tight pussy to several screaming orgasms!
This girl love the big cocks and now she love the bondage as well!
Read More »
---
---
It's the end of an epic live show, there are few people reading this that can possibly understand what it is like to be fucked and deepthroated at this level of intensity for a straight 45 minutes. It's an achievement!
So, the finale is at hand. We pick up a dazed, sub-spaced Mona, bind her to a table so her head is off one side and her shaved wet pussy is off the other edge. Her legs are bound spread with chain and leather her hands trapped in custom leather cuffs.
The next 15 minutes is one of the best rough sex scenes we have shot to date, and remember we don't random slap and hit girls while yelling stupid shit out, just to hear our own voices. This is about Mona surviving a brutal deepthroat, face fucking, throat boarding, while being pussy pounding to several screaming squirting orgasms! This is the real deal, no breaks one continuous shot! Kudos to Mona, there are only a handful of girls that could handle what she just endured.
Read More »
---
---
Syren De Mer is back on the pages of Sexually Broken, In our opinion this is your MILF of the year. Syren does all the pretty vanilla porn, and can also do the Hardcore bondage sex porn. Those two almost never mix.
Today Syren is fully tested. She is complety sexaully destroyed, bound down on the worlds most powerful vibrater and cumming about every minute with each one more and more destructive. Now add the catastrophic face fucking in, and it doesn't take long to send a girl into deep deep subspace. The lights are on but she's not home. That perfectly describes this scene. We blast Syren into subspace early and keep her there. It is hard to use words that really describe the intensity of this scene. So really, check out the free trailer, and then we will see you inside.
You do not want to miss this one!
Read More »
---
---
We have discovered another girl worthy of performer of the year. This tiny girl is a cock expert. She knows how to 'go there' to create an amazing scene, most girls in porn should take note, this is a PROFESSIONAL performer.
Lydia is bound and completely helpless in a custom bondage rig. Her neck is trapped between two bars, so she can not turn her head much at all. Her arms are spread out to custom leather cuffs and legs are kept apart and belted. She is about to survive a most intense face fucking and deepthroating while completely helpless.
It doesn't take long to throat her into subspace, after a few minutes Lydia realizes this is no ordinary face fucking, she can handle a mindless dude just jamming his cock in her face over and over and over, but she was not prepared for the finesses the boys of Sexaully Broken bring to the table. There is an art to everything and face fucking is no exception. Soon she is glassy eyes and drooling all over herself, that is how helpless she really is.
If you want to see great intense face fucking, with out all the guys yelling and hitting the girl every 4 seconds, then you have found the perfect site for rough sex and bondage. We don't hit or slap or denigrate our models, ever.
Read More »
---
---
Mona is 30 minutes into a no break brutal live Sexaully Broken show. It almost a non-stop brutal cock pounding and face fucking. Only a few girls can even handle one of our live shows, only 12 get invited in any given year. Only the best of the best make it to the most exclusive gig in porn today.
Bound in custom leather cuffs, we have Mona helpless in a backbending hogtied. It won't take very long for Mona to be face fucked, throated and cumming. With a vibrator we make her cum and squirt, all the time cock is stuck deep in her throat. It is hard enough to take a face fucking on a vanella set, but here at Sexaully Broken, they take the hard face fucking, the bondage, and the brutal orgasms all at the same time. It is an overload that most girls can even begin to handle, but Mona is one of the very best our industry has to offer!
Read More »
---
---
We have Angel Allwood back and helpless as ever as Sergeant Miles and Dee Williams complety destroy her sexaully while bound and helpless!
Nine inches of cock blocks Angel's ability to take in air, she breaths when the cock want her to. She is mercilessly deepthroated to panic as she is being made to cum over and over. That deep throat spit is covering Angel's eyes and nose, she can no longer see or breath except when the cock let her. In the end she is a broken slut, cummed out and drooling all over herself.
Read More »
---
---
Kenzie Taylor is bound and helpless, while getting face fucked and pounded to several screaming O's
Severely bound down, sexy Kenzie Taylor is destroyed by huge hard cock.
The battle is on, in this corner we have a sexy big titted helpless blond porn star. In the other corner we have bodybuilding, Purple Heart Veteran, American Hero, who now fucks like every day could be the last day. Who you betting on?
Read More »
---
---
Welcome back to Sexually Broken , the hottest Cougar in porn today, Syren De Mer. This women should be studied by every new girl that enters porn. This is how it is done!
We have Syren stuck and helpless in beautiful leather straight jacket from The Stockroom. With her huge tits out, this jacket give complete access to your sluty slut. We call today's scene, The Man Handler. It's the scene that the boy's of Sexaully broken just go bat crazy fuck on our helpless slut. We toss her all over the stage and fuck the living shit out of her. We roughly face fuck her into subspace, then continue on to fuck the living bejesus out of her.
She never has a chance, all she can do is struggle for air and cum. All she does is cum, she squirts, she screams, she cums and when she is done cumming we make her cum some more. We abuse her tight shaved pussy with hard pounding cock, in the end, Syren is is smiling and wanting more, that's how it is done!
Read More »
---
---
Sophia Grace is brutally bound, face fucked, controlled, and fucked to several intense orgasms!
Sophia Grace is back, and today she finds out there is a different level to sex, and she now knows how to play there.
Cruelly bound and completely helpless Sophie is about to meet 9 inches of intense brutal cock. Miles is a beast, built by the Gods, to destroy helpless sluts. We bind them before him and he accepts the offering. The he takes the offering and destroys it with cock, he fucks it harder then you will find on all the other watered down rough sex sites. This is the real deal, one brutal sexual gladiator, destroying the best sluts the planet has to offer. There is no acting, there is no porn moaning, there is only honest reactions from our girls, simply because, they are too busy surviving to remember to act corny. It doesn't get anymore real than this, period!
Read More »
---
---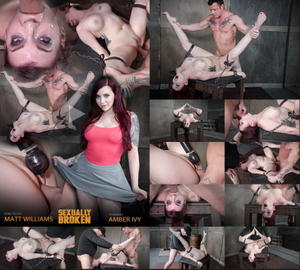 We have the beautiful Amber Ivy, bound hard, and fucked harder today on Sexaully Broken. This girl loves to be filled and the boys of Sexaully Broken know how to FILL a girl!
Upside down throat boarding, and brutal pussy fucking brings Amber to full on subspace. We have Amber completely at our mercy, she can't stop from cumming, and we can't stop fucking her amazing face! Screaming orgasms, subspace, brutal throat fucking and the best breath play on the planet. Another Wednesday here at Sexaully Broken.
Read More »
---
---
---
---
---
---
---
---