---
Not many people on the planet can edure the Sexaully Live live show. It's intense helpless bondage, and some the roughest sex in mainstream porn and it's 45 minutes of straight no cut, no breaks, rough sex! We only do 12 a year, and we carefully pick our girls for it. Dee Williams is one of the best all around models in the industry, able to take the most hardcore bondage and fucking.
Dress to kill in her stocking and black high heels, Dee is ready as she can be. Soon the boys of Sexaully Broken are going to bring the cock, and those boys know how to fuck a helpless girl. From brutal face fucking and deepthroating to hard fucking that causes Dee to squirt out several mind blowing, screaming orgasms, this update has it all.
Read More »
---
---
Kel Bowie is the quintessential Girl Next Door. Take a good look at the cute girls that live near you, chances are they are in porn, enjoying their secret life.
Kel get the entire SB experience. Bound to a Sybian, brutally deepthroated and face fucked into subspace. She is bound in a strict strappado, and made to cum over and over while hard cock fill her throat past the ability to even breath. She is completely helpless and used as a proper cock sheath, over and over we deepthroat her until she is a drooling spaced out slut. In the end she takes one of the most brutal fucking we have ever done on the site. Kel is completely wrecked and smiling.
Read More »
---
---
Bound onto a sybian we start by fucking our helpless sluts throat while the most powerful vibrator in the world makes her cum over and over. Then we put her upside down and mummify her to a bench so we can fuck her face into subspace. While getting throat blasted we step in and fuck her ready wet pussy to yet more orgasms. In the end we put her perfect ass up in the year and fuck her tight pussy to several screaming orgasms!
This girl love the big cocks and now she love the bondage as well!
Read More »
---
---
It's the end of an epic live show, there are few people reading this that can possibly understand what it is like to be fucked and deepthroated at this level of intensity for a straight 45 minutes. It's an achievement!
So, the finale is at hand. We pick up a dazed, sub-spaced Mona, bind her to a table so her head is off one side and her shaved wet pussy is off the other edge. Her legs are bound spread with chain and leather her hands trapped in custom leather cuffs.
The next 15 minutes is one of the best rough sex scenes we have shot to date, and remember we don't random slap and hit girls while yelling stupid shit out, just to hear our own voices. This is about Mona surviving a brutal deepthroat, face fucking, throat boarding, while being pussy pounding to several screaming squirting orgasms! This is the real deal, no breaks one continuous shot! Kudos to Mona, there are only a handful of girls that could handle what she just endured.
Read More »
---
---
Kenzie Taylor is one of our favorite sexy bimbos, huge tits, a perfect ass, full lips, tan and sexy. Kenzie loves cock loves pussy and loves sex.
Bound on her back with her legs held open, and head over the edge of the table, Kenzie is completely helpess and exposed. Today we are going to overload our big tittes slut with pussy and cock. Dee will control her breathing with her perfect wet shaved pussy, her phat ass and massive boobs. Matt will stuff her throat with cock, not all of it fits in Kenzie's throat but enough so she can't breath while she is being throat boarded upside down. The pair completely controls Kenzie air intake. In the end our sex slave is spent from being made to cum over and over and over. A drooling dripping mess!
Read More »
---
---
Mona Wales BaRS Part 2: Chair bound and brutally double fucked, Squirting screaming deepthroat!
Bound with rope in the fuck chair, mona finds herself completely helpless and at our mercy. Her shaved pussy is perfect height for a deep and brutal fucking, her pretty face is ready for an extreme deepthroating, face fucking!
Mona is one of the girls that takes it, doesn't matter how hard, how rough, or how brutal, she takes it. She take a pussy pounding until we fuck squirt out of it, she take a throat fucking until we pull up the deep throat spit! We have liquid being drained from each hole, sometimes in an explosive release. Few girls can take it like Mona, so few.
Read More »
---
---
We have tiny ALT girl Lydia Black with us today on the pages of Sexually Broken. This tiny ball of sex is amazing at deepthroating and taking hard brutal fucking, she is in the top 5% of all porn girls today!
Bound bent at the waist with legs spread, and her pretty mouth hole at the perfect height for a devastating face fucking, little Lydia is in some trouble here. She is going to get cock blasted from both ends. She is going to fight for air all while cumming from the huge cocks fucking her tiny pussy. It a sexual overload and Lydia finally discovers why we call the site Sexually Broken.
Read More »
---
---
Kenzie Taylor is bound and helpless, while getting face fucked and pounded to several screaming O's
Severely bound down, sexy Kenzie Taylor is destroyed by huge hard cock.
The battle is on, in this corner we have a sexy big titted helpless blond porn star. In the other corner we have bodybuilding, Purple Heart Veteran, American Hero, who now fucks like every day could be the last day. Who you betting on?
Read More »
---
---
Who is the hottest and best performing ALT girl in porn right now? It's Lily Lane, by a far margin. This girl knows how to let go and enjoy a moment, most porn girls could learn a thing or two from her!
Bound onto our custom spanking bench, Lily is about to get destroyed by cock. She is going to have her throat fucked deep and deeper, the best breathplay on the planet, while getting pussy fucked from behind while she cums uncontrollably over and over. It takes minutes for Lily to be blasted deep into subspace. We pull the deep deep spit from her throat and use it as lube for her tight pussy.
In the end Lily is barely conscious, her eyes are vacant, and drool is still just falling from her blasted mouth hole. We love making sluts stupid!
Read More »
---
---
Sophia Grace is brutally bound, face fucked, controlled, and fucked to several intense orgasms!
Sophia Grace is back, and today she finds out there is a different level to sex, and she now knows how to play there.
Cruelly bound and completely helpless Sophie is about to meet 9 inches of intense brutal cock. Miles is a beast, built by the Gods, to destroy helpless sluts. We bind them before him and he accepts the offering. The he takes the offering and destroys it with cock, he fucks it harder then you will find on all the other watered down rough sex sites. This is the real deal, one brutal sexual gladiator, destroying the best sluts the planet has to offer. There is no acting, there is no porn moaning, there is only honest reactions from our girls, simply because, they are too busy surviving to remember to act corny. It doesn't get anymore real than this, period!
Read More »
---
---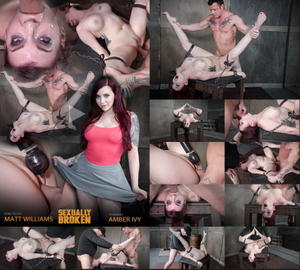 We have the beautiful Amber Ivy, bound hard, and fucked harder today on Sexaully Broken. This girl loves to be filled and the boys of Sexaully Broken know how to FILL a girl!
Upside down throat boarding, and brutal pussy fucking brings Amber to full on subspace. We have Amber completely at our mercy, she can't stop from cumming, and we can't stop fucking her amazing face! Screaming orgasms, subspace, brutal throat fucking and the best breath play on the planet. Another Wednesday here at Sexaully Broken.
Read More »
---
---
---
---
---
---
---