---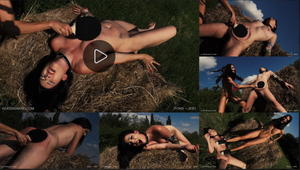 I have spanked Jeby's butts, tits and belly with ping pong paddles until breaking them on her and until she collapsed and almost fainted. When she got on the ground I left her there and trampled on her while I was having squirting orgasm.
Read More »
---
---
Before taking him to a nice restaurant to celebrate our anniversary, I surprise him by sitting him down, tying his hands behind his back, and questioning him about his infidelity. I go through his phone and interrogate him while spitting in his face. He can deny cheating on me all he wants but it won't stop me from slapping him and calling him names. "How dare you!" I say before spitting in his face again and leaving him tied up and alone to think about what he's done.
Read More »
---
---
Outdoor bondage is so damn sexy. It's hot to be out in the woods with a beautiful woman, it's even hotter when she is naked and tied to the trees. Alina West is definitely a beautiful woman and she is driving us wild in the wilderness.
There is a certain element of exhibitionism that comes along with being tied up, even in the deepest parts of the forest. You never know if there is a hunter or hiker just around the corner, and as helpless as Alina is ther eis no way she could do anything about it if they decided to join into our fun. Honestly, the way that Alina's body is responding to the torment, she probably wouldn't mind. Rope bondage makes her wet as hell, corporal punishment turns her on even more.
By the time we get her home Alina is ready for her holes to be used. She would be begging for a cock inside of her, but she knows that asking for something is the surest way not to get it. When Jack Hammer starts giving her that big, black cock she takes it like a sexual champion. Multiple orgasms later she is a cum drunk and used shell, and ready for the next cock.
---
---
Featuring Mistress Ava Black
Mistress Ava Black takes her slave back to nature for someold-school domination. She pushes himback against a wall and uses thorn covered branches to scratch his cock. This islikely how males were kept in line bytheir mistresses for thousands of years.
Parts: 3
Total Duration: 16 minutes 14 seconds
Photos: 20
Tags: ava, bdsm, cbt, cock, domina, ebony, femdom, goddess, mask, mistress, nipple, outdoor, play, punishment
Read More »
---
---
CFNM, in case you don't know, means some dude is gonna get stripped down by some foxy but fully clothed women – then he'll be humiliated, objectified, dominated, and jerked off like a helpless chump. And he's gonna love it.
Get the picture? OK, now shut up, assume the position, and enjoy!
The hottest babes in porn, including Jezebelle Bond, Victoria Sin and Heather Gables dominate and humiliate pathetic excuses for men in this fetish flick from Pink Visual. You'll see endless handjobs by hot, powerful women in this amazing porno!
Read More »
---
---
Featuring Mistress Ava Black
Mistress Ava Black keeps a slave tied up in an abandonedbuilding just for her amusement. Whenthe click of her heels echoes through the chamber he knows that his punishmentis due. Mistress Ava lights up acigarette and permits him to breath in her smoke, sprinkling the ashes on hisnipples.
Parts: 1
Total Duration: 8 minutes 22 seconds
Photos: 15
Tags: ava, bdsm, cigarette, ebony, femdom, fetish, mistress, outdoor, sex, sexy, smoking
Read More »
---
---
Format: WMV
Duration: 27:48 Min
Size: 591 Mb
Resolution: 1280×720
Featuring Goddess Maya Liyer & Mistress Amrita
Mistress Amrita and Goddess Maya Liyer have a great fun afternoon planned, they are going to have a slave hunt with some of the troublesome slaves from the compound. Of course, the Mistresses want the odds in their favour and one by one they release the slaves from the holding cage, handicapping each of them with devious and inventive ways. The loaded hunt is then on, though it's not going to take the Mistress long to get their poor exhausted charges back where they belong.
Read More »
---
---
---
---
---
---
---