---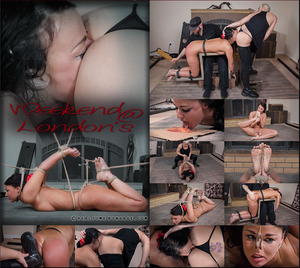 It's time to go back to London's place and rejoin her for the second portion of her all out weekend of having her ass beaten, banged, and bruised. She is still riled up from the first session and raring to keep going. When we arrive, she is face down on the floor, bare ass naked, having her limbs pulled together and tied up in a hogtie. Face down in some food, London is absolutely humiliated and disgusting.
After finishing her meal of only condiments, London is given the chance to set herself free. She unties herself, rolling around on the floor until she is done, and then stands up. This moment of freedom is all too brief, as Matt Williams almost immediately pulls a rope between her legs to form a crotch rope and London is promptly forced back down to the ground and into a more elaborate tie than she was in last time. Her arm are held tight in a strappado and she is bound at various points to the walls and ceiling.
They then move London again. Bent over a small table, held down with belts at her back and her calves, she is unable to move. Her friends have a good time taking turns beating her ass in whatever way they see fit. They spank her and punch her ass so that it jiggles. They turn her ass bright red. She squirms as best she can, but there is only so far she can move. Instead she reminds herself that she wanted this. She asked for this.
Read More »
---
---
Pussy Gets Pleasantly Punished
Raquel Roper is wound up tighter than just about anyone you've ever met. She disgusts herself, and doesn't think that she deserves to have fun. O.T. doesn't know if she deserves it either, but he knows that he deserves to have fun with her body. It's going to be rough on Raquel. Usually when you stop beating a girl to get her off it's like her moment of rest from the pain, but for Raquel that part might actually be worse. She hates how much she loves it and she knows she needs to punish herself for it, but O.T. has that part covered for her.
To start with, O.T. has Raquel on the floor, her arms tied close to her body, her ankles roped together, and a ball gag stuffed inside her gaping mouth. She whines and rolls around for a while, trying feebly to get out of her ties, until O.T. comes over, picks her up by her neck, and sits her up so that he can use her the way he wants. He chokes her and slaps her face and as she drools and moves around a bit you can see she isn't wearing any panties under her sexy little dress. O.T. cuts some holes in that dress for her nipples to poke through so he can attach clamps to her tits.
He then moves her through a few different positions, tied up with bamboo naked on the floor, stood up roped to the ceiling, lying on her back with her legs spread and her ass exposed. In each of them he uses two tools to make her scream, his flogger and his hitachi. With the hitcachi, his most powerful handheld vibrator, he makes her writhe with pleasure and cry out in shame. With the flogger he beats her tits, her ass, and her pussy, punishing her for the fun she knows she shouldn't get to have.
Read More »
---
---
You would expect a girl that finds herself tied up in a strange room to be clawing at the walls, but Paintoy Emma knows that there is no way out of this dungeon. Her only option is to submit her body to whatever punishments her new owner has devised, and hope that she has enough willpower to send her mind elsewhere. Every new torment brings its own challenge, but after the first few strikes her eyes glaze over and her screams turn to moans as she enters deeps subspace.
O.T. won't have any of that, though. He needs Emma completely present if he's going to get the reactions he wants. He's going to go through his arsenal, pulling out toy after toy until he finds something that scares her enough to make her beg for mercy and pledge her cooperation and obedience.
O.T. ties Emma's hands to her feet so that she is forced to stand on her tip toes, then takes a cane to the backs of her calves. He takes his whip and uses it to color her body in red with lash marks. He ties her in all different positions, and through all of it she manages to keep her mind in some other place. But as soon as the cattle prod comes out Emma is on the floor squirming around and begging for mercy. And now that he has broken her will the true slave training can begin.
---
---
---
---
---
---
---
---