---
Matt Williams has has a long week, all he does is work work work. But now it is the weekend and it's time for him to unwind with one of his all time favorite activities: tormenting a sexy woman until she unravels. He's found himself a fit young thing by the name of Sierra Cirque and the two of them are about to have a heck of a time together. After each brutal session, she will be rewarded with some time with the hitachi, but if she doesn't cum loud or well enough for him, the next session will be even worse.
Matt has Sierra on the floor in a tight little dress, heels, and a black ball gag, tied up with her arms behind her and her knees spread so that her pussy is visible. He slices off the shoulder straps from her dress so that her tits are exposed and beats them some with a flogger, just enough so that her nipples harden and he can tie some twine between them and her thighs. After that's set up, he takes the flogger to her pussy. Drool drips from the ball gag onto what remains of her dress from the pain.
The next few sittings Sierra has more of a say in. He plays some games with her, a different game for each round. The first time he picks the body part and she picks the toy, whether she wants to be hit with a dragon tail, a flogger, or a cane. In another he has her choose a number between one and ten, and the difference between her number and his number is how many times she is struck with the cane. And at the end of all of it it's time to check again if she has learned to cum when told.
Read More »
---
---
Legs Open and Ready For Business
A sexy woman with her legs spread wide for all to see is one of life's greatest simple pleasures. Today, for your viewing pleasure, Lily Lane is going to spend just about her entire show with her legs tied wide open and a variety of vibrators rubbed up against her until she just about breaks. It may be a good day for our viewers, but it is almost certainly a better day for Lily, seeing what Matt Williams has in store for her. Right away he takes off her outfit and gets down to business.
Lily starts out sitting on the floor. Each of her ankles is tied up in rope connected to a metal hook on the ground so that her legs are spread as wide into a straddle as they can possibly go. Then Matt takes her by the hair and yanks her head back so that he can stuff a ball gag into her open mouth. He takes out the hitachi magic wand and starts vibrating her clit. It occurs to him, however, that he could perhaps make this even more fun, so he clips some nipple clamps onto her tits and ties them to the floor in front of her so she is bent over at the waist. Then he takes out the celebrator, a smaller and more precise vibrator, and goes back to pulling muffled moans out of her.
After a few different positions with her legs spread and her pussy vibrated until she has cum herself numb, Lily is ready for some pain to go with her pleasure. Matt ties her neck rope to the ceiling and weights the other end of it with a large stone. This way, Lily is being choked no matter how high up on her tip toes she goes to try and fix it. Then Matt takes out the flogger and goes to work slapping her huge tits and her gorgeous ass. By the time he's done they've turned a bright shade of red almost as saturated as the ink in one of her tattoos.
Read More »
---
---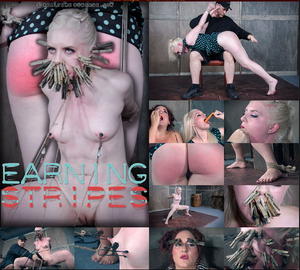 Pain-Seeking Babe Finds Herself in a Pinch
Today Dresden is going to find herself in a pinch. Actually, that might be the understatement of the century, since she is going to spend her day having her skin smacked and squeezed until her ass turns an impressive shade of red. The rest of her, meanwhile, is going to look about as polka dotted as the sexy little dress she wore for us today.
Before we jump into the scarier stuff Matt wants to make sure Dresden is prepared for whatever torment he has ready for her so he starts in with something simple. He sticks a red ball gag in her mouth and bends her over his knee and spanks her harder than she's ever been spanked. She squirms and tosses around but there is no getting away from it. If she's reacting like this to some spanking, who knows how she is going to get through the rest of today's session.
Next thing Dresden knows she is tied in place with her legs spread wide open for all to see. Matt hooks some nipple clamps onto her tits and tie them down to the floor with some string to better hold her in place. Then he covers her entire face with clothespins until she looks like a porcupine. She is hurting and squirming but the pain cannot possibly compare to the level of humiliation she is currently experiencing. Matt's a nice guy, though, he wants her to have some fun, so he takes out his hitachi vibrator and puts it right on her clit. Uncomfortable whimpers turn into moans and it's all Dresden needs to get her ready for the rest of her live feed.
Read More »
---
---
When Marica Hase starts our shoot she is cute and composed, all done up in an outfit and makeup that make her look like the girl next door, with her wrists tied up to our ceiling. Matt Williams isn't about to let that last long, though. He is intent on transforming Marica into a drooling fuckpuppet by the end of her time here. The best way he can think to do that is to keep her going non-stop until she breaks.
Matt attaches clamps to Marica's nipples and hangs weights from them before clipping clothespins all up and down her torso. All of them are attached to the same string, so with one little tug they all tear loose. It's easy to see how much it hurts Marica from both the sexy little yelp she lets out and the fresh red marks all over her tits and stomach. Matt sits her down on a table and vibrates her pussy until he has heard enough of the whimpering, little noises she makes. Then he takes the table out from under her and leaves her hanging, suspended by the rope binding her arms and legs, like a human wrecking ball.
Matt's session with Marica Hase is not like other sessions we have in our studio. There are no cuts, no breaks, just one continuous feed of unending BDSM torment. Unlike other models, Merica does not get to take a moment to breathe and compose herself. She has to keep going, enduring whatever fun Matt wants to have with her in an endless stream of increasingly brutal rope bondage positions. Marica gets spanked, choked, and caned continuously, and each time, she lets out a little squeak or shriek encouraging her handler to keep going.
Read More »
---
---
You would expect a girl that finds herself tied up in a strange room to be clawing at the walls, but Paintoy Emma knows that there is no way out of this dungeon. Her only option is to submit her body to whatever punishments her new owner has devised, and hope that she has enough willpower to send her mind elsewhere. Every new torment brings its own challenge, but after the first few strikes her eyes glaze over and her screams turn to moans as she enters deeps subspace.
O.T. won't have any of that, though. He needs Emma completely present if he's going to get the reactions he wants. He's going to go through his arsenal, pulling out toy after toy until he finds something that scares her enough to make her beg for mercy and pledge her cooperation and obedience.
O.T. ties Emma's hands to her feet so that she is forced to stand on her tip toes, then takes a cane to the backs of her calves. He takes his whip and uses it to color her body in red with lash marks. He ties her in all different positions, and through all of it she manages to keep her mind in some other place. But as soon as the cattle prod comes out Emma is on the floor squirming around and begging for mercy. And now that he has broken her will the true slave training can begin.
---
---
Darling is sexy as fuck. She has been around the scene long enough that we know that whatever we do to her, the hardest part is going to be keeping her from liking it too much. We only want her cumming when we give the orders, but Darling is so hot for bondage and discipline that sometimes she's on the edge of an explosive orgasm while we are whipping her massive tits.
That's how it goes when our model is a such a dedicated pain slut. We do things like apply a brutal zipper clip and she screams in agony when we tear it off, but when we check between her thighs her pussy is dripping wet. Some girls can't cum when they are in too much pain but this one can barely stop herself. When we put the Hitachi between her legs and start finger banging that tight snatch of hers she cums like a fountain. Darling isn't always a squirter, but if you get her worked up enough she is old faithful. It's nice to know that our tender ministrations are so well received.
It's her tits that are the real pleasure button for her. We don't spare an inch of them from the abuse, either. We tie them off to make them extra sensitive, then pump her nipples with suction cups before tying those with baling twine. They are two massive, sore globes on her chest and she is putty in our hands. Eager submissives are always fun to have around.
Read More »
---
---
Freya French has come back looking for the kind of rough handling rope bondage that has made Jack Hammer famous. He puts her into the kind of contorted positions that make her joints ache and her pussy wet. This petite little pixie is into pain and suffering when she is doing it for someone strong enough to make her submit.
She needs to prove to Jack that she can be valuable to him. He wants to see how flexible his new little slut can be, twisting her until her arms almost pop out of their sockets. She can't even struggle against the tightness of the ropes. But Jack isn't only interested in how well she can bend before she breaks. He needs to see her skills when it comes to sucking a cock. She hasn't earned the right to taste his, but Mr. Pogo is handy and still better than she deserves.
---
---
When Chillycarlita met Jack Hammer she thought he was quite possibly the coolest artist she had ever seen. He had an erotic magnetism that she just couldn't resist. He handled her body expertly and ever since she hasn't been able to get him out of her mind. He knew she would come back for more. It was only a matter of time.
She was kind of expecting it to be more of the same, but there is always something new when Jack becomes involved. New positions, new torments, and more intensity. One minute she is soaring, suspended in the air, and the next she is on her knees and face, bound of the floor, being whipped mercilessly on the ass. It's so hot that the pain threatens to bring her to orgasm before he gives the order.
---
---
A pathetic drooling mess. No matter how hot Endza Adair is, she'll always end up reduced to a pathetic, drooling, sobbing mess by the time O.T. is done with her. She doesn't want to be so turned on by the extreme corporal punishment and intense bondage that he puts her through, but she can't help herself.
She is screaming through the black ball gag in her mouth, but she isn't even trying to form words anymore. She would be running away if her bondage didn't keep her in place so well. The metal shackles and chains let her shake and struggle, but they won't let her get away. The leather straps that hold her to the wooden and metal frame are more than enough to hold her steady while O.T. works her over with the whip.
Orgasms are overwhelming after so much build up. She can't hold them in as the magic wand vibrates her clit furiously. She'd be crying if she wasn't so busy cumming, and while she would probably like to beg for mercy, all that she can manage to get out is a mixture of moans, screams, and cries of "Oh, God!"
---
---
---
---
---
---
---