---
Not many people on the planet can edure the Sexaully Live live show. It's intense helpless bondage, and some the roughest sex in mainstream porn and it's 45 minutes of straight no cut, no breaks, rough sex! We only do 12 a year, and we carefully pick our girls for it. Dee Williams is one of the best all around models in the industry, able to take the most hardcore bondage and fucking.
Dress to kill in her stocking and black high heels, Dee is ready as she can be. Soon the boys of Sexaully Broken are going to bring the cock, and those boys know how to fuck a helpless girl. From brutal face fucking and deepthroating to hard fucking that causes Dee to squirt out several mind blowing, screaming orgasms, this update has it all.
Read More »
---
---
Syren De Mer is back on the pages of Sexually Broken, In our opinion this is your MILF of the year. Syren does all the pretty vanilla porn, and can also do the Hardcore bondage sex porn. Those two almost never mix.
Today Syren is fully tested. She is complety sexaully destroyed, bound down on the worlds most powerful vibrater and cumming about every minute with each one more and more destructive. Now add the catastrophic face fucking in, and it doesn't take long to send a girl into deep deep subspace. The lights are on but she's not home. That perfectly describes this scene. We blast Syren into subspace early and keep her there. It is hard to use words that really describe the intensity of this scene. So really, check out the free trailer, and then we will see you inside.
You do not want to miss this one!
Read More »
---
---
Torment for Tiny Tramp with Tremendous Tits
Alyssa Lynn has one of the craziest pairs of tits anyone on our staff or elsewhere has ever seen. They stick out a solid nine inches from her tiny little rib cage and it's honestly a miracle her petite frame can hold them up at all. And Matt Williams is so excited to get his hands on them.
Alyssa's breasts may not be the focus of all of Matt's torment today, but they are absolutely the focal point of their time together, and Matt would like to make that very clear. After getting her undressed, one of the first thing he does to Alyssa is tie her tits off in a rope harness so that they look even rounder and bigger than they usually would.
He ties her ankles and spreads her legs so that her pussy is exposed. Then he drills a pole into the ground, a dildo and a hitachi taped to the end of it. Matt sticks the tip of the dildo inside her and pushes the hitachi up against her clit. Since she's strapped down there's nothing she can do to move away from the sensation as he begins to flog her tits and covers her face with a plastic bag so she can't breathe.
Read More »
---
---
India Summer thinks she was booked for a simple photo shoot but London has more in mind than that
India Summer and London River look good together. Their matching tan skin and dark hair make for the perfect pairing in a lingerie shoot. What India doesn't expect is that London has had her set up all along. The photographer seemed like the real creepy guy with a camera, but it turns out that he is just part of London's schemes. Once London has India in her clutches India realizes that this is not the shoot she was booked for.
London loves feet so she starts with them; slowly removing India's shoes so she can caress and suck on her stockinged toes, but London soon decides that she would rather play a little rougher than light caresses. After punishing India's soles she ties India to a metal bed frame propped on it's side. From here she has access to India's entire body. She flogs her, yanks her hair, and uses a vibrator to rip orgasms from her. She wants to challenger her pretty toy though and India is arched back into a beautiful, strenuous position that London leaves her in to watch her suffer.
Finally London decides it's time to fuck her new playmate and after London warms her up with her mouth, India has had a change of heart. She moans with pleasure as London fucks her and even begs for her to continue. London knows how to get girls to warm up to her, even if she does start in non-conventional ways.
Read More »
---
---
London River has Ashley Lane tied down, both in her heart and on the floor of London's dungeon. Her hands are up above her head and her legs are spread apart, held with rope at the wrists and the ankles. London doesn't need any clothing on Ashley to cut or tear off, all she wants is her body to use and abuse any way she likes.
London starts by warming Ashley up a bit with some slapping, flogging, and teasing, but she decides to make things more interesting by subjecting Ashley to some harsh whipping and forced orgasms. London decides that Ashley is taking the single tail a little too well so she moves her to a box and ties her legs up. She proceeds to whip Ashley more before bringing in a couple canes. She starts with a slim cane on Ashley's ass and thighs and moves on to something bigger. Ashley wails and tries to escape, but London waits patiently for her to give up before landing another hard stroke. After all, Ashley isn't going anywhere and London has all day to play with her.
Finally London puts Ashley in a face down, ass up position. She hasn't hurt Ashley quite enough to be satisfied yet, so she brings out something that she knows will make her scream. She applies an innocent looking cream on Ashley's eager asshole and clit and almost immediately Ashley starts screaming in pain. The cream has something special added to it. Capsaicin. It feels like a fire is being held agains Ashely's most delicate bits and the only cure for the terrible pain is a humiliating milk enema.
Read More »
---
---
Riley Reyes has been too up tight lately, stressed and tense. Matt Williams is here to get rid of some of that tension for her through whatever means he deems necessary. To start her treatment, Matt has Riley down on her knees, tied up to wooden posts by rope around her arms, shoulders, thighs, and neck. He fits her quickly with a black ball gag and removes any fabric protecting any part of her body from his torment.
Matt flogs Riley, working her over with the many leather tails turning her chest and her ass red. He clips some clamps onto her nipples and hangs weights on them, tugging her tits down, stinging them and drawing some of her attention away from her pussy where Matt is giving his attention. He presses a hitachi hard against her clit and vibrates it as she moans and sighs. Still, it doesn't seem quite enough. He's going to have to turn his treatment up a notch.
The clamps on her breasts are removed and replaced by a rope harness, squeezing them tight. The hitachi, in turn, is replaced by a sybian, the most powerful vibrator we have in our dungeon. Riley is sat down on the sybian and vibrated to the point of madness as Matt flogs her ass and tits. After this many orgasms, she should have no choice but to relax.
Read More »
---
---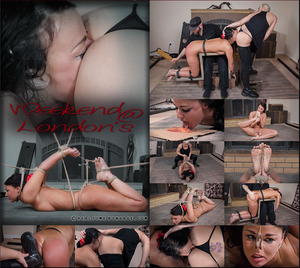 It's time to go back to London's place and rejoin her for the second portion of her all out weekend of having her ass beaten, banged, and bruised. She is still riled up from the first session and raring to keep going. When we arrive, she is face down on the floor, bare ass naked, having her limbs pulled together and tied up in a hogtie. Face down in some food, London is absolutely humiliated and disgusting.
After finishing her meal of only condiments, London is given the chance to set herself free. She unties herself, rolling around on the floor until she is done, and then stands up. This moment of freedom is all too brief, as Matt Williams almost immediately pulls a rope between her legs to form a crotch rope and London is promptly forced back down to the ground and into a more elaborate tie than she was in last time. Her arm are held tight in a strappado and she is bound at various points to the walls and ceiling.
They then move London again. Bent over a small table, held down with belts at her back and her calves, she is unable to move. Her friends have a good time taking turns beating her ass in whatever way they see fit. They spank her and punch her ass so that it jiggles. They turn her ass bright red. She squirms as best she can, but there is only so far she can move. Instead she reminds herself that she wanted this. She asked for this.
Read More »
---
---
Dee Williams has been in the game longer than just about any of our models. She is one of the top bondage models on the scene today, and we are so proud to have her as one of ours. Today she is going to start off with our handler Matt Williams and see what kind of plans he has in store for her today.
The dress Dee is wearing is tight and she isn't wearing a bra, which is incredible for us because Dee has some of the finest tits in the industry. Matt can only hold himself back for so long before he cuts the dress right off of her and takes the next logical step of tying them off in a rope harness. This way, as her heart starts pounding, her tits get more pink and perky as time goes on. Having her arms tied back, her nipples squeezed by clamps, her back bent in a hogtie, and her pussy vibrated by a hitachi, her heart rate gets going pretty quickly.
Thinking that perhaps he should be generous, and share Dee rather than keep her and her incredible tits all to himself, Matt decides it's best to hand her off to O.T. so that he might have some fun of his own. When O.T.'s got her, apparently all he wants to do is spread her wide open. He attaches clamps to her cheeks to hold her mouth open, letting drool spill out over her bottom lip. He uses rope to tie up and spread her legs so her pussy is exposed. He ties her nipple clamps to her toes so even her tits are held parallel. And then he goes at her with the celebrator.
Read More »
---
---
Scene Queen Made to Scream
Another day, another girl with winged eyeliner and a seemingly endless need for a beating crawling her way into our dungeon to spend some quality time with our handler Matt Williams. This week, her name is Lydia Black and she is about as tiny and sexy as they come. Matt could probably wrap all the way around her rib cage with just his two hands. Let's hope he doesn't break her in half as he beats and vibrates her until she breaks.
Matt has Lydia tied down to the floor, her legs spread in a walking split and her wrists lashed to the ceiling to help her balance there so she doesn't tip over. He sticks a ball gag in her mouth so that he won't have to deal with as much of the whining and moaning that is inevitably about to come out of her. Once that precautionary measure is put in place, he goes to work caning, whipping, and flogging her feet and her little tits. With each strike she lets out a muffled squeal.
Matt has been known to play games with our models, and today is no different. He gives Lydia a range of numbers to pick from to represent the intensity with which he will be flogging her pussy. After a few good hits, though, it's time to give the girl what she wants: a good, hard orgasm. Matt puts the hitachi down on her clit and turns it on high. Lydia's feet begin clenching and flexing before he even sticks his fingers inside of her. Matt finger fucks Lydia until she screams and cums, her juices flying from his hand and dripping from her pussy. After that it looks like she's barely there. It's all over for Lydia Black.
Read More »
---
---
Eden Sin's name is perfectly themed for the way things are going to go for her on today's show. When she starts out, Eden is pristine. She is adorable and petite and all gussied up in a little pink dress. Were it not for the rope around her neck and thighs, you might think she were on her way to the park for a nice picnic. As our show goes on though, she is sullied with the filth of carnal want and sin, and it's all thanks to us.
Matt Williams fits Eden's mouth with a huge black ball gag, holding her face in a look of permanent surprise. Then he slices off that little dress of hers so he can see how hard her nipples have already gotten from the excitement. Once he sees how much they are sticking out it's all he can do to clip some nipple clamps onto her and watch as she winces. The winces turn to shudders as Matt takes out the whip and begins tearing into her chest with it.
Next Matt puts Eden down on her back and ties her feet up behind her head by the ankles. He ties her nipple clamps up too, so that her tits are being pulled at. Then he takes a cane and starts thwacking it against her ass, lightly at first, then harder as the skin becomes more and more sensitive. Finally, it is time for Eden to succumb to her most primal self and indulge in the sin of lust. Matt presses a hitachi against her clit as he finger fucks her pussy. She moans as her air of innocence is removed from her entirely.
Read More »
---
---
Choking Hazard
Sasha is so excited she can't hardly speak, or perhaps that has something to do with the cloth gag taped into her gaping mouth. In fact, with her wrists tied down to her waist and her knees and ankles roped tightly together, the best she can possibly to to communicate is wriggle a little bit. Not to worry though, O.T. doesn't need her to tell him what to do, he's got plans of his own and he's sure that Sasha is going to love them, or at least feel strongly in some direction.
He takes her hair and wraps it up in string, pulling it tight behind her into a loop. He then strings a rope through that loop and and wraps the other end of that rope around her black high heeled shoes so that her head is pulled back into a kind of hog tie. Then he pulls her elbows together behind her back. She seems to still be able to make some noises, though, so O.T. tries a few ways to stop her. He pinches her nose for a little while, then gets bored and tries choking her. In the end he decides he'd rather play with other parts of her than keep up with that.
O.T. stands Sasha up and ties her wrists to the ceiling. He then takes out his handy dandy knife and slices the shirt away from her perky tits so that they are exposed and she is left even more vulnerable to him, not that she thought that was possible. He whips her breasts until there are red lines up and down her chest, and then he gets ready for her next torment.
Read More »
---
---
Gushing Girl Gets Gagged
Dee Williams needs a little bit of TLC: tying, lashes, and cum, and Matt Williams is ready and willing to help her out getting just that. She is dressed, however briefly, in a short and tight gray dress that shows off just how round and lovely her ass and tits are. Matt can't wait to get his hands on them. He pulls the dress up over her head and wraps her tits up in rope, creating a harness that squeezes them and makes them even perkier than they are on their own.
Matt ties Dees arms behind her back in a brutal strappado, then bends her over a small table and lashes her legs so that they are folded into her body. He takes the rope and strings it through a hook on the ceiling and hoists her up so tha she is dangling in the air, suspended by her elbows and tits.
Matt then takes the hitachi and places it on her pussy, vibrating it harder than any other handheld device can. She cries out as he presses it against her clit, begging for release, pleading with him to let her cum. The truth is Matt couldn't care less what she does, he just wants to have his fun with her. In no time Dee is squirting all over the place. Matt thinks this is funny, so he puts her into a few more suspensions, seeing just how wet she can get the floor. He might need a caution sign by the time she's done.
Read More »
---
---
Matt Williams has has a long week, all he does is work work work. But now it is the weekend and it's time for him to unwind with one of his all time favorite activities: tormenting a sexy woman until she unravels. He's found himself a fit young thing by the name of Sierra Cirque and the two of them are about to have a heck of a time together. After each brutal session, she will be rewarded with some time with the hitachi, but if she doesn't cum loud or well enough for him, the next session will be even worse.
Matt has Sierra on the floor in a tight little dress, heels, and a black ball gag, tied up with her arms behind her and her knees spread so that her pussy is visible. He slices off the shoulder straps from her dress so that her tits are exposed and beats them some with a flogger, just enough so that her nipples harden and he can tie some twine between them and her thighs. After that's set up, he takes the flogger to her pussy. Drool drips from the ball gag onto what remains of her dress from the pain.
The next few sittings Sierra has more of a say in. He plays some games with her, a different game for each round. The first time he picks the body part and she picks the toy, whether she wants to be hit with a dragon tail, a flogger, or a cane. In another he has her choose a number between one and ten, and the difference between her number and his number is how many times she is struck with the cane. And at the end of all of it it's time to check again if she has learned to cum when told.
Read More »
---
---
---
---
---
---
---