---
Kel Bowie is the quintessential Girl Next Door. Take a good look at the cute girls that live near you, chances are they are in porn, enjoying their secret life.
Kel get the entire SB experience. Bound to a Sybian, brutally deepthroated and face fucked into subspace. She is bound in a strict strappado, and made to cum over and over while hard cock fill her throat past the ability to even breath. She is completely helpless and used as a proper cock sheath, over and over we deepthroat her until she is a drooling spaced out slut. In the end she takes one of the most brutal fucking we have ever done on the site. Kel is completely wrecked and smiling.
Read More »
---
---
It's the end of an epic live show, there are few people reading this that can possibly understand what it is like to be fucked and deepthroated at this level of intensity for a straight 45 minutes. It's an achievement!
So, the finale is at hand. We pick up a dazed, sub-spaced Mona, bind her to a table so her head is off one side and her shaved wet pussy is off the other edge. Her legs are bound spread with chain and leather her hands trapped in custom leather cuffs.
The next 15 minutes is one of the best rough sex scenes we have shot to date, and remember we don't random slap and hit girls while yelling stupid shit out, just to hear our own voices. This is about Mona surviving a brutal deepthroat, face fucking, throat boarding, while being pussy pounding to several screaming squirting orgasms! This is the real deal, no breaks one continuous shot! Kudos to Mona, there are only a handful of girls that could handle what she just endured.
Read More »
---
---
Mona is 30 minutes into a no break brutal live Sexaully Broken show. It almost a non-stop brutal cock pounding and face fucking. Only a few girls can even handle one of our live shows, only 12 get invited in any given year. Only the best of the best make it to the most exclusive gig in porn today.
Bound in custom leather cuffs, we have Mona helpless in a backbending hogtied. It won't take very long for Mona to be face fucked, throated and cumming. With a vibrator we make her cum and squirt, all the time cock is stuck deep in her throat. It is hard enough to take a face fucking on a vanella set, but here at Sexaully Broken, they take the hard face fucking, the bondage, and the brutal orgasms all at the same time. It is an overload that most girls can even begin to handle, but Mona is one of the very best our industry has to offer!
Read More »
---
---
Hot Redhead Amarna Miller is back, and suffers a brutal facefucking, while cumming and cumming on a sybian. Add in a nice leather neck collar and, Magic.
Neck bound and sitting on the world's most powerful vibrator, it doesn't take long for Amarna to be overwhelmed with cock. Over and over we fuck Armarna's tight throat.
The lack of air makes her dazed, as orgasm after orgasm is ripped from her Cum Drunk body. In the end Amarna is just another cum drunk slut dazed out of mind, wondering what the hell just happened.
Read More »
---
---
Tiny Eden Sin is cock blasted to several deep orgasms, double fucked and throated while bound!
Eden Sin BaRS part 2: Without a break, Edin is quickly strapped into the "Board of Destruction".
Bound helpless, with her perfect ass and throat at the ready, the boy are about to give Eden a proper fucking. The angle makes it so the boy's cocks are banging her "G" spot relentlessly and making her cum over and over. Between her cumming, she has to deal with one of our most brutal face fuckings. Eden loves cock and handles it like the pro fucker she is.
This scene is one of the best we have to offer. If you want to see a girl get sexaully used to the max, without pain or being hit, this is best of rough sex and bondage you can buy.
Read More »
---
---
London is mummified, brutally face fucked and made to cum over and over. Complete destruction!
We finally figured out how to bind London, so when she cums, she doesn't break everything we hold dear.
Mummified, with a neck rope, then belted with strong leather straps. That seems to be the only way to bind London for sex and orgasms. Saying this girl cums hard is an understatement, she taps into crazy mom strength that can lift a car when she cums to hard. But today we got her and we got her good. We fuck her hungry throat with out mercy. Both cocks filling her mouth and throat, till there is no air to have. Add in some vibrator, and you have a screaming banshee hulk from hell, cumming like a mad women.
This is one of our best face fucking scene on the site! Thanks for going there London, you are one of the very best!
Read More »
---
---
Zoey Lane is brutally fucked by massive cock. Huge screaming orgasms, left dazed, confused, broken.
To cute for porn Zoey Lane suffers complete destruction at the hands of massive brutal cock.
We can't describe in words how the nubile Zoey Lane gets completely own by cock in this Friday update. The look on her face tells the entire story. Bound standing, the boys of Sexually Broken deliver one of the hardest poundings of Zoey's brief life. With a belt around Zoey's beautiful soft neck and cock being thrusted down Zoey's tight throat, it doesn't take long for Zoey to be completely overwhelmed.
Sexually Broken is the only BaRS site in the world. Bondage and Rough Sex. We don't hit our models, we don't do any uncomfortable S&M. Professional creative bondage holds our girls in place while we bring the dick! Brutal throat fucking and hard pounding send our girls into subspace faster then anywhere you will ever see. We almost forgot, we don't continuously talk just to hear ourselves talk. We let the girl make all the noises. Nothing is more annoying that a bunch of guys that never shut the fuck up.
Read More »
---
---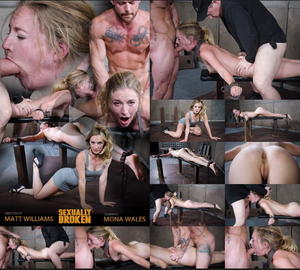 Mona wants the cock. She'll fuss until she gets it. Held down in fighter jet position her face is ripe for the taking. She can also be fucked from behind and there's not a damn thing she can do to stop us. Not that she'd want to. The strap around her neck is great for pulling her back on our dicks while her throat is filled with more dick. Sergeant Miles and Matt Williams pound her so violently that her sleek body is left shaking and dripping.
Read More »
---
---
Sierra Cirque is misleadingly sweet, but only a real slut can make it through a Sexually Broken shoot. Sierra starts in a hogtie on a table and has her throat used by Matt and Dee Williams. She drools and moans as she gobbles cock. This girl deep throats like a porn star no matter how new she is to this kind of shoot. She is then positioned for fucking. The couple takes turns fucking Sierra's pussy and throat as she squirms in ecstasy on the table. Then Dee plays with her a bit harder; putting her hands or arms around her throat. We find out how much Sierra loves breath play as she's choked and vibrated until glassy-eyed and cum drunk.
Read More »
---
---
---
---
---
---
---