---
Not many people on the planet can edure the Sexaully Live live show. It's intense helpless bondage, and some the roughest sex in mainstream porn and it's 45 minutes of straight no cut, no breaks, rough sex! We only do 12 a year, and we carefully pick our girls for it. Dee Williams is one of the best all around models in the industry, able to take the most hardcore bondage and fucking.
Dress to kill in her stocking and black high heels, Dee is ready as she can be. Soon the boys of Sexaully Broken are going to bring the cock, and those boys know how to fuck a helpless girl. From brutal face fucking and deepthroating to hard fucking that causes Dee to squirt out several mind blowing, screaming orgasms, this update has it all.
Read More »
---
---
We have Angel Allwood back and helpless as ever as Sergeant Miles and Dee Williams complety destroy her sexaully while bound and helpless!
Nine inches of cock blocks Angel's ability to take in air, she breaths when the cock want her to. She is mercilessly deepthroated to panic as she is being made to cum over and over. That deep throat spit is covering Angel's eyes and nose, she can no longer see or breath except when the cock let her. In the end she is a broken slut, cummed out and drooling all over herself.
Read More »
---
---
Who is the hottest and best performing ALT girl in porn right now? It's Lily Lane, by a far margin. This girl knows how to let go and enjoy a moment, most porn girls could learn a thing or two from her!
Bound onto our custom spanking bench, Lily is about to get destroyed by cock. She is going to have her throat fucked deep and deeper, the best breathplay on the planet, while getting pussy fucked from behind while she cums uncontrollably over and over. It takes minutes for Lily to be blasted deep into subspace. We pull the deep deep spit from her throat and use it as lube for her tight pussy.
In the end Lily is barely conscious, her eyes are vacant, and drool is still just falling from her blasted mouth hole. We love making sluts stupid!
Read More »
---
---
Lily lane is destroyed by a brutal face fucking, while being made to cum over and over!
Our favorite ALT girl is back, and she brought her massive boobs, sloppy throat and squirting pussy with her.
We have Lily bound in the perfect face fucking position. Her arms are bound in hard metal in a strappado position, her legs are spread and tied to her neck, if she moves her legs to close them she will choke herself. Which means when we add the vibrator and make her squirt like a broken fire hydrant, she chokes herself big time trying to escape the evil vibrator.
A lot is going on in this scene, but the magic happens when the boys bring the cock. Believe it or not there is science to face fucking someone. Most porn guys, just shove a cock in the mouth over and over without thought or purpose, barbarians. The boys at Sexually Broken know how to treat a throat, that's why we are the best in the world at bringing girls into subspace by simply face fucking them.
Read More »
---
---
Bonnie Day & Dee Williams are tag teamed to destruction. Both girls are roughly fucked to the ground
Today we have two girls who can take whatever is thrown at them. If you want see the best of the best take dick, then do not miss this amazing scene.
Two girls with amazing asses take on the boys of Sexually Broken, and the boys bring it! Most girls in porn today would melt in the first minute and tap out. Not these two. Both bound doggy style and completely helpless, both with theirs throats at perfect height. Most girls could never take this type of pounding, fewer yet while in bondage. Words can not do this update justice, just watch the trailer, then join the best Rough Sex and Bondage site in the world!
Read More »
---
---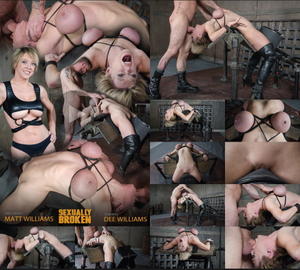 Dee Williams is back on Sexually Broken for a reason, No, it's not because she is my wife, it is because she simply puts most LA girls to shame.
Dee is brutally bound in a category five sex position, is completely stuck on the world's most powerful vibrator, the Sybian. She then is put through one of the most extreme Face Fucking scenes, all the while cumming almost non-stop while deep throated. Most LA models can only do one of those things at the same time. Dee is in the top 1%.
If you enjoy watching Bound girls getting completly sexaully destroyed with out any hitting or pain, then you my friend have found the motherload!
Read More »
---
---
Hot MILF is bound, roughly fucked, deep throated, and made to cum over and over. Broken and used!
Alana Cruise as never been severely bound and abused before. Never had her tits tied so tight, never had her face fucked upside down. So there were a lot of firsts on her day of shooting.
If you ever want to see a girls first brutal bondage and rough sex scene and how they handle it this is your update. The boys push her as far as they dare, that right there, is why Sexually Broken is the most respected bondage and rough sex site in the world. Our boys KNOW how to read a model, we know when to push, we know when we have to pull back a bit. We can play a womans body better then any of the brutish mindless guys that just jam their dick in a hole and pump. We use finesse, and we use it expertly.
In the end our broken MILF is exhausted, completely fucked and orgasmed out. She just has one of the hardest but completely awesome sexually experiences of her life, and yes she would love to come back and work with us again. Breaking hot sluts the right way is our specialty!
Read More »
---
---
Hot MILF is completely destroy by big dick, rough sex and bondage makes this slut cum hard!
To all the new girls in porn, check out how a real professional handles big cock and bondage. India Summer knows how to take tight bondage and big cock that is for sure!
It starts simple enough, on her knees, arms bound back. But then the cocks start in on her greedy throat. We fuck her face long, deep and hard. Soon India is in subspace and drooling all over herself. India survives a brutal throat fucking then we put her up on the device and pound her tight pussy to several brutal screaming orgasms. In the end, we make India squirt all over herself. Some girls can be broken, others kinda laugh at you and want more. India is the later and one of the best the porn world has to offer.
Read More »
---
---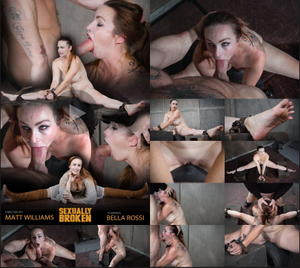 Hot big tited MILF is bound helpless on Sybian and brutally face fucked with huge cock!
Bella Rossi and her booming body are back on Sexaully Broken. With one of the cutest smiles, biggest mouths, and huge tits, this girls is a heartbreaker.
Bound helpless on the world's most powerful vibrator. Bella is tied in the splits, this puts her clit directly on the Sybian. Soon Bella will be screeming out orgams while choking on huge cock. As we turn the vibrator on you can see the blissful agony on Bella face. She knows she is fucked, and when that first cock slips down her throat and cuts off her air, Bella knows she is in for the ride of her life. Several orgasms later and two brutal face fuckings latter, Bella is a mess, cumming uncontrollably and deep in subspace. Wrecking a girl has never been funner.
Read More »
---
---
Hot MILF is bound helpless to 'X' frame and fucked by a massive cock until she cums over and over'
ANV and Xbiz nominated MILF of the year is back at Sexually Broken, India Summers loves and is amazing at her job, we are lucky to work with such a talent.
Bound to a custom made 'X' frame, India has her amazing ass sticking out begging for cock. We put the Insex mask on poor India, gagging and blindfolding her at the same time, then we add one more bag for fun. It doesn't take long for our Purple Heart recipient SGT Doe to fuck the first orgasm out of our helpless MILF slave. The SGT sets up behind and just plows his massive dick in and out of our moaning cumming helpless slut. Orgasm after orgasm is fucked out of India, in the end India is left shaking, and dripping.
Enjoy you long holiday weekend!
Read More »
---
---
Hot Cougar is hooded and brutally fucked while bound helpless, non-stop squirting orgams!
The final part of October's live show with Syren De Mer is here! Now witness the final sexaul destruction of this hot tamed and broken Cougar.
Bound and hooded in the ultimate 'fuck me" position, Syren is completely helpless and a bit freaked out with the hood. This is her first time in a hood and it shows, but soon the huge cocks make her forget about everything but screaming and cumming like a common whore. If you ever just wanted to see a helpless big tited slut get compley destroyed by dick, here ya go! Syren is fucked hard, extremely hard and all the cumming, moaning, and squirting proves it. Nothing faked, just a hot MILF getting overwhelmed and broken by cock!
Read More »
---
---
---
---
---
---
---