---
Poor little Milcah Halili has been abducted from her rich family and is being held for ransom. Milcah is an all natural beautiful asian honey with a loose asshole, so it's no wonder her abductors have hidden her in a basement to have all kinds of fun on her ass. Lisa Tiffian is a hot all natural ebony dominatrix who just can't get enough ass. When the hot blonde, all natural, brains of the operation Aiden Starr comes into the basement she finds Lisa already messing with the merchandise. Lisa's teases of Milcah's asshole has gotten Milcah all horny and turned on and not wanting to go home to daddy. Aiden is going to have to show the two anal whores what happens when they can't follow orders. She's going to have to break her foot off in someone's ass. Aiden gapes the ebony asshole so the beautiful Asian Milcah can put her tongue deep into the dark hole. Both girls get their tight little assholes punched open with anal fisting. Milcah get's the foot up the ass. As punishment for being a horrible lookout, Lisa Tiffian is fucked tirelessly until she cums again and again. Both girls are taken to the enema room for final clean up so they can be sent back home to their families now that they are useless damaged goods.
Read More »
---
---
Milcah Halili has been excited for a long time for their date with London River. London is tall, fun, smoking hot, and incredibly mysterious. No one Milcah knows has ever been or seen inside of her house. It looks like Milcah is going to be the first, since after coffee London looks ready and raring to go and invites them in to hang out a little longer. There was no way for them to expect what London has waiting for them, but they are about to find out why no one who goes in ever comes out.
London wraps her arm around Milcah's neck and puts them to sleep, and when they wake up they are not too happy. London gets them down in a plank, holding themselves up on their hands and toes, then laces wire beneath them, so if their strength gives in, even for a second, they will be met with an unpleasant shock. London caresses their back adoringly, admiring how cute her date is, before it occurs to her that they might not be thinking the same about her, and goes to grab the cattle prod just to be sure. "Do you think I'm pretty?" she asks. And if Milcah knows what is good for them they will answer yes.
She is starting to get more convinced as she stands Milcah up on their toes, an electrified wire strung right beneath their heels, just waiting to send a jolt of electricity through their body. London spends the duration of their date making Milcah hurt, not trusting them and knowing that they will surely hurt her in the future. With each pang of agony Milcah experiences, she trusts their affection a little more, and Milcah becomes more and more sure that they will never date carefree again.
Read More »
---
---
Crotch Rope and Caned Ass
Milcah Halili has been eagerly awaiting having their own live feed on Real Time Bondage, but we aren't entirely sure they knows what they're getting themself into. That's why we have decided to start them off light. We sit them down, handcuffed to fellow model Lorelei Lee, and ask the two of them a few questions about themselves. We get an idea of what they've tried, what they haven't, what they like, and what they don't. We are going to try a bit of each on the both of them.
We put Lorelei Lee into a metal barrel with just her head sticking out so she can watch as our handlers have their fun abusing Milcah's body. Two of our handlers take out whips and stand on either side of them, lashing at them with the tails, leaving red marks up and down them where their flesh was stung. Our handlers wrap Milcah's eyes in tape, so that they cannot see when they are about to be struck again.
Matt grabs a flogger and beats their tits and their pussy, making them shake and pull against their neck rope and the brutal strappado their arms are pulled into. Then he uses a wooden cane to beat their ass until there are a few good lasting bruises for Milcah to take home at the end of their time together. After that it is time for Milcah to take a breather so that they can be ready and rested for the rest of their time in the dungeon. They are nowhere near done yet.
Read More »
---
---
Nuru Massage turns into Anal domination
The beautiful Asian masseuse, Milcah Halili, just can't handle being around big beautiful Booty's like Savanna Fox's. As Milcah is massaging Savanna's ass, she steals some sniffs and licks. Savanna knows a perv when she sees one. Savanna takes control of Milcah and pops toys in and out of her asshole until it gapes. Savanna gets her entire fist into Milcah's tight ass giving her her first anal fisting ever. Then Savanna makes Milcah lick and suck on her gape while Savanna Squirts all over Milcah's beautiful face. Milcah is strap on fucked and left gaping for the next lesbien client.
Read More »
---
---
Hot Asian is bound, hooded, gagged, blindfolded, brutally fucked and licked, made to cum!
We have Milcah Halili bound and helpless on the only Bondage and rough sex site on the net. We don't hit our models (unless they beg), we fuck em!
Completely bound and helpless, our hot tiny Asian girl is hooded, gagged, and blindfolded, while stuck in a "fuck me" position. Matt and Dee bring the cock. Over and over they make Milcah cum. One cock after an another, non stop brutal pounding. Milcah can only scream into her gag as she is made to orgasm over and over without any hope of reprise.
From cocks to tongues, to vibrators, Milcah is powerless to stop any of those from ripping orgasms out of her exhausted body.
We update 3 times a week, with a different girl and unique custom bondage predicament! We have a live show each month so you can see how we really destroy these girls in real time. Often copied, but never duplicated, Sexually Broken is the only Premium hardcore bondage site on the net!
Read More »
---
---
Bondage, Electrosex, and Gender Play!
Lilith Luxe and Milcah Halili play with gender, bondage and electrosex in a hot new scene filled with latex, e-stim, finger banging, pussy licking, a zipper, an electrified speculum, the zapper and tons of squirting!
Read More »
---
---
Milcah Halili has taken some time off from Ultimate Surrender to train hard to become the worlds best erotic wrestler. She is confident that she can destroy our #3 ranked wrestler, Savanna Fox. Savanna will not go down without a fight. These two skilled ladies go out in a full on war. Neither is willing to give up. They do crazy moves, flips, reversals. One wrestler cums up on top. Loser is fucked mercilessly. Hand Gagged to shut up, Fucked hard and deep in the pussy and hard and fast anal fucking. Hair pulling, face sitting, spitting; The winner humiliates the loser brutally
Read More »
---
---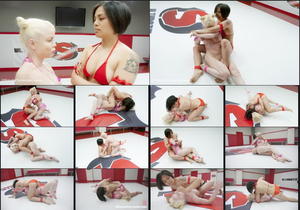 Winner fucks the loser so hard her tongue and left hanging out of the side of her mouth. The winner uses the loser tongue to satisfy herself
Read More »
---
---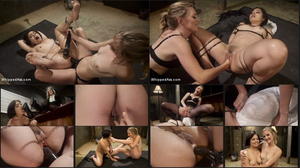 Sadistic lesbian detective Mona Wales, trains hot new detective deputy, Milcah Halili, in the techniques of successful interrogation! Milcah learns to be a tough bitch by enduring humiliation, spanking, fingerbanging, flogging, nipple clamps, caning, fisting, face sitting, squirting orgasms, pussy and anal strap-on fucking, and an intense waterboarding session using Mona's squirt!
Read More »
---
---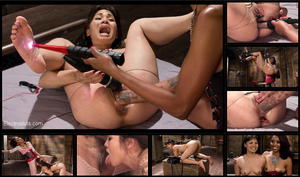 Dangling from the ceiling, Milcah has to choose between holding her weight and shocking herself by completing an electrical circuit between her asshole and an electrified copper plate, all while being flogged, cropped and vibrated to orgasm. Bound on her hands and knees, electrified ass hook tied to her long black hair, Milcah services her hot domme, Lotus Lain, with an orgasmic ass and pussy licking before earning some samurai pussy pounding electro orgasms! The scene finishes off with an intense electrified anal fucking before Milcah takes a rectal electrode and Lotus' whole fist in her pussy while getting shocked with the zapper on her cute little feet.
Read More »
---
--- Inversion Perversion
In this twisted hospital of horrors, pain slut Milcah is bound, tormented, & fucked by sadistic Nurse Starr. To cure Milcah of her perverted fantasies, Aiden must use every cane, speculum, clamp, strap-on, whip, & hook at her disposal to probe the dark recesses of Milcah's mind, ass, & thirsty, throbbing cunt. The toughest patient yet, Milcah is unresponsive to treatment until Aiden Starr locks her in an inverted suspension, double penetrating Milcah's helpless, bowed body as she pushes her farther than any sub has gone before.
Format: MP4
Duration: 60 Minutes
Size: 661 Mb
Resolution: 960×540
Read More »
---
---
Hot Muscle Asian Babe takes on Fast Scrappy Asian Babe in Summer Vengeance
Format: MP4
Duration: 45 Minutes
Size: 493 Mb
Resolution: 960×540
This match is destined to go down in Summer Vengeance history. These girls give it their all. Round 4 is a brutal demonstration of verbal and sexual domination. Squirting orgasm and the Winner degrades the Loser in her native tongue.
Read More »
---
---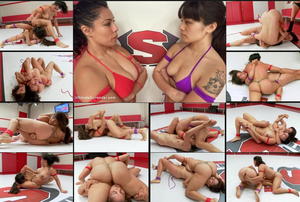 NONSTOP Back and Forth Action in a highly competitive sex fight
Format: MP4
Duration: 42 Minutes
Size: 464 Mb
Resolution: 960×540
Amazing display of wrestling skills and Sexual dominance. The winner really has to work her opponent until she's left panting on the mats nearly in tears. Izamar is a powerhouse on the mat. She knows how to work girls over and make them cum. Today Milcah shows an impressive display of heart. She does get trapped on the mats a few times, left whimpering and panting like a bitch in heat but she reverses out of nearly every hold Izamar gets her in and puts Izamar into some hot water herself
Read More »
---
---
Format: WMV
Duration: 43 Minutes
Size: 473 Mb
Resolution: 1280×720
Horney Hot Twins do foreplay with fighting then Gang Bang Barberella
Barberella's ship has landed on Planet Ultimate Surrender. As Barberella continues her search for Dylan Ryan, she explores this new Planet and is startled by the not so friend indigenous twin people of the land. The Horney Hot Twins do foreplay with fighting then Gang Bang Barberella
Read More »
---
---
---
---
---
---
---