---
Leya Falcon and her booming huge tits are back of the pages of Sexaully Broken. We love Blond bimbos so much!
Bound helpless with her head upside down and a vibrator stuck on her shaved pussy, Matt and Dee are about to fuck up a bimbo. Orgasm after orgasm is ripped out of Leya's helpless body as the BDSM couple unleash hell on her face with cock and pussy. Matt throat fucks and Dee smothers our big tited bimbo. Perfect breath play and orgasms make bimbos happy and Leya is one happy slut right now.
Sexaully Broken the only rough sex and bondage site in the world that doesn't hit their models.
Read More »
---
---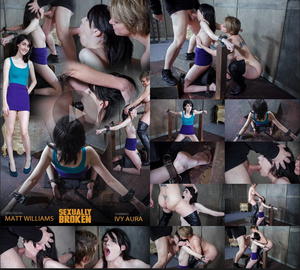 Ivory skinned Ivy Aura enjoys tag team attention from couple!
Ivy Aura said she loved bondage so we couldn't wait to get our hands (and restraints) on this pale, slender little hottie. She is belted down on the Sybian and vibrated to orgasm. Matt and Dee take turns working her throat open with cock as she writhes and wales with pleasure.
Ivy has such a pretty, tight little body that Dee can't help but reveal it and grope her as her face continues to be used as a fuck hole. Ivy is overwhelmed by continued orgasms.
Read More »
---
---
Hot Asian is bound, hooded, gagged, blindfolded, brutally fucked and licked, made to cum!
We have Milcah Halili bound and helpless on the only Bondage and rough sex site on the net. We don't hit our models (unless they beg), we fuck em!
Completely bound and helpless, our hot tiny Asian girl is hooded, gagged, and blindfolded, while stuck in a "fuck me" position. Matt and Dee bring the cock. Over and over they make Milcah cum. One cock after an another, non stop brutal pounding. Milcah can only scream into her gag as she is made to orgasm over and over without any hope of reprise.
From cocks to tongues, to vibrators, Milcah is powerless to stop any of those from ripping orgasms out of her exhausted body.
We update 3 times a week, with a different girl and unique custom bondage predicament! We have a live show each month so you can see how we really destroy these girls in real time. Often copied, but never duplicated, Sexually Broken is the only Premium hardcore bondage site on the net!
Read More »
---
---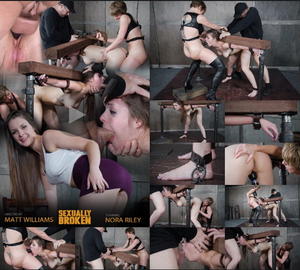 Cute girl next door is made to squirt from brutal fucking and deepthroating!
Nora Riley is as cute as a kitten and super slutty. She loves bondage and rough sex. She also loves MILFS and Daddies so today is the day most of her sexaully fantasies come true.
Bound, standing spread and helpless, we have Nora ready to spit roast. She is going to get brutally fucked in both holes from, both sides. Extreme throat fucking and deep throating from one side, fucked and made to squirt from the other. Dee and her massive tits and strap on make Nora squirt over and over. In the end our cute girl next door is breathless, standing in her own squirt, and exhausted from cumming so many times during deepthroating. A day this college student won't soon forget.
Read More »
---
---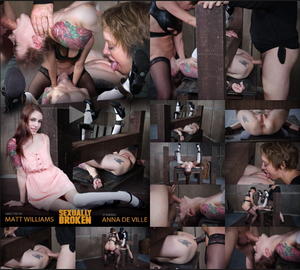 Sweet innocent Anna De Ville sucks cunt and cock while bound and cumming like a common slut!
Tiny, innocent, sexy, beautiful, slutty, perfect. That's how we would describe Anna De Ville. This cute nubile unit is sex personified.
Bound with her head hanging off a table in the perfect 'fuck me' position, Anna finds herself completely helpless and vulnerable. With her little white socks and black heals, Anna body and face is perfectly posed for abuse. And we aim to misbehave.
Dee with her massive 34 DDD boobs and big cock bring the dick to our sluty slut slut. Anna is getting it from both direction as cocks and pussy fill her mouth. Soon Anna is fighting for air as we fuck her tight pussy. Anna is a cumming machine. It doesn't take long for Dee to smother our tiny helpless play toy with her shaved wet pussy. Breath play at its finest as Anna struggles to breath though Dee's hot pussy and ass.
Read More »
---
---
Kassie Kay is bendy so Matt Williams cannot help but put her in positions that strain her hot, thin, flexible body. With her arms pulled far behind her, she is face fucked by Matt and Dee until she is gasping for air. They add a vibrator, but they don't give her a break from the onslaught of dick in her mouth. Her tiny body flexes hard as she chokes and cums with her throat filled with cock. This hot body was definitely worth having.
Read More »
---
---
Yhivi has already had some intense scenes in her live show. But we aren't finished with her yet. Matt Williams and Dee Williams have just a little more up their sleeves. She is tied to a table, for easy access. Matt and Dee continue face fucking her without mercy and Yhivi is happy to take it. She cums on both dicks as they fuck her relentlessly and she and Dee share a hot kiss. This is rough sex at it's best.
Read More »
---
---
Billy arrived to have some girl time with her friend, but London isn't in a talkative mood. She would rather listen to Billy than say much herself. She doesn't want her to talk necessarily, but moan, whimper and scream. Once she has Billy's hands tied, Billy realizes that girl time with London is over.
London ignores Billy's questions about what she is up to while she gropes and plays with her helpless friend, but things go from a little creepy to intense when London adds nipple clamps, a strenuous position and a bit of foot torture to the play time. Billy giggles nervously as London gleefully shocks and whips her. Billy has an electric dildo pushed inside her and she can't escape as London applies even more electricity to Billy's pussy. London isn't done though. She might let Billy have an orgasm eventually, but even then she is vicious. Billy may have been looking for some traditional affection today, but London doesn't cuddle like other girls.
---
---
Slender, striking Nikki Darling is no stranger to the Sexually broken experience. She's back because this kind of sex is exactly what she craves.
Matt starts with a hogtie on a bench that puts her face at the perfect angle for fucking. Matt and Dee Williams use her throat until she thinks she may never breath again, but Nikki is okay with that. The real fun starts when they turn her over. She is throat boarded and fucked until her eyes are blurred by her own drool. Dee wants to partake in cock today though and Matt uses a rope to pull Dee's mouth to cock level. The girls take turns sucking cock until Dee goes back to fucking Nikki's tight pussy until she has huge squirting orgasms.
Read More »
---
---
Sexually Broken live shows are not for just any model. They are reserved only for the best. Don't be fooled by her sweet appearance, Kahlista is one of the best out there.
She looks best in rope so Matt and Dee Williams have her in a grueling back bend, her weight resting on her hands and a neck rope attached to her ankles. They take turns fucking her mouth hole until she is drooling and gasping for air before they bring out the vibrator and make her cum over and over until her eyes gloss over.
Read More »
---
---
Smokin' hot tattoo artist Veruca James tests young slut's commitment to provocative tattoo ideas with spanking, tons of pussy licking, finger banging, face sitting, clothespins, bondage, caning, and pussy and anal strap-on fucking!
Read More »
---
---
Tall, slender and beautiful, Zoey Laine could have just as easily been a runway model, but Zoey is too much of a kinky slut to settle for that. Lucky for us she decided that she would rather be dicked down on a regular basis. Matt and Dee Williams are experts in this area and they waste no time getting this sexy little slut bound, her mouth hole in the perfect position for hard use.
Zoey is no stranger to cock sucking, but after a thorough throat boarding session from Matt and Dee Williams, this sexy southern belle is drooling, crosseyed, and gasping for air. They aren't done with her yet. Dee turns on the vibrator that is pressed against Zoey's pussy and Zoey comes undone, seized by multiple orgasms and a face full of dick. Miss Laine brings her A game and she doesn't let us down. We haven't seen the last of this amazing slut.
Read More »
---
---
After caught sneaking a cigarette in the basement at work, Mia Li submits to hot coworkers Penny Pax and Cherry Torn with hard spanking, finger banging, foot worship, pussy licking, face sitting, clothespins, flogging and double penetration strapon on fucking!
Read More »
---
---
Endza Adair will do anything to intern for hot executive Bella Rossi. Bella strips whips and humiliates Endza before putting her through the paces with spanking, finger banging, face sitting, a zipper, and pussy and anal strap-on fucking!
Read More »
---
---
---
---
---
---
---