---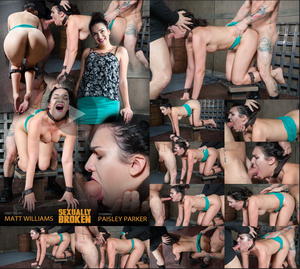 The perfect girl next door is bound ass up, mouth out. Paisley is about to get some subspace inducing cock!
Bound with her ass up and mouth out the boys of Sually Broken are going to have an easy day of destroying a cute girl next door! Helpless and wet, Paisley soon finds out that getting fucked at Sexually Broken
is a much different thing that getting fucked ANY where else. With a tight belt around her neck, Paisley is completely controlled, dominated and fucked into subspace. Deep throat fucking and breath play added in with brutal pussy fucking makes Paisley a happy but fucked up camper!
Read More »
---
---
Hot MILF is completely destroy by big dick, rough sex and bondage makes this slut cum hard!
To all the new girls in porn, check out how a real professional handles big cock and bondage. India Summer knows how to take tight bondage and big cock that is for sure!
It starts simple enough, on her knees, arms bound back. But then the cocks start in on her greedy throat. We fuck her face long, deep and hard. Soon India is in subspace and drooling all over herself. India survives a brutal throat fucking then we put her up on the device and pound her tight pussy to several brutal screaming orgasms. In the end, we make India squirt all over herself. Some girls can be broken, others kinda laugh at you and want more. India is the later and one of the best the porn world has to offer.
Read More »
---
---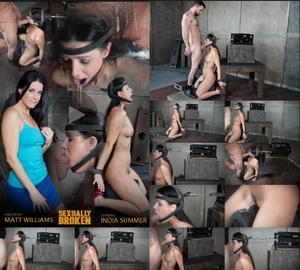 Two machines dominate India Summers, a custom blow job machine, and a sybian, DESTRUCTION!
India Summers is back and today she gets to 'Enjoy" two machines! One is a custom blow job machine the other the most powerful vibrator on the planet, the sybian!
It is hard to describe in words what is exactly happening in this amazing update. India is locked into the diabolical blow job machine, that moves her head on and off the dick, she is also bound down on the most poweful vibrater in the world. Just watch the trailer, like we said, words are not adequate to describe the complete destruction of India.
Read More »
---
---
Alyssa Lynn has a fantasy. A mysterious man let's himself into her home, and gives her a bondage and rough sex experience that she will always remember.
Alyssa lives in a house with other strippers from the same club. She is home alone though so she doesn't think anything of it when the door opens until she sees that the person standing in the doorway is not one of the other strippers like she expected. A man with his face covered looms before her and she's easily captured.
She he handcuffs her to her own pole and puts his cock in her mouth she doesn't struggle before opening her face hole for fucking. She's enjoying the cock all to herself when one of her roommates stumbles into the scene and is quickly placed on her knees to join her. The man takes each slutty mouth in turn until both women are drooling and dazed.
It gets even rougher in the bedroom. Both sluts are hogtied and their faces used until the intruder decides to violate their pussies as well. From pussy to mouth, he's in his own playground of holes. They cum and choke and cum some more. They are no longer concerned about each other. They are both locked in their own moments of ectasy, their bodies writhing as if begging for more cock.
When they are brought to the living room and fucked until they are both dazed and aching for more, the intruder thinks maybe he is finished with these two, but then the door opens once more.
Read More »
---
---
April Rain is scared when she wakes up in a room with a strange man and with cans on her hands and feet. And she should be. That fear only gets worse when O.T. cuts her pretty little dress off and exposes her body to whatever torment he has devised for her. With the cans drilled into the ground, all she can do is watch as O.T. takes what he wants.
For a while it seems like April is being built up instead of broken down by her beatings, shouting thing like "fuck you" at O.T. But don't worry. O.T. is going to do whatever it takes: fingering, kicking, and vibrating her pussy until she goes back to begging and crying like a good girl should.
---
---
18 year old newbie Paisley Parker belted down, blindfolded, vibrated and facefucked by 2 cocks!
All natural girl next door vibrated to orgasm while two hard cocks facefuck without mercy
Fresh faced newbie Paisley Parker is 18 years old and just getting started. What better place for this all natural girl next door to get started then at Sexuallybroken? Consider today a rite of passage. If this starlet can get though today, everything else will be a walk in the park. This is porn star throat training at its finest.
Our eighteen year old is bound down with belts on her knees with her arms cranked up over her head with her mouth hole at perfect fucking height. A vibrator is bolted down between her cranked open legs. A blindfold is the finishing touch. The blindfold cuts off all vision, reducing Paisley's world to pure sensation. Time for some Sexuallybroken throat training my dear.
One after another, two rock hard cocks walk right up to that face pussy and make full use of it. Paisley is given no time to get on top of it, no time to adapt. This is her new world, she might as well get used to get. Her mouth is made for fucking. The drool pours out and she gags delightfully as the huge cock tattoos its initials on her tonsils. We rip off the blindfold so that we can see those big eyes watering and continue the training.
All the while, the vibrator is ripping multiple orgasms out of her bound pussy. It is a very hard multi task in this situation. We don't care. Poor Paisley must try and suck dick as orgasm after orgasm washes over her body. By the time we are done, our starlet is a twitching puddle of flesh. This was a trial by fire. After surviving us, she is now ready for other sites. Go forth and porn Paisley Parker!
Tags: Black Hair, Blindfold, Blow job, Cock Sucking, Deep Throat, Drool, Face Fucking, Hitachi, Kneeling, Long Hair, Natural Breast, Newbie, Orgasm, Teen, Young Teen Bondage
Read More »
---
---

Brunette newbie Amy Faye bound and fucked into subspace by big dick, gagging deepthroat on BBC!
Pretty girl next door tied up and tag team fucked by huge dick until she can no longer stand
Newbie Amy Faye is about as wholesome looking as they come. But in only a few short months of modeling, she has already explored about every kinky thing she can get her greedy little hands on. She loves this sort of thing and has shown up today wet and eager to get the Sexuallybroken experience. The question is, can her pussy cash the checks that her mouth is writing? Let's find out!
We start off with a snug and secure chest harness that immobilizes our fucktoy. Taking away her arms starts to put her into subspace and we reinforce that helpless feeling by dropping her down to her knees and using her mouth hole like a party favor. Her shirt is cut open to allow her puffy nipples to poke free. Huge cock is introduced to the back of her head as she sputters and drools, choking on the BBC. Amy's eyes are already starting to glaze and we are only just getting started.
It is a relentless spiral into subspace. Amy becomes cumdrunk before our eyes. She is ragdoll fucked from both ends, used without mercy from every angle and in every position, the secure bondage keeping her completely helpless. We try and stand her up to bend her over our fuck table, and Amy is so cumdrunk she can not even stand up, wobbling like a new born baby calf. We have to help her onto the table as she flails around in a daze.
Restraining this glassy-eyed newbie into a strict hogtied that cranks her face pussy to the perfect fucking height, we finish up with some more throat training. She limply hangs onto the dick as it tattoos its initials onto her tonsils. Poor little Amy. Welcome to Sexuallybroken. Dicks, meet Amy. Amy, meet dick. In this case, it appears the dick has won.
Tags: Big Dick, Black Boots, Black Cock, Black High Heels, Box Tie, Brunette, Hogtie, Interracial, Kneeling, Rough fucking, Rough Sex, Sloppy Blow Job On Black Cock
Read More »
---
---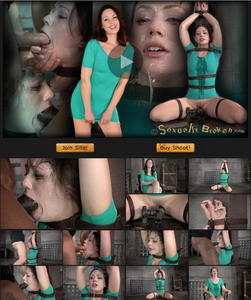 Sexy Sarah Shevon belted down and throatboarded by two huge cocks until she is utterly destroyed
Pretty starlet in strict bondage facefucked without mercy by two hard cocks
Pretty pretty Sarah Shevon. Look at your perfect makeup and hair. Look at your pretty dress and nice little body. What a pity we are going to destroy all of that today. Ok, it isn't really a pity. It is why Sarah is here today and why this site is called Sexuallybroken.
Bound with thick leather belts to a custom made wooden bondage device, Sarah's arms are stretched high above her. Her head rests against the wooden pillar. She can not move or turn her head, there is no escaping the dick. Sarah is about to find out exactly what throatboarding is. A vibrator bolted down between her legs is the icing in the cake. Time to unleash the hounds.
One after another, the cocks walk up and make full use of that mouth. The dick is relentless, without mercy and never slows down. Sarah can not get on top of it, all she can do is struggle to survive, sneaking a gasp of air whenever she has the chance. The dicks wipe that makeup right off her face and replace it with drool. Sarah is dazed and loopy, her eyes glassy with animal survival.
All the while, the vibrator is working away between her tender thighs. Between the brutal throatboarding and orgasms, Sarah is gone. She is reduced to a twitching, vacant eyed shell of a porn starlet. Welcome back to Sexuallybroken my dear, always a pleasure. Until next time…
Tags: Throat Boarding, Belt Bondage, Black Boots, Black Cock, Blow job, Cock Sucking, Deep Throat Porn Star, Drool, Face Fucking, Forced Oral Sex, Interracial, Kneeling, Natural Breast, Oral Sex, Sloppy Blow Job On Black Cock, Small Tits, Smeared Makeup
Read More »
---
---
Sexy MILF Holly Heart caged, trained for epic deepthroat on BBC, fucked rough and hard by 2 cocks!
Stunning blindfolded blonde kept caged and hauled out for brutal messy deepthroat and rough sex
Here at Sexuallybroken we have the very best in interior decoration. In this case, what we have is a smoking hot blonde blindfold MILF called Holly Heart kept in a cage in a corner. This busty fuck toy is kept blindfolded and on her knees, ready to serve whenever we so feel the desire. And we feel the desire.
Hauling her out of the dank and dirty cage, we have this pretty bauble display herself, bending over and showing that flawless ass before sending her to her knees. The blindfold cuts off her vision, she can not see or anticipate anything that comes her way, as she can do is accept her true purpose. Which is to service any cock that comes by. Holly knows what she is here for, and opens that mouth hole wide. We sink home to the base, using her face as a cock sheath. One after another, the dicks run a train on her mouth as rivers of drool pour out.
Enough foreplay. Time for the main course. We rip off her blindfold and plow her doggystyle before yanking her up and throwing her over our handy fuck stool. Now both ends are ready and wide open for full access. We make full use of this fact and turn her into a sex sandwich. Holly cums hard, gratefully, on the dick as we own her face. This is what she was MADE for. We flip her around like a ragdoll on the fuck stool and keep up the relentless pace. Holly takes every inch with a look of bliss on her face.
When we have had our fill, we throw our well used fucktoy back in her cage. She is covered in drool and cum, her hair and makeup are destroyed and her breath is ragged. When we want another round, we will haul her out again. Every house should have one of these in the corner…
Tags: Abandonment, Big Breasts, Big Dick, Black Cock, Blindfold, Blonde, Blonde Slave Training, Blue Eyes, Cage, Cock Sucking, Deep Throat Porn Star, Drool, Enhanced Breasts, Face Fucking, Hand Over Mouth, Interracial, Kneeling, Large Breasts, Leather Blindfold, Long Hair, MILF, Milf Bondage, Rough Sex, Sloppy Blow Job On Black Cock
Read More »
---
---
Bondage newbie Tinslee Reagan is brutally throat trained by 2 hard cocks while strictly bound!
Tiny little newbie gets the Sexuallybroken experience as she is used hard and rough
In keeping with the Sexuallybroken tradition of providing both experienced porn whores and fresh faced newbies, we are happy to present someone who is getting their first taste of proper bondage. At 4'11 and only 21 years old, Tinslee Reagan is a compact little package. What she may lack in experience, she more then makes up for in enthusiasm and a willingness to worship the dick.
This is our Meet and Greet, where we test our new meat and see just how far we can push them. All it takes to render this little fucktoy completely exposed and ready for use is 2 short pieces of rope. A quick binding of her elbows and wrists and it is time for the action to start. We expose those perfect perky breasts and throughly examine that flawless bubblebutt. Even in extremely high heels, Tinslee is still a tiny little thing, and we like what we see. We like it a lot. Time to show this starlet exactly what we do with someone we like.
Dropping her down to her knees, the throat training begins. One after another, the cocks walk up and make full use of her throat pussy. You can see the realization on Tinslee's face as she adjusts to her new purpose in life. Rock hard huge cock wedged deeply into her windpipe is her entire reality. She chokes and gasps on the dick, doing her best to survive her training. We are nothing if not nice, and throw a little vibrator her way. Tinslee cums gratefully as she rides the vibrator with a dick in her throat.
When cock meets makeup, cock always wins. By the time we are done with her, Tinslee's hair and makeup are destroyed. Her eyes are glassy and faraway and she is covered in drool. This newbie has handled our Meet and Greet with flying colors. We crank our fucktoy up into a strict strappado and leave her there to languish. When we want another round, we will be back…
Tags: Big Dick, Black Cock, Blow job, Breast Groping, Brown Eyes, Brunette, Drool, Elbows Together, Face Fucking, Gagging, High Heels, Interracial, Kneeling, Natural Breast, Newbie, Small Tits, Strappado
Read More »
---
---
---
---
---
---
---
---