---
TS Staci and Mistress Kandy are on the couch with a slave, talking about their facesitting plans, how they want to facesit slaves to oblivion, but sadly there is only one slave for their two asses. Staci comments that the couch seems a little lumpy and that's when Kandy realises she completely forgot about the slave she used yesterday. They drag him out, slap him around a bit and soon the problem is solved, a slave for each ass. The coil marks on the slave demonstrate that he had been in that position for some time, overnight to be exact, but the girls waste no time in getting them into position on the floor, heads on the couch, so they give them a good solid sit with no chance of breathing. The big couch has a problem of sliding away so the slaves are told to move to the love seat where the serious ass play begins. Two slaves forces competition and soon the sluts are trying to outdo each other. Staci seperates her legs so you can see the bulge in her panties, her balls spilling out of her panties. Masturbation and tickling are added to this scene which ends with a competition. Which one will go down first?
Mistress: Mistress Kandy, Mistress Staci
Category: Transsexual Dominatrix, Face Sitting, Ass Smothering, Facesitting, Transsexual, Staci, Kandy
Read More »
---
---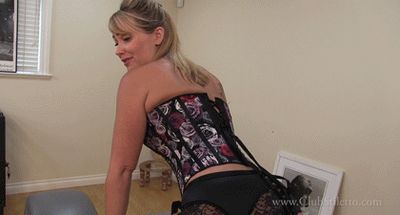 Kandy outdoes herself in this fantastic fart scene. Fart after juicy fart bombard her slave through the full three minutes… no filler here. First fart face has to spread her ass cheeks so she can blow gas directly into his face as he kneels. She then has him lay down on the bench and squats over him, just inches from his nose so you can see every fart is authentic, and so the slave gets the full impact of her rank farts. She then has him move to the other side of the bench where she again squats on his face and lets out a massive fart that she says almost makes her sick to smell. The slave though, he is conditioned to love it, so Kandy makes sure the smell is ground into his face by sitting on it, but only after she has expelled enough gas to bring tears to most peoples eyes. "All in a days work.", she giggles. If you love a beautiful hot Domme that truly enjoys farting on her slaves, you will love this one.
Mistress: Mistress Kandy
Category: Farting, Verbal Humiliation, Bondage Device, Kandy
Read More »
---
---
---
---
---
---
---