---
I have a solution for all your problems. Well, at least one problem for now. I'll teach you how to cope with being a cuck.
Another week, another therapy session with Dr Sydney. You want to chat some more with Sydney about your relationship with your wife and her desire to start playing with other people. You're not sure how to respond to it so you're looking for advice from your therapist. Her advice? Becoming a cuckold. You don't really like the sound of that but you're willing to give it a shot. Sydney suggests that letting your wife play with other people is the solution to your situation. As a practice exercise, Sydney brings in her boyfriend to demonstrate what it would be like for you to watch someone you like play with another guy. Especially someone with a bigger dick than you.
Read More »
---
---
What a glorious mix of pleasure and pain Mistress Mandy Flores is giving the worthless servant x today. Strapping his balls up with the excruciating bucket parachute harness, she relishes as each addition to the bucket stretches his already bruised ball sack even further into despair! All the while mixing in sensual sexuality that no servant really deserves….along with random smacks and kicks…starting it off with a special pre-cum inducing surprise!
Read More »
---
---
Jamie Valentine the slave for 40 straight days and has had him in chastity, working for her in the yard and doing everything she says. She decides to milk him, but it's not going to be that easy. She edges him and teases him with her body first, remind him of what he is not worthy of. "Your Goddess deserves every single drop of filth from these balls, do you understand me slave?" Mistress Jamie asks him. She finally drains him dry, and feeds him his disgusting filth.
Read More »
---
---
Mistresses Jean Bardot and Kylie Rouge have hired Lew and Alex, two repairmen to do some odd jobs around the property today. Imagine the shock to the two Doms when one of the repairmen turns out to be a canceling male chauvinist pig. Despite the protests of his partner Alex, Lew can't shut his mouth and stop letting his male arrogance get him deeper and deeper in trouble. Even worse, after being given direct orders from Miss Bardot not to enter her private dungeon, the brazen idiot marches right in at first opportunity, considering her warnings a joke. Little did these two repairmen know that the joke would be on them. We next find our repairmen in the dungeon, Alex in a kennel and loudmouth Lew strapped to a milking bench. Goddess Jean Bardot is furious and decides to remove some of Lews testosterone by milking his overactive balls. Both Mistress Kylie and Goddess Jean take turns roughing pulling and milking Lews pig stick as he both moans on pleasure and cries in agony. The Goddess's to not let up for a second, taunting and tormenting the loudmouth caveman as they pull his cum out of his cock and then force him to eat it. Not satisfied, Goddess Jean unleashes fury of kicks to the repairman's' balls, leaving him howling like a wounded as the Goddess's move on to repairman Alex. Having been the well behaved one, the Goddesses allow Alex a chance to earn his freedom. If the stud can hold his load and fuck Mistress Kylie and make her cum in under 3 minutes he will be allowed to go free. To drive this point home, Mistress Jean demands Alex deeply inhale the scent of Mistress Kylie womanhood. Driven to please his Masters, Alex fucks the Miss Kylie with all the passion he can muster, finally making her quiver in climax. As Alex withdraws, Goddess Jean realizes that Alex came in his condom as well! Furious, the Doms teabag Alex's slutty mouth with the filled scumbag, then humiliate him by dumping his filth out on his face and in his mouth. Mistress Jean promises he will be punished for an unauthorized orgasm. We return to find both Goddesses amusing themselves punishing Alex by shocking him with a cattle prod. Alex jumps and flails wildly, not knowing where the next jolt of electricity will come from. Both Ladies laugh and laugh at the spectical before them, noticing that the repairman is paying close attention to their boots. Taking mercy on the sad little slut, Mistress Kylie Rouge and Jean Bardot allow the worm to lock and kiss their boots. As the boots become shiny through worship, both Dommes notice that Alex is quite turned on by worshipping their boots, and demand he become a little boot bumper. Alex eagerly humps away like a bunny, slamming his hips and cock into Mistress Kylie boots until he can't hold back and explodes all over them. Amused, Goddess Jean demands Alex link up his filth. Mistress Kylie mentions how turned on she is, and Goddess Jean remembers that they still have a loudmouth slave to punish. Nothing makes Mistress Kylie cum like the pain and agony of a slave, and Goddess Jean delivers in spades on the rude and arrogant hide of Lew. A brutal caning leaves the loudmouths ass covered in multicolored welts as tears roll down the pigs face and his screams fill the air. all this pain and suffering has Miss Kylie on the verge of orgasm, so Goddess Jean switches to a whip to amp up the pain even more. Spine chilling screams echo throughout the club do estate as Lew begs and pleads for mercy while Miss Kyle reaches orgasm due to his pain. To finally drive home the point that men should respect women both Doms Don their 10" inch strap on cocks and destroy both repairman asses. Both are flipped upside down and InsideOut but neither can escape nor gain any mercy from the monster cocks if Mistress Jean and Kylie. Once completely Fucked, both boys are ordered to clean thier asses off the cocks that just pounded their formally virgin holes. Finally satisfied Goddess Jean tells loudmouth Lew to scram, and he quickly runs for his life off property. However, the cure and respectful Alex is offered a spot in the club do stable. (Full HD Movie)
Read More »
---
---
You are our sex toy now! Kind of our sex slave! And we can do with you and your cock just what we want….controlling your orgasm. You feel our hands…the best hand job you ever got but…we don't let you cum…not right now! WE will play with your cock…turns you on and keep you on the highest level of pleasure! Playing with you balls and sitting on your face…yes…feel that pussy smell! And when the moment is right…we let you explode….cum our sex slave!!!
Read More »
---
---
Juicy BBW Dominatrix Mimosa destroys submissive male sub, Will Havoc in this bombastic BDSM update. Curvy Mimosa has time on her hands and a tough acting pretty boy in her cage. She decides to start her day with some boot worship and a nice polish. Will happily obliges. He seems to get excited by the humiliation. Mimosa soon discovers Will's secret stash of beauty products. She humiliates him further with some spanking and more foot worship but the more Mimosa dishes out, the more Will gets excited. He smells her feet and boots in ecstasy.Mimosa uses her big ass to smother Will with some epic face sitting and pussy licking. The non-stop action continues as Mimosa slides on her strap on. Will grimaces in pain before succumbing to the anal pleasure. She then commands her happy male sub to fuck her wet pussy. Her big natural tits bouncing to the thrusts. Again she denies Will further pleasure and demands he sit on her strap-on. The rough sex continues as Mimosa gifts Will with a furious hand job as he bounces on her strap on. She then allows him to fuck her pussy and gag on her cock. Finally she allows sweet release in the form of a final hard fucking and handjob before Will cums all over himself and is demanded to swallow his own sticky load.
Read More »
---
---
Bondage lover Mistress Sidonia has her slave clingfilmed to the floating bondage board, totally helpless she can continually tease his hard cock and force him to cum when she chooses.
Read More »
---
---
Disappointed with the filth production from their slave, Mistress Dahlia and Domina Helena want to pulverize his slut sacks since they are so worthless. They grab and twist his slut sacks and beat them with their crops. Maybe their pathetic slave will remember this and try harder to produce next time the Goddesses want to milk him.
Read More »
---
---
Now that Mistress Dahlia and Domina Helena have whipped and caned their pathetic slave, they want to milk the disgusting filth out of his useless balls. They restrain their slave in their dungeon and start stroking his slut stick to milk out his filth. After he finally spills his filth, they feed it to him as a reward.
Read More »
---
---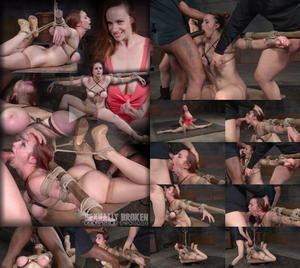 Big breasted Bella Rossi is bendy and eager as they come. Her flesh calls out for the ropes and her holes cry out of the cock. We have a special treat for her today…not one but 3 big cocks for her greedy holes. Only the very toughest qualify for a live BaRS show. Bella qualifies. Time to overwhelm this slut with cock and see if she cracks.
Blowjobs, bondage and hand jobs are always a nice warm up to get the juices flowing. And we want them to flow. We start off by binding Bella's stretched out arms to a long wooden pole, rendering her immobilized. Her mouth is ready for the access and both hands are free to be put to work. Then it is as simple as stuffing the mouth and both hands full of hard cock.
Once she is properly stuffed, it is just a matter of pinwheeling the rotating dick through her mouth and hands as we see fit. Bella had started off a typical chatterbox of a female, talking a mile a minute. As the cock hits her, she drops down into sexual subspace. Her eyes glaze and her face goes slack. The chatter is replaced by a dazed and content grin of satisfaction. She has her needed medicine.
The medicine is only the first dose. There are other holes waiting and more dick to dish out. Stay tuned for the next installment of the three on one takedown of Bella…
Read More »
---
---
Sasha has tied up a male tight. Its balls are so tightly bound they look as they might burst. Sasha begins to tease the male. She uses her thumb technique on the underside of the penis. This drives the male crazy. It is too tightly bound to fight back. With one hand she pulls the males tight and the other she teases him with an amazing hand job. The male is helpless. Eventually the constant teasing pays off. Sasha of course ruins the orgasm. This clip is amazing!
Read More »
---
---
Love seeing my little hands wrapped around a big cock? Do you imagine I'm toying with your dick? Seducing you, teasing you, fucking with you? I know you're addicted to me…
Read More »
---
---
"You thought you could get away? Oh no, there is no escaping. Your mind is already permanently altered. You feel yourself becoming more brain washed, more subservient to women. Deep down you're hard wired to serve. Just give in to it. Feel my power taking you over. When you ejaculate by my hand there will be no turning back…ever."
Read More »
---
---
I take your breath away. You keep coming back for more. Me in satin just puts you over the edge. You can't resist. Go on, dive in. Let yourself be taken. Give up control. Put yourself in my hands…
Read More »
---
---
Not all hot, hung black men can perform as bulls. Testing is rigorous & they don't all measure up. This cocky stud thought he could do the job but he fails to perform quite to my high standard…leaving him humiliated & humbled. (If you like interracial play & hand jobs, this is a great vid…the humiliation aspect is on the sensual light/teasing side & mostly at the end. There is a cum shot but it is inadequate because he excitedly & stupidly jerked off shortly before, which is mainly why I humiliate him.)
Read More »
---
---
---
---
---
---
---