---
Marcelo knows what he wants and he knows how to ask for it. Before our shoot, Marcelo told me several ideas he had for our day together. I like causing pain, so when I get to work with someone who is enthusiastic about receiving it, I get excited.
It's hard not to be affectionate with someone who is so ready and willing to take everything I have in mind to dish out. Every time he screams it makes me so happy I can't help but hug or stroke him. I prop Marcelo up between two metal pipes and I start him off with some punching which he thoroughly enjoys. A dick on a stick shoved up his ass and propped on the floor behind him helps him maintain his posture as I test out the flogger and single tail on his delicate skin. He starts whimpering and shrieking and finally losses concentration on his perfect presentation and drops the dick out of his ass. This just gives me one more thing to hit him with as the stick works nicely as a club.
I seat him on the pipes and start working him over with hard slaps. Then I take out a particularly vicious spatula and start marking him with that. As he shrieks I just get more excited. I hold him affectionately around the waist while I continue hurting him and soaks me in the sound of his deafening screams. I then bend him over and put an assortment of objects in his ass including my fist and a particularly large red dildo.
Finally I tie him down on a box and put an electric plug up his ass. The electricity makes him groan with delights. I am so impressed with Marcelo that I cannot let him leave without giving him and orgasm.
Marcelo and I are affectionate people. Luckily both of us like to show it the hard way.
Read More »
---
---
I have been dancing for years. I know that men sometimes have trouble following the rules in the club where I work. After all, having a woman strip and dance on one's lap can make even the most gentle hands try to touch, sometimes seeming of their own volition. I'm patient. I give a lot of warnings. I calmly ask a repeat offender to sit on his hands, but at some point my patience runs out. When men choose to attempt to take advantage of my kindness, there must be consequences.
After several attempts at managing this guy's behavior on my own, the bouncer has to step in to assist me. I have the paying guest taken to the basement to continue my lap dance with him in a way that is a little rougher than he would have liked. Bondage, clamps, ball busting, and belting are used to teach him a few manners. I doubt this guy will ever be grabbing at dancers again.
Read More »
---
---
We have Angel Allwood back and helpless as ever as Sergeant Miles and Dee Williams complety destroy her sexaully while bound and helpless!
Nine inches of cock blocks Angel's ability to take in air, she breaths when the cock want her to. She is mercilessly deepthroated to panic as she is being made to cum over and over. That deep throat spit is covering Angel's eyes and nose, she can no longer see or breath except when the cock let her. In the end she is a broken slut, cummed out and drooling all over herself.
Read More »
---
---
Trapped in a metal cage, slave river enza is at her Master's mercy. There isn't much more room in this cage to leave the fetal position for the tall slave. Master Kyaa with a taser in hand readies her property's flesh. Slave river radiates fear and hate from the device being used on her. Nowhere to run she takes shock after shock, the more she hates it the more Master Kyaa enjoys herself. Once slave river is worthy Master Kyaa decides to rewards her. Master Kyaa with cock in hand begins to fuck her property, while within her small cage. Master Kyaa enjoying her property decides to let her out of her cage to better serve her Master's cock. With her legs spread upon the cage, Master Kyaa uses and abuses her slave. The slave as only a tool to be used so that her Master may cum while using a strapless strapon.
Read More »
---
---
London River has got Bonnie Day in a tight squeeze and Bonnie knows it. She's terrified. Laid down on top of a table on her back, each one of her limbs tied down to a different one of its legs, she starts to writhe and whine before anything even really happens to her. As London slices her dress off, she knows whatever is coming is bad news.
London wants to squeeze Bonnie a little tighter, inch by inch. After flogging her for a minute to get her used to the kind of pain she'll be experiencing, London takes out some clothespins. One after another she clips them to Bonnie's hairy pussy until there is almost no skin able to be seen that isn't being pinched by them. Then London presses a hitachi to Bonnie's clit and sees which sensation will win out.
London liked the kind of response she got from the clothespins, so she wants to keep moving in that direction. She clamps binder clips onto Bonnie's feet, her arms, and her thighs. Each time London gives them a new spot on the body, she follows them up with some kind of torment right where they hurt Bonnie, and right where Bonnie can be hurt most. Maybe our model should learn to be less sensitive.
Read More »
---
---
Spotlighted Submissive Gets Sublime Surprise
Just about every model who comes through our dungeon has inhibitions about one thing or another. At some point during their time with us, almost every single one has a moment where they are clearly only scared or only in pain, almost like they don't want to be doing what they're doing anymore. Blossom, however, never for one second has that moment. She loves every single bit of the work she does and you can read it plainly on her face.
At first, London River has her tied up, face down on the floor, her wrists lashed tightly to her ankles in a hogtie. Slowly, London undresses her, first removing the high heels, then pulling her skirt up so she has access to her ass. London starts caning her feet and moves up her calves all the way to her thighs. The sound of the whacks as the cane makes contact with skin is remarkable, showing just how hard London is hitting, but equally remarkable is the sound of Blossom's laughter as she is beaten. She looks like she is having the time of her life.
London has a field day with her, since it isn't so often that she gets a model who is so ready and raring to try out anything she wants to do to them. She pulls a bag over Blossom's head to make it hard for her to breathe and wraps her mouth in an electrical tape gag. She splays Blossom out spread eagle on the floor, her wrists tied to the ground as far out as they can be stretched. She attaches binder clips all over her body, going as far as to clip one on her tongue. Blossom flinches now and again, but mostly she just eats it up. She lives to take a beating, and right now she is living life to the fullest.
Read More »
---
---
In the second portion of Milcah Halili's live feed, they are about to get absolutely fucked. They are laid back onto a table and cocooned in black gauze, a special, no harness strap-on inside of them with a dildo sticking out of the wrap. That's when London River walks over to take a ride. She sits on top of Milcah and starts bouncing up and down, getting herself off using Milcah's body. With every up and down motion, London forces the strap-on deeper into Milcah's body, making them moan and throw their head around. London grabs onto the rope around their neck and starts kissing them full on the mouth.
London then climbs off of the helpless model and takes the dildo in her hand. She jerks it up and down, fucking Milcah hard and making them squeal with pleasure with every thrust of her hand. She leans over and bites their neck as they continue to pound their wet pussy with the huge dildo.
Next, London straps Milcah down on their back, tied by their neck, their legs tied up so that their feet are up by their head and their pussy is exposed. She sits down and takes her time as she clips clothespin after clothespin all over their soft body. She pins them to their face, all around their nipples, and up the insides of their thighs. Then London puts on a strap-on dildo, lubes up Milcah's ass, and fucks her hard until she screams, and when she decides to make it more fun, she brings in the hitachi.
Read More »
---
---
Run Ragged Wrapped in Rope
London River has claimed yet another sexy young victim. Bella Rossi was enticed and snared in by London's mischievous look and her tight body, but there is no way she could have understood the extent of what she was getting herself into. Now she finds herself stood up with her wrists and ankles bound in rope so that they are held spread apart, with London baring down on her with a pair of fabric sheers and that same look she had found so intriguing a little while ago. And once her skirt is cut away, it's time for London to have her fun.
She takes a piece of the skirt she just cut off of Bella, balls it up and stuffs it in Bella's mouth so that her shrieks are muffled, then tapes it there so there's no chance of it coming out. She takes out a whip, the sight of which alone is enough to make Bella jump back in fear, and starts lashing up and down her body. With each lash, Bella pulls away a bit, so London decides she needs to make that a little more difficult. She takes one of Bella's legs and strings it up to the ceiling so that she now has to struggle to balance and can't pull away so much. Then she cuts away the rest of her clothing and takes to the newly exposed skin with a flogger and a BBQ skewer.
London lays Bella down on her back and ties her down to a table, her ankles tied so that her legs are spread and raised up by her chest. For a little while she sits there spanking her, but after a moment it's time to give the girl what she was looking for. London leaves and comes back wearing a strap on dildo. She touches Bella's pussy gently with her hand at first, before sticking the thing inside her and fucking her hard. But London knows that isn't enough, and she wants Bella to have a good time, so she takes out a hitachi vibrator and puts it right on her clit. Now Bella is crying out with pleasure, cumming hard like she wanted from the beginning.
Read More »
---
---
Local college coed is severely bound, vibrated to several orgasms and face fucked into subspace!
Cute as a button, our sexy local college coed, Nora Riley is slutty as they cum, and this one cums a lot.
We have this amazing girl next door all bound up and helpless. A vibrator is stuck on her sweet shaved pussy, her arm and legs bound in hard unforgiving metal. We have Nora's face at fucking level, she is completely helpless and we are going to take full advantage of that. Both Matt and Dee bring the cock to our coed's wet throat. Breath play at it's best, brutal orgasms she can not stop. It doesn't take long for our bondage power couple to destroy Nora's brain. Brutal face fucking is something Nora loves and lives for, but even she is overwhelmed, you can tell by the vacant look in her eye, and the amount of drool dripping down her body.
Read More »
---
---
Hot Asian is bound, hooded, gagged, blindfolded, brutally fucked and licked, made to cum!
We have Milcah Halili bound and helpless on the only Bondage and rough sex site on the net. We don't hit our models (unless they beg), we fuck em!
Completely bound and helpless, our hot tiny Asian girl is hooded, gagged, and blindfolded, while stuck in a "fuck me" position. Matt and Dee bring the cock. Over and over they make Milcah cum. One cock after an another, non stop brutal pounding. Milcah can only scream into her gag as she is made to orgasm over and over without any hope of reprise.
From cocks to tongues, to vibrators, Milcah is powerless to stop any of those from ripping orgasms out of her exhausted body.
We update 3 times a week, with a different girl and unique custom bondage predicament! We have a live show each month so you can see how we really destroy these girls in real time. Often copied, but never duplicated, Sexually Broken is the only Premium hardcore bondage site on the net!
Read More »
---
---
London River has quite a way with the ladies, especially when she has those ladies wrapped in rope, tied into whatever fun position she thinks would look nice that day. Nadia White is about to learn exactly what kind of way that is when she finds herself face to face with London on her home terf. She starts off tied up to a chair in a sexy little purple dress, but any long time viewer of any of our websites knows there is no way that dress is going to last long with London in charge.
Soon Nadia is hogtied on the floor with her head propped up and her knees spread so that London can get at her pussy with her personal favorite vibrator, the hitachi. The power and pleasure of the hitachi is almost too much for a woman to stand when placed on her clit, but Nadia has bigger things to worry about than that. Once she has finished with the vibrator, London wants to try out some scare tactics, and pulls out her trusty taser. The shocks get a few good shrieks out of her, but London decides it isn't enough and that she wants a little more aggressive kind of electrical play, so out comes the cattle prod. That really gets Nadia moving.
After she finishes looking down on Nadia for a while, London moves her so that she is tied by her wrists to the ceiling, her body stretched out, and her feet almost unable to touch the ground so she has to stand on tip toes. With that kind of display, what can London do but whip that body up and down until it changes colors and her model makes the kind of noises she wants to hear. She whips all the way from Nadia's feet to her pussy to her ass, all the way up to her tits. And if Nadia is good about it, maybe she will get a visit from the Celebrator as a reward for behavior.
Read More »
---
---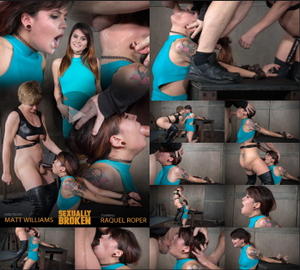 Girl next door, gets bound and face fucked while cumming on a sybian. Overwhelmed and broken!
Welcome Raquel Roper to the pages of the best bondage and sex site on the net. Our cute girl next door is in for a new experience, overwhelmed and broken.
Innocent girl next door Raquel Roper, is bound down on the world's most powerful vibrator, the Sybian. Her arms are bound back behind her, she is completely helpless, our little sex slave for the day. Raquel has to deal with with two cocks, Dee turns out being the bad cop as she fucks our helpless sluts face through several orgasms and massive amounts of throat spit. Matt is the breath play expert and keeps our slave in a constant state of subspace. Orgasm after orgasm get ripped from Raquel as her face and throat is brutally fucked while cumming and cumming.
Read More »
---
---
Girl on Girl Experimentation with Asphyxiation
Violet Monroe is a pretty promiscuous girl, she definitely gets around, but her whole life she's only ever been with boys. This didn't seem like a real issue to her until she found herself tied to a chair face to face with London River, a sexy dominatrix and one of the toughest handlers in all of BDSM. Now London is set on proving to Violet that girls have more fun just playing with each other than inviting boys along for the ride. Violet isn't so sure, but she's open to convincing.
While Violet is tied up to the chair, London starts off by twisting and pulling at her nipples, getting little squeaks and shrieks out of her as she does. London cuts off the sexy little dress Violet wore for her and pinches and twists even harder. Then, with Violet's body exposed, London reaches her hand between Violet's legs and starts playing with her pussy. Violet loves that, but not as much as she loves when London pulls out the hitachi and starts vibrating her clit. She can feel the vibrations coursing through her whole body.
London moves Violet so that she is bent over a large wooden box, her wrists and ankles tied in place with rope so that her legs are spread. She can't even move enough to squirm around when London puts the hitachi back on her pussy and turns it to high power. Then London decides to turn up the pressure even more. She takes out a black dildo and, after smacking Violet's ass with it a few times, starts fucking her with it while the vibrator is still on. Violet cries out in pleasure and tries to writhe but it's no use. She's stuck in place.
Read More »
---
---
---
---
---
---
---