---
Marcelo knows what he wants and he knows how to ask for it. Before our shoot, Marcelo told me several ideas he had for our day together. I like causing pain, so when I get to work with someone who is enthusiastic about receiving it, I get excited.
It's hard not to be affectionate with someone who is so ready and willing to take everything I have in mind to dish out. Every time he screams it makes me so happy I can't help but hug or stroke him. I prop Marcelo up between two metal pipes and I start him off with some punching which he thoroughly enjoys. A dick on a stick shoved up his ass and propped on the floor behind him helps him maintain his posture as I test out the flogger and single tail on his delicate skin. He starts whimpering and shrieking and finally losses concentration on his perfect presentation and drops the dick out of his ass. This just gives me one more thing to hit him with as the stick works nicely as a club.
I seat him on the pipes and start working him over with hard slaps. Then I take out a particularly vicious spatula and start marking him with that. As he shrieks I just get more excited. I hold him affectionately around the waist while I continue hurting him and soaks me in the sound of his deafening screams. I then bend him over and put an assortment of objects in his ass including my fist and a particularly large red dildo.
Finally I tie him down on a box and put an electric plug up his ass. The electricity makes him groan with delights. I am so impressed with Marcelo that I cannot let him leave without giving him and orgasm.
Marcelo and I are affectionate people. Luckily both of us like to show it the hard way.
Read More »
---
---
Spotlighted Submissive Gets Sublime Surprise
Just about every model who comes through our dungeon has inhibitions about one thing or another. At some point during their time with us, almost every single one has a moment where they are clearly only scared or only in pain, almost like they don't want to be doing what they're doing anymore. Blossom, however, never for one second has that moment. She loves every single bit of the work she does and you can read it plainly on her face.
At first, London River has her tied up, face down on the floor, her wrists lashed tightly to her ankles in a hogtie. Slowly, London undresses her, first removing the high heels, then pulling her skirt up so she has access to her ass. London starts caning her feet and moves up her calves all the way to her thighs. The sound of the whacks as the cane makes contact with skin is remarkable, showing just how hard London is hitting, but equally remarkable is the sound of Blossom's laughter as she is beaten. She looks like she is having the time of her life.
London has a field day with her, since it isn't so often that she gets a model who is so ready and raring to try out anything she wants to do to them. She pulls a bag over Blossom's head to make it hard for her to breathe and wraps her mouth in an electrical tape gag. She splays Blossom out spread eagle on the floor, her wrists tied to the ground as far out as they can be stretched. She attaches binder clips all over her body, going as far as to clip one on her tongue. Blossom flinches now and again, but mostly she just eats it up. She lives to take a beating, and right now she is living life to the fullest.
Read More »
---
---
Matt Williams has has a long week, all he does is work work work. But now it is the weekend and it's time for him to unwind with one of his all time favorite activities: tormenting a sexy woman until she unravels. He's found himself a fit young thing by the name of Sierra Cirque and the two of them are about to have a heck of a time together. After each brutal session, she will be rewarded with some time with the hitachi, but if she doesn't cum loud or well enough for him, the next session will be even worse.
Matt has Sierra on the floor in a tight little dress, heels, and a black ball gag, tied up with her arms behind her and her knees spread so that her pussy is visible. He slices off the shoulder straps from her dress so that her tits are exposed and beats them some with a flogger, just enough so that her nipples harden and he can tie some twine between them and her thighs. After that's set up, he takes the flogger to her pussy. Drool drips from the ball gag onto what remains of her dress from the pain.
The next few sittings Sierra has more of a say in. He plays some games with her, a different game for each round. The first time he picks the body part and she picks the toy, whether she wants to be hit with a dragon tail, a flogger, or a cane. In another he has her choose a number between one and ten, and the difference between her number and his number is how many times she is struck with the cane. And at the end of all of it it's time to check again if she has learned to cum when told.
Read More »
---
---
Sexy Sub Shows off Merchandise
Today's installment of Real Time Bondage is a little bit special. Typically we would show you the things we like to do to our models, but right now we want to help you figure out how you might want to play with a sub of your own. That's why today's show is just us showing off our favorite gags and telling you all about the goods and bads of each of them, so it's easier for you to find what you're looking for in a gag.
Our sexy model, Violet Monroe, spends the entire time tied up in a chair with no clothes on, showing off her smoking body as much as the gags our handlers are having her try on. Matt Williams and O.T. give her piece after piece to show off, including a wide array of ball gags, a leather gag, and even some made of metal. Each of our handlers tells the audience their favorite choice and why they picked it. The crown jewel of the show is a gag that fits inside the mouth with no strap, made special for our purposes at Insex On Demand.
Read More »
---
---
Darling is sexy as fuck. She has been around the scene long enough that we know that whatever we do to her, the hardest part is going to be keeping her from liking it too much. We only want her cumming when we give the orders, but Darling is so hot for bondage and discipline that sometimes she's on the edge of an explosive orgasm while we are whipping her massive tits.
That's how it goes when our model is a such a dedicated pain slut. We do things like apply a brutal zipper clip and she screams in agony when we tear it off, but when we check between her thighs her pussy is dripping wet. Some girls can't cum when they are in too much pain but this one can barely stop herself. When we put the Hitachi between her legs and start finger banging that tight snatch of hers she cums like a fountain. Darling isn't always a squirter, but if you get her worked up enough she is old faithful. It's nice to know that our tender ministrations are so well received.
It's her tits that are the real pleasure button for her. We don't spare an inch of them from the abuse, either. We tie them off to make them extra sensitive, then pump her nipples with suction cups before tying those with baling twine. They are two massive, sore globes on her chest and she is putty in our hands. Eager submissives are always fun to have around.
Read More »
---
---
Kel Bowie is a brand new face to the BDSM scene and she has decided to introduce herself to the world by coming to the oldest, and best, in the business. There isn't anything sweeter than fresh meat.
Kel isn't just intense of a newbie, she's hard core for a veteran. Some girls won't even try out a good whipping, but she is all about it. She wants to wear the marks of this day as a reminder of the good times she had with us, and between the whip and the rope she will have more than enough mementos. The bondage marks are deep lines in her otherwise unblemished skin. It was so tight that the braiding of the rope is clearly visible. The discipline leaves thin, shallow cuts behind, raised up on bright red welts. They sting almost as bad to touch or sit on as they did to receive in the first place.
And nothing happens in a vacuum. It isn't like she's allowed to sit and center herself while the whipping goes on. Jack Hammer has her trying furiously to deep throat a dildo and show off her cock sucking skills, among other distractions and trials. She wanted him to treat her like a trained, veteran pain slut, and so she will have to perform like one. Maybe if she's lucky, when he's done making her cry he will make her cum.
---
---
Sasha Heart's experience in BDSM is limited to the kind of fuzzy cuff fantasies that people indulge in when they don't know how intense real bondage can be. She is just learning that there is a wide world of new experiences waiting for her out there, but she isn't shy about her interest in them. Sasha is hot. Hot enough to have men fawning over her her entire life. She is tired of the worshipful attention that they shower her with. She knows, deep down inside, that she is just a worthless piece of meat to be played with. This is her opportunity to really feel it.
She didn't expect it to be so easy to cum. She thought she would really have to try to get into it, but instead she finds herself instantly wet when Matt starts locking her down in cuffs. He calls her names like "slut" and "cunt" and she doesn't just hear them, she feels them in her soul. When he starts attaching clothes pins to her she arches her body up to meet them, and when she gets close to cumming she begs him to tear them away. She can't control herself anymore. Sasha came looking for the feeling she had heard described as cum-drunk, and now that she has had it she knows she will always be a slave to any man that can give it to her again.
---
---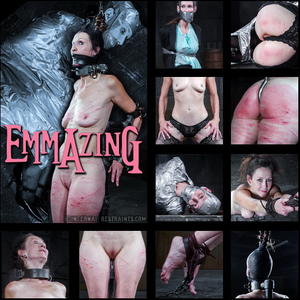 Here is what Emma has that no new girl on the block could possibly match: endurance. We can't call her indomitable because she readily submits, but she is unbreakable. Take a look at the bruises and you can tell that Emma takes a beating like no other woman can. When we lay the whip down on her we do it with enough force to split skin. Little pink trails turn into bright red welts in seconds as we paint her body with the marks. The sharpest stings even open her up a little bit, barely visible drops of blood come from the wounds.
---
---
Mercy West hasn't been in the business long but she knows what she likes. She started in the industry doing BDSM and has never looked back. All that remains is to sample every flavor there is and to find the site that does it best. That's where we come in. She knows that so many other people do bondage for show, but aren't really into it. Here we do it for passion and then we put on the show.
By the end of this Mercy is breathless. And I don't just mean while she is cumming her brains out in a tight suspension. Even afterwards she can barely put her thoughts together as she tries to process what just happened to her. She was all screams and moans when it was going on but now that Jack Hammer is done with her she is nothing but smiles. She got a chance to suck on a huge cock, orgasm until she couldn't see straight, and get hoisted in the air, tightly trapped in rope. What's not to love about a day like that?
---
---
---
---
---
---
---