---
Goddess Brianna and Goddess Kylie are ready to beat their bitch! He is bound to a large, wooden Saint Andrew's cross and at the mercy of these two sadistic, superior Goddesses, each wielding heavy, leather floggers. Their bitch disappoints them, however. He isn't worthy of even being their pain slut, and the Goddesses demote him to being their heel cleaning whore. Goddess Kylie tortures his pathetic pecker with the spike of her heel as Goddess Brianna pushes hers down his throat. It's his fault for getting in this predicament… he should have known better than to disappoint women like these! With his slut mouth on Goddess Brianna's sexy heels, the bitch spills his load almost immediately, without permission from either Goddess. His punishment is to clean his cum off the dirty dungeon floor with his tongue.
Read More »
---
---
Sitting on her sofa, Anne looks at you with her big, blue eyes while seductively eating an apple. She chews it up, then spits it into the open mouth of the loser laying beneath her. She feeds him like a baby bird, regurgitating the apple into his mouth, and he eagerly swallows every last bit of it. Over and over again she chews the apple, grinding it into mush between her teeth and spitting it into his mouth until there's nothing left! Do you love watching her sexy mouth work?
Read More »
---
---
I make you jerk off as I eat this 2 donuts making mud in my mouth and sucking chewing sexually…at the end of the clip a take the big last piece of donut in my mouth and command you to cum all over this s.hit…Enjoy your hungry cock, food wanker!
Read More »
---
---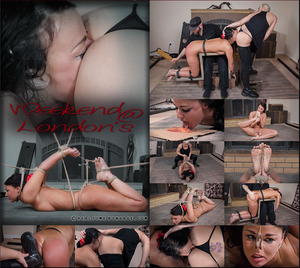 It's time to go back to London's place and rejoin her for the second portion of her all out weekend of having her ass beaten, banged, and bruised. She is still riled up from the first session and raring to keep going. When we arrive, she is face down on the floor, bare ass naked, having her limbs pulled together and tied up in a hogtie. Face down in some food, London is absolutely humiliated and disgusting.
After finishing her meal of only condiments, London is given the chance to set herself free. She unties herself, rolling around on the floor until she is done, and then stands up. This moment of freedom is all too brief, as Matt Williams almost immediately pulls a rope between her legs to form a crotch rope and London is promptly forced back down to the ground and into a more elaborate tie than she was in last time. Her arm are held tight in a strappado and she is bound at various points to the walls and ceiling.
They then move London again. Bent over a small table, held down with belts at her back and her calves, she is unable to move. Her friends have a good time taking turns beating her ass in whatever way they see fit. They spank her and punch her ass so that it jiggles. They turn her ass bright red. She squirms as best she can, but there is only so far she can move. Instead she reminds herself that she wanted this. She asked for this.
Read More »
---
---
1080 HD: Gwen helps herself to a big slice of a beautiful strawberry cream cake. Slaveboy lies at her perfect feet. No cake for slaveboy; to eat, anyway. Gwen taunts the slaveboy with forks of cake as she helps herself to bite after big bite. Never a taste for the slaveboy. Instead, Gwen takes the cake and flings a forkful in his face. She uses her foot to rub the cake all over his head. Soon the slave's face is covered in whipped cream. How humiliating and disappointing! Eventually the slave gets fed, but only from the Goddess' toes. Each bite has to be taken from her perfect feet. The slave is very hungry. He reaches eagerly as Gwen taunts him with a strawberry, just out of reach. Gwen picks up the strawberries between her toes and places them on the slave's forehead. She rubs and slaps the entire rest of the cake into the slave's face. "Oh, did you want some in your mouth?" Gwen teases. Gwen stands and smashes all the whipped cream between her toes. She takes the entire mashed remainder of the cake and dumps it onto the slave's face. Gwen creates a mound of mashed cake that covers the slave's airways. The slave is faceless. She removes the cake and places her feet in the slave's mouth. The slave sucks the cake from Gwen's toes.
Read More »
---
---
Blazing hot redhead Kel Bowie has been fucking herself up for our viewing pleasure for a while, but we can't let her have all of the fun. We need to get in on this act if we are going to truly enjoy ourselves, and besides, we know that she can take more punishment than she is willing to show us without some additional encouragement.
It's lunch time for our pet, and we have some pretty heinous options for her to satisfy her hunger with. There is nothing appetizing about what we put down in the dog bowls in front of her, and like any animal she's going to have to just put her face in and eat it up, making a huge mess in the process. We always knew Kel was a dirty girl. This just confirmed it.
Later on she'll call O.T. a great coach, but while she is trying to walk on her knees across a bed of rice she has nothing nice to say. The rice does its work beautifully opening up tiny cuts on her legs, but this is almost of thend of her shoot so we don't need to take it slow. Rain picks up a flogger and starts working Kel's back while the sexy submissive tries her damnedest to have an orgasm. O.T. grabs a whip and goes across her tits and ass with it, putting in some marks of his own for her to remember him by.
Read More »
---
---
I've just eaten most of the people in the city! Still hungry and wanting my dessert, I find a little white man. I pick him up and look him over. He looks delicious! I think I will make him my snack! I slowly lower him into my mouth…. His life will end in my stomach.
Read More »
---
---
Conjugal visits are rare in the U.S. but PD does not run the average prison. He keeps only one or two inmates at a time and for one as hot as Charlotte Vale he is definitely going to take advantage of her. She gets to languish a bit while he contemplates exactly what to do with her. It is likely to be the only peace she will get all day.
It is a long day and it shows no sign of ending as the sun goes down. Out in the woods PD may not have all of his tools available, but the one that matters is ready to go. She was let out of her cell for a reason and it was not just to look pretty and take a beating. PD wants to use her and if she wants to stay out of the deepest, darkest, dirtiest hole he can find she is going to perform.
Life is tough for Charlotte Vale. This day starts with a rude awakening. She had to spend the night locked away with her mouth in prime cock-sucking position because that is what the man that owns her wants. Now she needs to demonstrate what that experience has taught her. While most people would enjoy eggs and bacon for breakfast, hers is just dry oats swimming in her own juice. She needs to eat. She is starving but he will not give her anything else. She has to eat it, as much as it makes her wretch.
There is cold, electrified metal inside of her now. PD wants to watch her cum, but all Charlotte wants is a warm cock. Her screams and her tears are what make him hard, and that is the nature of her predicament. To get the fucking she so desperately desires she has to take the pain and humiliation that terrifies her.
---
---
Format: WMV
Duration: 00:07:51
Size: 121.87 MB
Resolution: 1280×720
Dominant Dolly, Lady Nina Birch & Miss Kinky Dirty Bitch
Lady Nina's slave has been caught masturbating again, so he is put in the restriction cage and taught a lesson. She brings Miss Kinky to assist in punishing and retraining the errant slave, making him suck their big strapons and eat a tasty creampie straight from Miss Kinky's recently fucked pussy, They then bring in a T-Girl to fuck his face and cum in his mouth, before feeding him straight from a collection of used condoms.
Read More »
---
---
---
---
---
---
---