---
Mona Wales BaRS Part 2: Chair bound and brutally double fucked, Squirting screaming deepthroat!
Bound with rope in the fuck chair, mona finds herself completely helpless and at our mercy. Her shaved pussy is perfect height for a deep and brutal fucking, her pretty face is ready for an extreme deepthroating, face fucking!
Mona is one of the girls that takes it, doesn't matter how hard, how rough, or how brutal, she takes it. She take a pussy pounding until we fuck squirt out of it, she take a throat fucking until we pull up the deep throat spit! We have liquid being drained from each hole, sometimes in an explosive release. Few girls can take it like Mona, so few.
Read More »
---
---
Sexy Sub Shows off Merchandise
Today's installment of Real Time Bondage is a little bit special. Typically we would show you the things we like to do to our models, but right now we want to help you figure out how you might want to play with a sub of your own. That's why today's show is just us showing off our favorite gags and telling you all about the goods and bads of each of them, so it's easier for you to find what you're looking for in a gag.
Our sexy model, Violet Monroe, spends the entire time tied up in a chair with no clothes on, showing off her smoking body as much as the gags our handlers are having her try on. Matt Williams and O.T. give her piece after piece to show off, including a wide array of ball gags, a leather gag, and even some made of metal. Each of our handlers tells the audience their favorite choice and why they picked it. The crown jewel of the show is a gag that fits inside the mouth with no strap, made special for our purposes at Insex On Demand.
Read More »
---
---
London River has quite a way with the ladies, especially when she has those ladies wrapped in rope, tied into whatever fun position she thinks would look nice that day. Nadia White is about to learn exactly what kind of way that is when she finds herself face to face with London on her home terf. She starts off tied up to a chair in a sexy little purple dress, but any long time viewer of any of our websites knows there is no way that dress is going to last long with London in charge.
Soon Nadia is hogtied on the floor with her head propped up and her knees spread so that London can get at her pussy with her personal favorite vibrator, the hitachi. The power and pleasure of the hitachi is almost too much for a woman to stand when placed on her clit, but Nadia has bigger things to worry about than that. Once she has finished with the vibrator, London wants to try out some scare tactics, and pulls out her trusty taser. The shocks get a few good shrieks out of her, but London decides it isn't enough and that she wants a little more aggressive kind of electrical play, so out comes the cattle prod. That really gets Nadia moving.
After she finishes looking down on Nadia for a while, London moves her so that she is tied by her wrists to the ceiling, her body stretched out, and her feet almost unable to touch the ground so she has to stand on tip toes. With that kind of display, what can London do but whip that body up and down until it changes colors and her model makes the kind of noises she wants to hear. She whips all the way from Nadia's feet to her pussy to her ass, all the way up to her tits. And if Nadia is good about it, maybe she will get a visit from the Celebrator as a reward for behavior.
Read More »
---
---
Girl on Girl Experimentation with Asphyxiation
Violet Monroe is a pretty promiscuous girl, she definitely gets around, but her whole life she's only ever been with boys. This didn't seem like a real issue to her until she found herself tied to a chair face to face with London River, a sexy dominatrix and one of the toughest handlers in all of BDSM. Now London is set on proving to Violet that girls have more fun just playing with each other than inviting boys along for the ride. Violet isn't so sure, but she's open to convincing.
While Violet is tied up to the chair, London starts off by twisting and pulling at her nipples, getting little squeaks and shrieks out of her as she does. London cuts off the sexy little dress Violet wore for her and pinches and twists even harder. Then, with Violet's body exposed, London reaches her hand between Violet's legs and starts playing with her pussy. Violet loves that, but not as much as she loves when London pulls out the hitachi and starts vibrating her clit. She can feel the vibrations coursing through her whole body.
London moves Violet so that she is bent over a large wooden box, her wrists and ankles tied in place with rope so that her legs are spread. She can't even move enough to squirm around when London puts the hitachi back on her pussy and turns it to high power. Then London decides to turn up the pressure even more. She takes out a black dildo and, after smacking Violet's ass with it a few times, starts fucking her with it while the vibrator is still on. Violet cries out in pleasure and tries to writhe but it's no use. She's stuck in place.
Read More »
---
---
After a divorce every woman seeks something a bit different than what she is used to experiencing and Rain is no different. She uses social media to find the perfect new experience in the form of a couple looking for a submissive third to join them in some devious play. She answers the ad and finds herself in a situation that might just be a little over her head. She isn't just getting a little threesome action like she might have been prepared for. Instead they tie her up and use her mouth hole to suck cock and eat pussy and they make her cum over and over while tied to their banister.
They aren't done with her yet though. She is tied to a rolling chair and turned into a fuck toy on wheels. They pass her back and forth using her pussy and making her cum even more. Finally, they decide to keep her around, but maybe not in the way she expected. She is now at their service as sex-bot, maid, and living room furniture. Matt and Dee Williams know how to treat a lady.
Read More »
---
---
Ashley Lane has so many questions that she needs answered, but this naive, young, sexy piece of ass is about to learn that the best explanation is experience. O.T. isn't the type to waste a ton of time chattering with the girls he gets his hands on. He wants to use them, not date them, and if they have any questions like, "What are you about to do to me," then they will all be answered in due time.
The bondage today is particularly brutal. Ashley is flexible as hell, but that doesn't make it any easier. Bent backward over the dresser her arms and legs are pulled to their extremity, so far that her back isn't even touching the top of the furniture. The hog tie is even more brutal. She forms a complete "U", her body bent at almost two perfect ninety-degree angles. And when O.T. puts her into the chair, he has her bent forward, barely able to hold herself up, and forced to rock back into his cane or risk putting her face on the floor.
---
---
THE UNIT is a collection of highly skilled, former military, former bondage producers, former porn actors. It operates across the world and is currently running ops in the Adirondack Mountains on the east coast of North America. The Unit is highly funded and equipped with state-of-the-art technology and resources. Funding comes from civilian clients around the globe. The wealthy, the privileged, and occasional pro bono client, all females, all vetted, all beautiful. They pay handsomely for their sexually fantasies, and the UNIT provides.
All over the world, everyday, some of the hottest, richest females in the world look at bondage and rough sex sites and wish they were the girl in the production. They all dream of it, they all desire it, but it could never happen. The sad truth is this: if you are not in porn, you will never ever, have an experience like you see on the internet, period. What if there was a way to experience something like this without being on the internet? What if you could get the same experience you see in porn, but no one would ever, ever, find out?
What if the perfect storm of talent assembled, and created a UNIT. A UNIT with all the skills to deliver the highest quality fantasies, rough sex and amazing bondage, all in a safe and sane environment? Would you sign up? Would you pay? What would you pay? You would pay any price, the UNIT knows, The UNIT does, The UNIT… is!
The weeks update stars London River and Darling. The Unit tracks and hunts London, but London is a master of escape. Can the UNIT catch her before the deadline is up? They only have a few hours left, and London is proving to be the hardest hunt todate. This update is the update for the week, it features an amazing story line, outdoor bondage, and squirting anal sex. Rough sex at it's best, and of course the brutal bound deepthroat scenes Sexually Broken is famous for. Do not miss this feature update!
Read More »
---
---
The adventures of the barn continue as we upgrade to anal. And we have just the pet for the project. Darling is as well known for her booming butt and boobs as she is for her love of the anal. We have just the right tool for the job…10 inches of chocolate thunder that is doing to reshape Darling's flawless ass until it is custom fitted.
Darling is nothing if not a raging exhibitionist, and we have a bound slut on wheels named London River that will be there to watch every stroke. We might even throw London some facefucking and vibrator attention if we are feeling generous. Darling is blindfolded and gagged with tape and bound with belts into a chair. Her tied up tits jut up to the ceiling and her shaved pussy is perfectly exposed.
The BBC takes every inch of Darling's eager ass as London drools and moans around the dick owning her face. Both barn sluts are roughly put though their paces as we swap back and forth, taking whichever hole strikes our fancy. Darling cums hard and gratefully all over the dick, and London? London is busy losing her mind. Like she does. Particularly when you take a vibrator to that hair trigger clit.
We finish off with wrenching a squirting orgasm out of Darling. She cums so hard she sprays down the back of the chair she is bound to with her own juices. Such a messy little pet this one is. We leave them shell shocked, dick blasted and dazed. The wonders of this barn never cease!
Read More »
---
---
A horny coed is a dirty coed and a fun one. She'll do exactly what she needs to, anything really, if it means she's going to get the chance to get off. Asia Zo wants to feel it. She wants a big, hard cock between her legs, splitting her cunt wide open and filling her up. She wants it bad enough that whatever it takes to get her there, she'll suffer through it willingly. If Jack Hammer wants to tie her to a chair and cane the living shit out of her feet, it won't matter if she can have a good cum in the end. A good whipping earns her some time with the celebrator. It isn't all she needs, but it's a good start.
In the end she doesn't get the dick, but she does get something almost as good. The Sybian is an amazing machine. It's literally the most powerful vibrator she'll ever see and she's getting strapped down to it. Straddling this monster is a one way ticket to subspace. It rumbles, shaking her to her core and blowing her mind. There's so much going on that she can't process it all. Her body is being whipped, she is blindfolded and squeezed by rope, and there is no escape from her torment.
---
---
Elise Graves Receives Sexual Healing
This patient, Elise Graves, is particularly troubled. She needs some of the most intense bondage therapy I have ever given. Elise is a sex addict, a nymphomaniac. Her life is constant stream of new partners and an ever increasing desire for more intense sexual experiences. They only way to keep her sane is to provide her with the perfect encounter. I will need to push her far enough that she doesn't consider this entire treatment a tease, but I can't risk giving her too much or it will just trigger her to look for another level of rough play.
What I don't anticipate is how much I will enjoy our time together. The way she moves under my flogger and whip, the little moans and screams that come out of her, everything about her fills me with a desire to take things further. It isn't long before I have abandoned the idea of rehabilitating her. I've untied her from the chair I used to wheel her in and rebound her in a position more conducive to our new purpose. I'm no longer worried about taking things too far, there's no such thing. I ram 10 inches of cock down her throat and I know the truth: she is going to need a lot more therapy.
Tags: Ass Flogging, Ass Hook, Ass Whipping, Ball Gag, Black Ball Gag, Breast Whipping, Caning, Chair Tie, Cloth Gag, Cock Sucking, Flogging, Forced Orgasm, Hitachi, Nipple Clamps, Oral Sex, Orgasm, Panty Gag, Pussy Caning, Rope Bondage, Single Tail, Tape Gag, Vibrator, Whip
Read More »
---
---
Lyla Storm brutally bound in strict strappado and completely destroyed by rough sex and deepthroat!
Stunning beauty utterly taken apart by cock, reduced to a drooling cummed out mess
Beautiful thin Latina Lyla Storm is stunning enough she could of been a runway model. Luckily for us, she is a natural born pervert that prefers to wrangle the cock instead. And we are very appreciative of that fact. Her deepthroating skills are legendary, in the top 1 percent, and one of the reasons we keep inviting her back. She is willing to utterly destroy herself on the dick.
We start off with Lyla bound down on a chair, her arms strictly cranked behind her and leather straps tightly binding up her tits. A neck rope keeps her head firmly in place at perfect dick height. A huge ring gag and a leather blindfold complete the package. The ring gag is big enough that cock can slide right in and make itself comfortable. Which is exactly what we do. The dick is relentless and does its best impression of a battering ram as Lyla responds by doing her best impression of a drooling fountain.
Once we have reshaped her throat, we shift her out of chair tie and thrown her down onto her knees for some doggystyle fucking. 10 inches of BBC slam home to the base as Lyla cums appreciatively all over the dick. Her long brown hair makes a handy handle as we grasp it to drive the dick even deeper. We shift the tie yet again, stringing Lyla up into a severe strappado.
The strappado brings Lyla's mouth hole to dick height yet again, and we make full use of the fact. Even more drool pours forth. Her makeup is completely wrecked, giving Lyla the look of a sad eyed panda. This fucktoy has been used hard in every hole from every angle and is a messy, destroyed puddle of flesh. We leave her strung up and twitching in her bondage, her eyes glassy and unfocused. Lyla is a keeper, without a doubt.
Tags: Big Dick, Black Boots, Black Cock, Blindfold, Blow job, Breast Bondage, Brown Eyes, Brunette, Chair Tie, Cock Sucking, Deep Throat, Drool, Elbows Together, Extreme Rough Sex, Forced Oral Sex, Hispanic, Hispanic Girl Bondage, Leather Blindfold, Long Hair
Read More »
---
---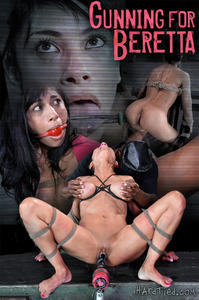 Baretta Faces Everything Jack Hammer Has For Her.
How hard can Baretta James cum? Well, to really know we're going to have to take our time and do things right. It means warming her up first, making sure that she is ready to go. Jack Hammer plays with her pussy while she stands as still as possible in her bondage. His hands run roughly over her breasts and legs, getting a good feel for the curves of her body. When he can tell she is eager with anticipation he gives her a little taste of the Hitachi, but just enough to get her really going.
Next comes the pain. At first it brings her down from the edge of orgasm, but soon enough it starts to overwhelm her with an eroticism all its own. Having her ass beaten with canes and whips should have her in tears, or at least humiliated. Instead she is so turned on she barely knows what to do.
Jack knows. He sets the fucking machine up inside of her and turns it on. It doesn't start off so fast, but by the time he turns it off it is moving faster than the eye can follow. She tries to control her breathing, she tries to keep her cool, but in the end she trows her head back and has her most intense orgasm yet. Exactly what we were looking for.
Tags: Ass Caning, Ass Flogging, Ass Whipping, Ball Gag, Breast Bondage, Breast Caning, Breast Groping, Caning, Chair Tie, Dildo, Flogging, Foot Torture, Forced Orgasm, Fucking Machine, Hitachi, Nipple Clamps, Orgasm, Paddle, Pogo, Pussy Fondling, Rope Bondage, Thigh Caning, Weighted Nipple Clamps, Whip
Read More »
---
---
---
---
---
---
---