---
It is easy to think that because a woman is small she must be easily manipulated, Lilyan Red challenges that assumption as she resists and resists Mona Wales. Her destruction begins with a walk through the village where Lilyan is shoved against cold stone walls as Mona jams fingers up her cunt and torments her nipples until lactating breast milk oozes out! She is flogged and gasping in the center of the road and Mona places a metal bucket beneath the sweet cow.
Read More »
---
---
Dana DeArmond is a fierce boss bitch and she runs a strict anal modeling agency. Dressed in a tight black dress and high heels, she demands loyalty and respect from her obedient employees. Her ASSistant, the curvy natural beauty Maddy O'Reilly know exactly how to serve her boss.
Read More »
---
---
Mistress Ariel slowly walks up to the slave, who is now laying on the floor in his underwear. He has a few moments to marvel his sexy godess, before she cruelly steps on his head with her black ankle boots. In her transparent catsuit she looks more than breathtaking and the slave's heart pounds wildly in his chest, but the pain the pointy heels cause him makes the fantastic scene all blurry and his eyes watery.
Read More »
---
---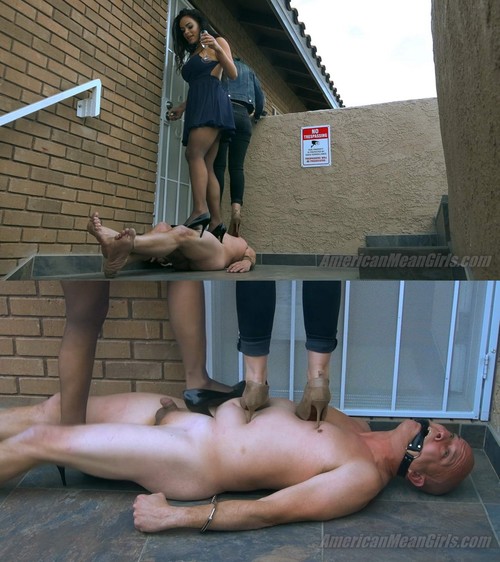 We are starting a new use for The Mean Girls Punishment Camp. We decided recently to start marketing it to other hot girls online and allow them to use the property just outside Vegas for free. Most of them can't believe it. Especially when they are told that it comes with their own personal "waitstaff" that is at their beckon call 24/7! Princess Carmela is there to meet our first guest, Gemma.
Read More »
---
---
Mistress Ariel watches her slave laying on the floor at her boots. She wants nothing more, than to stomp on his ugly, ridiculous face with her dirty, hard boots. So she lifts her right leg and puts it on his face, contorting his features and smearing black dirt on his cheeks. Her pointy heels dig in his face and he moans painfully as Ariel suddenly puts all her weight on his head, balancing on the caning bench with her arms.
Read More »
---
---
Penny Pax is a naughty little house slut that loves being bent to the will of her dominant, cocksure boyfriend, Seth Gamble. She knows and loves her place in Seth's world, crawling towards him and begging for his cock with just the sexy sway of her hips. Looking up from his reading, Seth answers the call of Penny's body, grabbing her throat and gorgeous, flowing red hair as he restrains her and tugs at the clamps on her nipples. Seth spanks her, zaps her, slaps her pretty pussy until it's pink with pain, and tugs at the clamps again. Penny moans and writhes with the desire to please her master as Seth pushes himself on her, parting her lips with his thick cock. Penny gags and spits, choking as Seth pumps in and out, taking her throat as he pleases. He then does the same with her cunt, taking it for himself, making his pretty pet beg to cum as he fucks her until her eyes roll back in her head.
Read More »
---
---
This slave is in for the mother of all trample sessions as he has six different Mean Girls all waiting to trample him- and each wanting to do more damage with her stiletto heels than the last! Princess Bella is the first to start and she may be the smallest and lightest but she makes up for it by literally jumping up and down on the slaves midsection like it was a trampoline! Not to mention she is wearing her needle-thin Louboutin stilettos while she does it! (She really hates this slave and just LOVES making slaves suffer underneath her in general anyways..)
Read More »
---
---
Slave Flash is strapped to the revolving bondage wheel for my amusement. He's spun upside down and flogged on his body and genitalia, then treated to some sensation play as I drop hot wax all over his sensitive and very vulnerable cock and balls. Then, there's really only one way to get all that wax off again – more flogging!
Read More »
---
---
This is NOT the rookie cup finale, This is the INTERIM ROOKIE CUP MATCH. London river was eliminated from the tournament last week, however, because of scheduling conflicts, Serene could not shoot the finale until next week.
Read More »
---
---
German Goddess Yolanda Power enters the German Goddess Femdom Fighting club. Powerful Mistress with martial arts skills gives slave Teddy a new taste of beeing beaten up.
Clad in her karate kimono, she instantly starts to kick his ass with high and forceful kicks to his torso. She uses all her skills for a powerful demonstration of female power and male inferiority.
Her bare blows hammer on his back and his naked stomach until it turns purple.
Very painful session.
German Dialouge.
Clip contains: karate, kimono, kickboxing, high kicks, brutal punishment, one sided beating
Read More »
---
---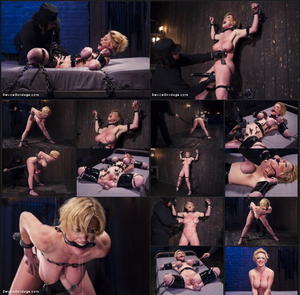 Hot blonde bombshell is destroyed with evil devices, brutal punishment, and grueling orgasms against her will.
Read More »
---
---
---
---
---
---
---
---