---
Most cultures use kundalini breathing for spiritual journeys, today you'll do the same. These breathing techniques are very powerful and if you don't follow my instructions, you could pass out. I'll be making your head spin while you tribute me slowllyyyy. I'll be TELLING YOU HOW TO BREATHE, drill sergeant style and you'll be doing EXACTLY as I say! Take a deep breath and start the clip. Since there is no tribute option, you will be tributing via amazon gift card! https://www.amazon.com/gp/gc/order-email?ie=UTF8&*Version*=1&*entries*=0 Send the amount that I instruct you
Read More »
---
---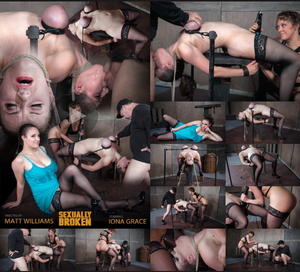 If deepthroating were a sport, Iona Grace would have an Olympic gold medal. She is tied down on her back, her naturally huge tits tied so they are thrust rigidly upward and Matt and Dee Williams take turns assaulting her mouth. There seems to be no limit to how much cock she can manage down her throat or how long she can hold her breath. They throat board her without mercy and only after they have railed her pretty face past the point that would leave most girls in a panic does Iona even begin to show signs of wearing down. They add a vibrator to increase the challenge and she has no problem cumming with cock crammed down her open throat. Great work Iona. We are thoroughly impressed.
Read More »
---
---
Nikki Darling just gets hotter every time we see her and she never disappoints with her rough sex skill set. First we test her Deep throat skills as Matt and Dee Williams take turns fucking her willing mouth hole. She drools and her eyes roll back as dick blocks her breath. This is Nikki's happy place. Her ass is then propped up so Matt and Dee can have their way with her eager cunt. She cums over and over, making the most beautiful sounds as she is relentlessly fucked from both ends. Nikki is always impressive and today is no different.
Read More »
---
---
After a divorce every woman seeks something a bit different than what she is used to experiencing and Rain is no different. She uses social media to find the perfect new experience in the form of a couple looking for a submissive third to join them in some devious play. She answers the ad and finds herself in a situation that might just be a little over her head. She isn't just getting a little threesome action like she might have been prepared for. Instead they tie her up and use her mouth hole to suck cock and eat pussy and they make her cum over and over while tied to their banister.
They aren't done with her yet though. She is tied to a rolling chair and turned into a fuck toy on wheels. They pass her back and forth using her pussy and making her cum even more. Finally, they decide to keep her around, but maybe not in the way she expected. She is now at their service as sex-bot, maid, and living room furniture. Matt and Dee Williams know how to treat a lady.
Read More »
---
---
Alyssa Lynn has a fantasy. A mysterious man let's himself into her home, and gives her a bondage and rough sex experience that she will always remember.
Alyssa lives in a house with other strippers from the same club. She is home alone though so she doesn't think anything of it when the door opens until she sees that the person standing in the doorway is not one of the other strippers like she expected. A man with his face covered looms before her and she's easily captured.
She he handcuffs her to her own pole and puts his cock in her mouth she doesn't struggle before opening her face hole for fucking. She's enjoying the cock all to herself when one of her roommates stumbles into the scene and is quickly placed on her knees to join her. The man takes each slutty mouth in turn until both women are drooling and dazed.
It gets even rougher in the bedroom. Both sluts are hogtied and their faces used until the intruder decides to violate their pussies as well. From pussy to mouth, he's in his own playground of holes. They cum and choke and cum some more. They are no longer concerned about each other. They are both locked in their own moments of ectasy, their bodies writhing as if begging for more cock.
When they are brought to the living room and fucked until they are both dazed and aching for more, the intruder thinks maybe he is finished with these two, but then the door opens once more.
Read More »
---
---
We thought Sierra Cirque might just be a sexy pain slut, so when she came back for Sexually Broken we were overjoyed that she is actually an amazing cock sucking sensation slut as well. She is bound on her knees, putting her mouth at the perfect height for hard use. Matt and Dee take turns fucking her face hole until Sierra is drooling and struggling for breath. This innocent looking lady is a marvelous slut in disguise. She only gets better when a vibrator is pushed against her cunt as her face is assaulted by cock. Sierra cums and sucks and cums some more. We will definitely be seeing this one again soon.
Read More »
---
---
Kahlista is in the final stretch of her live BaRS feed, but she isn't ready to be finished yet. She is laid on her back and a rope is added to her tightly tied tits and connected to her ankles to spread back her legs and expose her ready cunt. Matt and Dee Williams move in to continue filling her mouth and pussy with cock until she is again cumming her brains out. Between the breath play and the face fucking and the orgasms Kahlista is finally spent and she couldn't be happier about it. This was one intense live show and by the end Kahlista is a very satisfied slut.
Read More »
---
---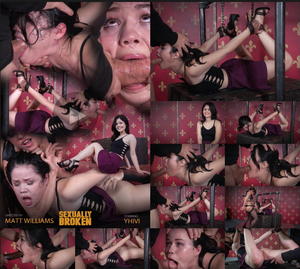 She might be cute, but girls rarely come as tough as Yhivi. Matt and Dee Williams have her back arched in metal and leather bondage. They fuck her throat until she is covered with drool and panting. They then vibrate her eager cunt.
Yhivi likes to be choked, so Dee graciously applies a hand to her throat which only makes Yhivi's orgasms stronger and more frequent. By the time they are finished with her she is beautiful stuttering mess of sex and drool. Yhivi doesn't disappoint. We will definitely be bringing her back as soon as we can get our hands on her again.
Read More »
---
---
Slender, striking Nikki Darling is no stranger to the Sexually broken experience. She's back because this kind of sex is exactly what she craves.
Matt starts with a hogtie on a bench that puts her face at the perfect angle for fucking. Matt and Dee Williams use her throat until she thinks she may never breath again, but Nikki is okay with that. The real fun starts when they turn her over. She is throat boarded and fucked until her eyes are blurred by her own drool. Dee wants to partake in cock today though and Matt uses a rope to pull Dee's mouth to cock level. The girls take turns sucking cock until Dee goes back to fucking Nikki's tight pussy until she has huge squirting orgasms.
Read More »
---
---
You need to breath but much more what you need is my ass on your face. My blue jeans drive you crazy. Follow my instruction boy. I will have complete control under your breath. I will decide how much air would you have. You give me pleasure and I like it. I see how you love my ass on your face. I think you will become addicted of this.
Keywords: jeans, breath, femdom, ass smothering, pov
Read More »
---
---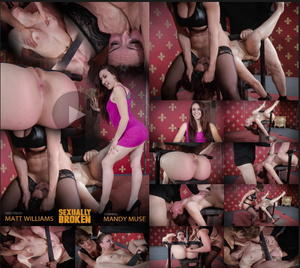 Mandy Muse likes her intense. She needs it to be to get off. Matt and Dee Williams know how to provide just that.
She is bound on her back to a device that keeps her body locked in a perfect "fuck me" position with her head back to expose her eager mouth. Matt and Dee work her pussy and mouth in tandem as desperately tries to catch her breath. Mandy likes breath play though, so Dee things on other ways have fun with her. Dee straddles Mandy and smothers her with pussy. Mandy isn't complaining though. She just wants more. Finally she is writhing and having a massive squirting orgasm. This girl is an all you can fuck buffet and we are going back for seconds.
Read More »
---
---
Slim, innocent looking Sierra Cirque might be new to Sexually Broken but she is not stranger to rough sex. Matt and Dee Williams tie her back to a table with rope and proceed to make use of her eager mouth. When a rope is put around her neck and pulled a bit, she sucks and takes dick down her throat with even more fervor.
Matt and Dee aren't going to stop at her mouth though. They move her to a table and fuck her mouth and pussy simultaneously. She can no longer catch her breath completely as she has one orgasm after another while her holes are being filled. Sierra shakes, writhes, drools on herself and gasps for air, but she isn't ready to stop. Finally a table is taken out from under her and she is left dazed and dangling. This is exactly what she wanted when she signed up and we are happy to deliver.
Read More »
---
---
Our new Latex Mistress loves face sitting. She enjoy to sit with her second skin on the face of her rubber slave. Taking his breath and get the control over her slave. But after a while she want his tounge so he have to lick her pussy while his cock is in a chastity
Parts: 1
Total Duration: 8 minutes 33 seconds
Photos: 20
Tags: anal, bdsm, breath, chastity, control, domina, face, face sitting, femdom, fetish, kinky, lady, licking, mistress, pussy, rubber, sitting, slave, slaveslut, toys
Read More »
---
---
---
---
---
---
---