---
Inspired by Agan Medon Sailor Luna has her arms pulled tightly behind her back. She is walked onto a giant dildo that makes its way to the back of her throat. OT fondles and undresses her while she struggles not to gag.
The leather hood on Sailor Luna's head keeps her in utter darkness and unable to speak. In just her panties Sailor Luna looks so adorable. OT takes the opportunity to whip her cute little tits and her sweet butt. When he pulls the hood off he wraps his huge hands around her throat and tightens down.
OT attaches her to a wooden device that has her completely exposed. She can't help but jut her pussy out for all to see. OT pulls her legs up, pushing her knees harshly into the edge of the wood. Labia clamps pull her tender pushy flesh open. Mr Pogo is crammed deeply into her wet cunt and the vibrator buzzes away at her clit. She's teased so close to orgasm that each time OT pulls the vibrator away Sailor Luna wants to cry.
Read More »
---
---
Samsara has got to be one of the whiniest models Matt Williams has ever come across. Every single thing he goes to do to her she begs away from, begs for forgiveness, but Matt is here to make it clear that she is begging the wrong person. The only one who can pardon her, forgive her, release her from her torment, is God, and so he should be the one she is asking. And since the path to righteousness is penance, Matt is going to help Samsara along with that.
Matt provides her with a ball gag and a blindfold so that all she can experience is the pain of her punishment. He ties her legs so that they are spread apart and uses rope to create a harness for her breasts so tight and thorough that her tits turn a dark purple from the cut off circulation. Then he ties her neck rope to the ceiling so that she is choking herself, and starts caning her tits, her ass, and whatever other piece of her body he can reach. She lets out cries of pain that are muffled by her ball gag and send drool spilling down onto her chest, but she isn't done repenting for her sins yet, and Matt isn't done having fun with her.
He ties Samsara so that she is lying face down on top of a box with her ankles tied to her hair, holding both her legs and her head up a few inches off the box. He removes her gag, then he comes in hard with the flogger, beating her ass as she lets out screams and moans pleading with him for mercy. But mercy isn't his job, his job is to make her feel the pain of her penance, and so he goes on. He takes out the hitachi and vibrates her pussy until she can't cum anymore and makes her plead directly with her god if she wants any rest tonight.
Read More »
---
---
Girl on Girl Experimentation with Asphyxiation
Violet Monroe is a pretty promiscuous girl, she definitely gets around, but her whole life she's only ever been with boys. This didn't seem like a real issue to her until she found herself tied to a chair face to face with London River, a sexy dominatrix and one of the toughest handlers in all of BDSM. Now London is set on proving to Violet that girls have more fun just playing with each other than inviting boys along for the ride. Violet isn't so sure, but she's open to convincing.
While Violet is tied up to the chair, London starts off by twisting and pulling at her nipples, getting little squeaks and shrieks out of her as she does. London cuts off the sexy little dress Violet wore for her and pinches and twists even harder. Then, with Violet's body exposed, London reaches her hand between Violet's legs and starts playing with her pussy. Violet loves that, but not as much as she loves when London pulls out the hitachi and starts vibrating her clit. She can feel the vibrations coursing through her whole body.
London moves Violet so that she is bent over a large wooden box, her wrists and ankles tied in place with rope so that her legs are spread. She can't even move enough to squirm around when London puts the hitachi back on her pussy and turns it to high power. Then London decides to turn up the pressure even more. She takes out a black dildo and, after smacking Violet's ass with it a few times, starts fucking her with it while the vibrator is still on. Violet cries out in pleasure and tries to writhe but it's no use. She's stuck in place.
Read More »
---
---
There is a long-standing question in the bondage community: how much abuse can a pussy take and still be able to cum when the time arises. O.T. is on a crusade to find out, but he's been hard pressed to find a girl willing to take part in his little experiments. He has chosen Violet Monroe to be his subject even though she's not a completely willing participant. That's fine as far as he's concerned. If she struggles a little that will only add to his tests.
Violet is being moved between different positions to allow O.T. to access her pussy with his different tools. First the flogger comes out, its tails sending pain up through her whole body making her shake and try to pull away. She continues struggling as she is laid back over a box with her arms and legs tied spread eagle, but the ropes are too strong for her and she has no success. Instead she gets a series of whip lashes straight to her crotch. She tries to scream from the stinging pain, but the sounds are muffled by the ball gag stuffed in her mouth.
Violet drools around the gag as O.T. moves on to the final phase of his experiment. He takes out the hitachi and presses it hard against her pussy and Violet starts arching up against it as much as her ties will allow. Then, when that doesn't do it for her, O.T. takes out the celebrator for a more centralized vibration directly on her clit. That's when she really starts bucking.
Read More »
---
---
A few dozen glass bottles make for an interesting little prop when we have the sexy Sierra Cirque around for a live feed. We are the toughest sadists on the web, mostly because we listen to our equally sadistic membership when they suggest devious ways to destroy our submissive sluts, and as innocuous as these look at first glance, they are going to make Sierra miserable very quickly.
It's impossible to balance on them without feeling the pain in her feet, but it's even harder when she is being whipped by a couple of single tails. We would probably leave her up there all day, stripped naked and on display, but it wouldn't be as fun. Instead we take her down, tape her mouth shut to stifle the screams, and start spanking her ass until it is bright pink. It's a good start to what promises to be a very sexy day for Sierra.
Read More »
---
---
Chillycarlita loves art. Jack Hammer makes some of the best. He's got water colors hanging in the gallery, but that isn't what we mean. His real passion is making the models into the canvas themselves, and Chillycarlita is interested in being the subject of his next piece.
There are a few key elements to a beautiful work of art. The subject must be just right. Chilly has a perfect ass and tits that look like they are begging to be grabbed. The setting has to be perfect. For this one he'll try both the couch and the dungeon. And of course, an artist enjoys his work. There's no point in doing it if he can't have a little fun with the girl at the same time.
Chilly seems to be having fun, too. At least from the way she is alternating between giggling like a school girl and moaning like a whore. Whips and rope excite her and the magic wand is so powerful that it quickly brings her to multiple, Earth shattering orgasms. She feels like she is floating, and it isn't all in her head. She wanted a real rope bondage experience, and that isn't complete without an amazing suspension.
---
---
Aria Alexander needs to earn her space in Jack Hammer's stable. He has girls throwing themselves at his feet, looking to experience the kind of sexual domination that he has become so famous for and Aria is here for her audition for the role of his newest pet. She certainly looks the part, a sexy young woman that is begging for a strong man to take control of her and put her in her place. She has a body that turns heads whenever she is walking down the street. In the dungeon, though, there is no audience to be enthralled by her looks, just Jack, here to put her through the wringer and see how she handles it.
Jack is known for his standards when it comes to the company he keeps. A girl can't just be a passive set of holes for him to stick his dick in. It's not enough to just be able to suck and fuck like some school girl. Aria is going to have to prove that she is ready to suffer, scream, and cum on demand if she is going to impress Jack enough to keep her around past this little interview. Whips, canes, and more than a little rough rope bondage build her up and the magic wand vibrator, along with Mr. Pogo, push her over the top and give her the most mind blowing orgasms of her life.
---
---
Lotus Lain is just the toy we were wishing for today. Toned, eager and blessed with a perfectly trained throat, Lotus got into the industry because she realized she was so good at fucking that she might as well make a living doing it. And who are we to argue? She is indeed quite good at the sex. Welcome back my dear.
Bound in a chest harness with her neck cruelly cranked towards her ankles, Lotus is utterly restrained. Both ends or her are wide open for use and she can not move a muscle. We are free to flip her around exactly how we wish and use take her from any side we so desire. And desire we do. What we desire is hard cock buried balls deep down that well trained throat. Lotus sputters and drools around the dick as her makeup melts.
Epic amounts of drool out her well used face as the dick reduces her to a sweaty cum covered puddle, and we decide it is time for the main course. We push her back onto her back, the bondage keeping her in a neat bundle of restrained flesh as we slide the dick home. We stuff her to the brim as she cums appreciatively all over the hard cock. The harder we are the wetter she gets.
As wrecked as our starlet is, we have not drained all the cum out yet, and we finger blast some quirting orgasms out of that tight pussy. Lotus is drenched, covered in cum and drool and glassy eyed. Sexuallybroken strikes again. Who is next?
Bound Lotus Lain roughly fucked and used hard, epic drooling deepthroat and squirting orgasms!
Tightly tied slut ragdoll fucked by two hard cocks
Read More »
---
---
Everyone dungeon should have one. A bound and gagged pet just waiting to have all of her holes stuffed full of hard cock. Today our pet does by the name of Violet Monroe with long red hair, creamy skin and big blue eyes that beg for the type of rough handling that Sexuallybroken specializes in. She waits for us where she belongs. On her knees.
We start out with a vibrator directly on that tender pussy and a hand on her throat. The breath play and pleasure make our pet moan and we reward her with a hard cock directly up her tender cunt. Violet gurgles through her big black ball gag and the sound is no delightful we remove the gag to better hear her cum.
Violet is rag doll fucked all over every inch of the mattress, flipped into every position and angle our dick so desires. Brutal epic messy deepthroat and a total retraining of her pussy by huge cock blasts her into sexual subspace. Our pet is starting to grasp the true meaning of sexuallybroken. This is her purpose in life. To be a bag of holes for our use.
When we are done playing, we shove our pet back into her cage for safe keeping. A tied up neck rope assures that she will not be wiggling around much. She will wait until the next time we feel like giving her another training session…
Tags: Big Dick, Black Ball Gag, Blow job, Blue Eyes, Box Tie, Breast Bondage, Cage, Choking, Deep Throat, Drool, Face Fucking, Forced Oral Sex, Knee Socks, Long Hair, Pale Skin, Redhead, Rough fucking, Rough Sex, Small Tits, Vibrator
Sexy redhead Violet Monroe strictly bound and roughly fucked by big cock, messy brutal deepthroat!
Bound dungeon pet roughly fucked from both ends by hard cock
Read More »
---
---
Adult newcomer Marley Blaze loves Bondage and Rough Sex! This cute girl next door knows what she likes, and she likes it hard and rough. Luckily here at Sexually Broken, we do sex and submission like no other.
The set up is simple: we have Marley tied in a modified Western Japanese chest harness, while her hands are trapped to upper thighs. This simple but effective tie lets us control her into any fucking position we can think of. Marley is completely helpless and at our complete mercy.
What transpires next is a brutal fucking of epic proportions. Marley takes it, and she takes it hard. Brutal cock sucking with long count deep throating, and deep cervix pounding fucking. Marley's body escapes her and we pound orgasm out of breathless orgasm from her helpless cum drunk body. A simple look in her eyes tells you everything you need to know about how far gone, yet still there, she really is. Spit covers her face as we fuck her throat without mercy until those subspace eyes look at you, but there's nothing behind them. It that's look that tells you "I just went beyond fucked to can't-remember-my-name fucked"
Find out why AVN and Xbiz both nominated Sexually Broken for best Bondage and rough sex (BDSM) and best Alternative site on the net.
Tags: Big Dick, Blow job, Box Tie, Breath Play, Deep Throat, Drool, Face Fucking, Forced Oral Sex, Interracial, Rough fucking, Rough Sex, Shaved, Super Deep Throat, Three Way, Tongue Bondage, Brunette, Long Hair
Hot Girl Next Door is bound while being roughly fucked and deep throated. Helpless Sex Slave!
Read More »
---
---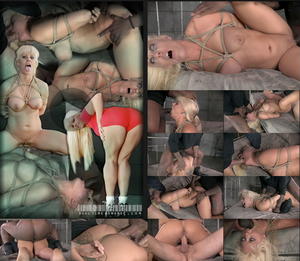 Big breasted MILF Holly Heart strictly restrained and ANALLY fucked by BBC, messy epic deepthroat!
In the final part of Holly Heart's live BaRS show, we pull out the big guns. It is DP time. This BBC loving whore loves getting her ass royally plowed by huge dick and we are here to oblige. The bondage, orgasms and relentless facefucking have already blasted our big breast MILF into sexual subspace. Assfucking will be the rocket to take her into the universe of Sexuallybroken.
After binding up our pet in a strict chest harness and letting her pee in a bucket so she does not spoil our nice dungeon floors, we throw Holly onto the fuckbed. What follows is an epic dicking down in every single hole by two hard relentless cocks. Holly is ragdoll fucked all over the bed in every angle and position we so desire.
This is what she was born for. Her hair and makeup are destroyed, giving her the look of a sad eyed messy panda. Drool pours out as the cocks pour in. Holly's eyes roll up into the back of her skull as 10 inches of black thunder own her ass and reshape it to be custom fitted. When we follow that up with a DP, Holly loses her mind. And who can blame her?
We fuck until we have had our fill. Our drained and well fucked pet is left twitching on the bed, reduced to a sticky bag of holes. Quick, did someone get the number of the cock truck that just hit her?
Tags: Anal Bondage Fucking, Anal Sex, Big Breasts, Big Dick, Black Cock, Blonde, Blonde Slave Training, Blue Eyes, Box Tie, Deep Throat, Double Penetration, Drool, Interracial, Long Hair, Shaved, Smeared Makeup
Read More »
---
---
---
---
---
---
---