Tag: Bondage Lesbian Video
---
---
Kenzie Taylor gets a face full of Dee's ass and a throat full of Matt's cock!
Kenzie Taylor is stuck to the floor with a Hitachi bolted in front of her. The chains around her ankles hold her legs apart so that she can't protect her pretty little pussy. Dee Williams comes to her with some oil and turns the vibrator on. The powerful vibrations begin to turn the heat up as Dee rubs the oil all over Kenzie's giant tits. Kenzie moans and shudders at the intense sensation. The first of many incredibly beautiful orgasms erupt from Kenzie before there's even a dick in her mouth.
When Matt slides his dick down Kenzie's throat it becomes obvious how sexually excited she is. The dick encounters no resistance. When it finally comes out Kenzie's face is drenched with her own spit. Matt fucks her throat until she's wild for breath. Matt leave's only to be replaced by Dee.
Dee uses her pussy to breath play Kenzie. Kenzie doesn't even fight it. She licks and sucks on Dee's pussy lips until finally she can get a breath. The spit flows freely and coats Dee's sexy body.
Matt and Dee take turns having their way with Kenzie. Her moans and grunts are all the indication we need that Kenzie is Sexually Broken by the end.
Read More »
---
---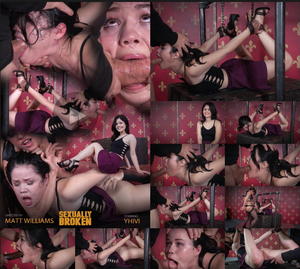 She might be cute, but girls rarely come as tough as Yhivi. Matt and Dee Williams have her back arched in metal and leather bondage. They fuck her throat until she is covered with drool and panting. They then vibrate her eager cunt.
Yhivi likes to be choked, so Dee graciously applies a hand to her throat which only makes Yhivi's orgasms stronger and more frequent. By the time they are finished with her she is beautiful stuttering mess of sex and drool. Yhivi doesn't disappoint. We will definitely be bringing her back as soon as we can get our hands on her again.
Read More »
---
---
Billy arrived to have some girl time with her friend, but London isn't in a talkative mood. She would rather listen to Billy than say much herself. She doesn't want her to talk necessarily, but moan, whimper and scream. Once she has Billy's hands tied, Billy realizes that girl time with London is over.
London ignores Billy's questions about what she is up to while she gropes and plays with her helpless friend, but things go from a little creepy to intense when London adds nipple clamps, a strenuous position and a bit of foot torture to the play time. Billy giggles nervously as London gleefully shocks and whips her. Billy has an electric dildo pushed inside her and she can't escape as London applies even more electricity to Billy's pussy. London isn't done though. She might let Billy have an orgasm eventually, but even then she is vicious. Billy may have been looking for some traditional affection today, but London doesn't cuddle like other girls.
---
---
Tall, slender and beautiful, Zoey Laine could have just as easily been a runway model, but Zoey is too much of a kinky slut to settle for that. Lucky for us she decided that she would rather be dicked down on a regular basis. Matt and Dee Williams are experts in this area and they waste no time getting this sexy little slut bound, her mouth hole in the perfect position for hard use.
Zoey is no stranger to cock sucking, but after a thorough throat boarding session from Matt and Dee Williams, this sexy southern belle is drooling, crosseyed, and gasping for air. They aren't done with her yet. Dee turns on the vibrator that is pressed against Zoey's pussy and Zoey comes undone, seized by multiple orgasms and a face full of dick. Miss Laine brings her A game and she doesn't let us down. We haven't seen the last of this amazing slut.
Read More »
---
---
Kahlista Stonem doesn't seem to tire of cock so in round two Matt and Dee Williams strap her down and give it to her from both ends.
Tireless, tiny, all natural queen of deep throat, Kahlista is fucked to multiple orgasms while enjoying a little extra breath play as a belt is pulled tight around her neck. She is finally left panting and writhing in ecstasy, but we aren't done with her yet. This adorable little sex bot doesn't wear out easily.
Read More »
---
---
---
---
---
---
---