Tag: Bondage Lesbian Movie
---
---
Kenzie Taylor gets a face full of Dee's ass and a throat full of Matt's cock!
Kenzie Taylor is stuck to the floor with a Hitachi bolted in front of her. The chains around her ankles hold her legs apart so that she can't protect her pretty little pussy. Dee Williams comes to her with some oil and turns the vibrator on. The powerful vibrations begin to turn the heat up as Dee rubs the oil all over Kenzie's giant tits. Kenzie moans and shudders at the intense sensation. The first of many incredibly beautiful orgasms erupt from Kenzie before there's even a dick in her mouth.
When Matt slides his dick down Kenzie's throat it becomes obvious how sexually excited she is. The dick encounters no resistance. When it finally comes out Kenzie's face is drenched with her own spit. Matt fucks her throat until she's wild for breath. Matt leave's only to be replaced by Dee.
Dee uses her pussy to breath play Kenzie. Kenzie doesn't even fight it. She licks and sucks on Dee's pussy lips until finally she can get a breath. The spit flows freely and coats Dee's sexy body.
Matt and Dee take turns having their way with Kenzie. Her moans and grunts are all the indication we need that Kenzie is Sexually Broken by the end.
Read More »
---
---
Kahlista Stonem doesn't seem to tire of cock so in round two Matt and Dee Williams strap her down and give it to her from both ends.
Tireless, tiny, all natural queen of deep throat, Kahlista is fucked to multiple orgasms while enjoying a little extra breath play as a belt is pulled tight around her neck. She is finally left panting and writhing in ecstasy, but we aren't done with her yet. This adorable little sex bot doesn't wear out easily.
Read More »
---
---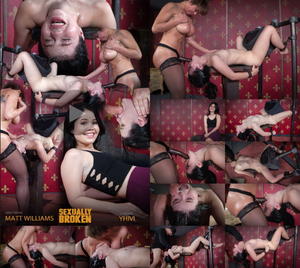 Little Yhivi is back doing what she does best, getting face fucked till shes stupid. We fuck all the drool out of this helpless throat slave.
Bound on her back her legs spread and head hanging over the edge of a table, Yhivi finds herself in a brutal predicament. The most powerful vibrator in the world is stuck on her clit and the mouth is helpless to stop the cocks that are coming to fuck her tight and messy throat into next week.
This is where Sexually Broken excels. No bullshit talking, no bullshit fake acting, no bullshit fake orgasms, no bullshit fake porn moaning, none of the bullshit that you hate about porn, we deliver you real girls, being completely sexually destroyed. We bring the real deal, and the girls have no choice, they can't fake it, because it's honest. They can't "act" they are to busy trying to survive the overload of cock and orgasms. It is pure, and it's only here at Sexually Broken.
Read More »
---
---
Sexy Cougar Syren De Mer is back on the Sexually Broken stage, with Dee Williams, the Premiere female Dominate that is taking the internet by storm!
Dee Williams is back with Matt to completely wreck Syren De Mer. Dee has been training under the tutelage of Matt Williams for about a year now. Matt is considered one the best Male dominates in the scene today, and is ready to unleash his student on the sluts of the world.
Syren is bound spread with a powerful vibrator locked onto her shaved pussy, her helpless mouth ready for plundering. Today we are going to wreck Syren with massive amounts of cock to the throat, all the while as the vibrator rips orgasm after of orgasm from our powerless Cougar.
Sexually Broken specializes is destroying even the most talented and experienced porn stars of the world. Join today to see why Sexually Broken has been nominated so many times by the leading industry experts. Often copied but never duplicated, Sexually broken gives you the best value, hottest stars and most realistic rough sex in the industry, with world class bondage to boot!
Read More »
---
---
We welcome Endza Adair back to the Sexually Broken stage, and we introduce Darling, with her 9 inch strap-on of doom, huge 34 DDD breasts and amazing phat ass to the family of Sexually Broken tops.
We have Endza bound in rope with hands tied to thighs, simple but inescapable. On her Knees, in front of the bodacious Darling and her massive strap-on, Endza is a helpless suck slave. Darling punishes her sexy play toy's throat with an extreme face fucking, controlling her air intake. Endza only gets oxygen when Darling wants her to. Soon The Williams brings his talent and cock to the battle and the helpless Endza has a real BDSM couple sexually Dominating her.
Back and forth Endza is manhandled and bitchhandled, used for pleasure, helpless to the couple before her. Endza is fucked, throated and abused as the Williamses fuck their cute girl next door to several brutal and earth shaking orgasms. In the end Endza is left, dripping from every hole, dazed, confused and happy. Another amazing day at Sexually Broken, the Orginal Bondage and Rough Sex Website.
Read More »
---
---
It's a long day at work. but there isn't much to do. I hate being bored, and O.T. is busy, so I've decided to ask him if I can borrow his little pet. London River is kept in a cage in his office, but I'm going to take her down to the playground. Not outside, but down in the basement, where all of my toys are set up.
My dungeon is well stocked with all of the things it takes to make a slutty little animal like London scream and cream. Bending this flexible fuck toy to my will is going to be a lot of fun. Caning her, vibrating her, or, my favorite part, fucking her with a strap on while she is bent over the metal pipes. London has tears streaming down her face while her juices are dripping off my rubber cock.
---
---
Cici Rhodes is welcomed back into the fold with intense orgasms, suspension, and strap on fucking.
Welcome back, Cici.
You've been away far too long. Los Angeles didn't sit well with you, did it? I'm sure it left much to be desired. You are far too advanced for that society. You do not belong among them. Leaving that trap was for the best.
You've come back home to your people. We understand you. We understand your deviant proclivities. You don't have to explain your desire to be tied up tightly, or your need to feel what's it like to not be able to escape. Helplessness is a prized state of mind – that is obvious in these parts. We are aware of your craving to be tossed around, masturbated upon, used as a piece of furniture, only to later be bent over and taken from behind. There's no need to spell out the subtleties of the art of teasing, or the boldness of the whip. These matters are well understood here. You are home.
Your reintegration process begins slowly, methodically. A modified ball tie ensures that your mobility is very limited. But I know you need more. I know you need your small freedoms to be removed one by one. First it's your tongue – clamped and stretched to your knees. Then your pussy lips are clamped and stretched out to your toes. These additions are made to place you in the correct frame of mind. You are here because I want you here. You are here to be played with however I see fit. You are not to move.
Stage two of this welcome home party has you worm tied and suspended. What's it like to be used as a piece of suspended furniture? What's it like to physically support someone who is cumming their brains out while you hang there, suspended in both time and space. At my disposal.
Finally, if I know of any way to celebrate the return of a cohort, it's to welcome them with pain and objectification. Tied with your hands around your neck, as if your are choking yourself, your pussy is exposed and for the taking. That wouldn't be nearly as fun, though, without indoctrinating you first with pain. I know what you are here for. I know why you came back. If you merely wanted fucking, you would have stayed in that plastic city. You didn't. You came back home. And home is where the bondage is.
Welcome back, Cici. Back into the fold..
Tags: Ass Paddling, Ball Tie, Bent Over Tie, Blindfold, Bondage Lesbian Movie, Crotch Rope, Female Dominant, Finger Bondage, Forced Orgasm, Labia Clamps, Lesbian Bondage, Pogo, Red Ball Gag, Red Hair, Rope Bondage, Strap On Sex, Suspension, Toe Bondage, Tongue Bondage, Worm Tie
Read More »
---
---
---
---
---
---
---
---