---
Hot MILF is bound helpless to 'X' frame and fucked by a massive cock until she cums over and over'
ANV and Xbiz nominated MILF of the year is back at Sexually Broken, India Summers loves and is amazing at her job, we are lucky to work with such a talent.
Bound to a custom made 'X' frame, India has her amazing ass sticking out begging for cock. We put the Insex mask on poor India, gagging and blindfolding her at the same time, then we add one more bag for fun. It doesn't take long for our Purple Heart recipient SGT Doe to fuck the first orgasm out of our helpless MILF slave. The SGT sets up behind and just plows his massive dick in and out of our moaning cumming helpless slut. Orgasm after orgasm is fucked out of India, in the end India is left shaking, and dripping.
Enjoy you long holiday weekend!
Read More »
---
---
Hot Asian is bound, hooded, gagged, blindfolded, brutally fucked and licked, made to cum!
We have Milcah Halili bound and helpless on the only Bondage and rough sex site on the net. We don't hit our models (unless they beg), we fuck em!
Completely bound and helpless, our hot tiny Asian girl is hooded, gagged, and blindfolded, while stuck in a "fuck me" position. Matt and Dee bring the cock. Over and over they make Milcah cum. One cock after an another, non stop brutal pounding. Milcah can only scream into her gag as she is made to orgasm over and over without any hope of reprise.
From cocks to tongues, to vibrators, Milcah is powerless to stop any of those from ripping orgasms out of her exhausted body.
We update 3 times a week, with a different girl and unique custom bondage predicament! We have a live show each month so you can see how we really destroy these girls in real time. Often copied, but never duplicated, Sexually Broken is the only Premium hardcore bondage site on the net!
Read More »
---
---
Sometimes all you need is the basics. A bed, some bondage and a nubile play toy to act as a cock sheath. All of which we happen to have on hand today. Lucky us! Let's blindfold up Sarah Luvv, tie her to a bed and fuck her hard from both ends until she can no longer recall her own name. How much dick does it take to reduce her into a drooling puddle? We are about to find out.
Bound on her back in a classic fuck me position with her toes pointed up towards the ceiling and her blindfolded head hanging over the edge, Sarah is ready for the stuffing. And stuff her we do. Both the dicks run a relentless tag team on her holes. She can not dodge the dick or escape the training. We pound her out to a custom fit as the drool and cum pours out.
Sarah moans and cums as her cute little squeals fill the studio. We suppress the squeals with a serving of dick down her throat and an additional serving of hard cock in her tight pussy. We show no mercy. But to be fair, she doesn't ask for any mercy. This pet actually craves the cock and the rougher the better. We are more than happy to oblige and pick up the pace.
We do not stop until Sarah is a twitching mess of starlet. She is left a cummed out mess, her drool running down her face and into her long brown hair. Such a sexy little thing, isn't she?. We should do this again sometime very soon.
Read More »
---
---
We couldn't help ourselves. We had to have her back. And if you have ever seen the legendary Asian fuck doll go at it, you would understand why. Kalina Ryu is unstoppable. She devours men. She just laughs at the dick you throw at her. She can not be sexually broken, we realized that long ago. These days, we are content with just fucking her until we get winded.
The bondage is just to give us a fighting chance. We will still lose of course, but anything to give us an edge. Bent over in half and shackled to a wooden post with her flawless ass jutting out, Kalina is ready to do. A blindfold cuts off all vision, reducing her to nothing but a mouth and pussy. She loves it of course. Kalina was born to be a cheerful bag of holes. A bag of holes that destroys men. Here goes nothing.
We tag team back and forth, taking whichever end we so desire. The strict metal shackles keep her wrists and neck firmly in place. She can not escape or dodge the dick. All she can do is take what we dish out. Which she does. With relish. It doesn't matter how hard we fuck her, we can not wipe that huge grin off her face. It is a futile task. She drools and cums and drools some more, an Asian fuckdoll in her happy place.
We stop when we run out of breath. It is pointless to try and sexually break this one. If we didn't have her bound, she would chase us down and fuck us to death. Asian fuck doll, you win again. Like you do. We always have fun trying, but the outcome is always the same. This one is indestructible.
Read More »
---
---
The stunning Aria Alexander is back. And we couldn't be happier. Aria is a fashion model that turned to the dark side, as she found out that she likes dick more than she liked wearing clothes. We all win here today. Let's put this stunner through her sexual paces.
Aria is bound on her back, toes pointed towards the ceiling and creamy skin on display. We have a custom made wooden bondage device that our slut is shackled in that puts her at the perfect fucking height. Thick leather belts keep her firmly in place. Black electrical tape makes a blindfold and gag, cutting off all of her vision and turning her into a set of holes. Her flawless shaved pussy peeks out temptingly. We make full use of it.
One after the other two hard cocks step up and train out Aria's tight hole. The bondage holds her tightly in place. She can not wiggle, she can not escape the dick. All she can do is take what we dish out. And what we have to dish out is relentless dick. Big hard cock takes every inch of her pussy, balls deep, as Aria moans and cums behind her strict gag. This model is now serving her true purpose…as a cock sheath.
We pound out that pussy until she is wrecked. Our bound starlet is a twitching mess, stuffed full until she is dazed and delirious. There are definitely worse ways to spend the day than fucking fashion models in tight bondage. We really can't complain. And if Aria were to complain, we would not be able to hear much past that tape gag.
Read More »
---
---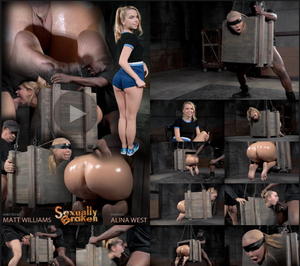 This tiny little blonde fucktoy goes by the name Alina West and she is frankly so darn cute that we can't stand it. 5 foot 2, eyes of blue, long blonde hair and an ass that just will not quit. There is only one thing to do in a case like this…screw her into a wooden box, suspend that box from the ceiling and stuff her full of cock until her eyes budge. So we do just that.
The wooden box keeps Alina folded up and compact as a kitten, but leaves both ends exposed and wide open. That flawless bubblebutt hangs out on one end and those juicy blow job lips are on the other. A light dusting of oil brings out the shine on that ass and then it is off to the races. We introduce the hard cock to the back of her mouth and follow that up with cock deep inside that tight little pussy.
Alina swings like a pendulum, swaying back and forth on the dick. The box keeps her firmly in place, she can not even wiggle. This kitten is fucked. 10 inches of BBC jam down her throat as she chokes and drools, taking every inch. It isn't like she can do much to stop the throat or pussy training. This is her new lot in life. When we have had our fill, we leave the swaying box and drooling fucktoy in place. We will be back for seconds later.
Read More »
---
---
They don't get much more small and compact then Odette Delacroix. She is not even 5 feet tall and weighs less then 90 pounds. She looks too tiny and delicate to hang on the Sexuallybroken stage, like a fairy that somehow got lost and took a wrong turn into a dungeon. Lucky for us, looks can be extremely deceiving. Odette is no lost fairy. She is a full blooded sexual freak that lives for this sort of thing.
Her tiny little head is wedged between two bars of our well used fuck bed and her thin limbs are bound down into a classic fuck me position. Her blindfolded head hangs over the edge, fully exposed, as her thin legs are spread wide open and roped into place. The blindfold cuts all of her vision and turns her into a restrained fuckdoll for the use. Odette's fairy sized smooth shaved slit looks way too small to ever take the dick, but when we walk up it slides right in. It is like a magic trick.
We add another dick to the mix and tag team Odette until her teeth are rattling in her skull. She can not see or anticipate the cock and we swap back and forth, deepthroating and deepdicking her down into squirting orgasms as the vibrator is added into the mix. This fairy is fucked. Her legendary deepthroat skills take every inch of the cock train as we pound her down without mercy.
The finishing touch is a dildo and vibrator combination stuffed into that well used hole and tied into place. Odette is bound, blindfolded, vibrated, dildoed and trained hard in her holes. This is the sort of fairy anyone would be happy to run into, particularly if you happened to be carrying some rope on you…
Thin blindfolded blonde Odette Delacroix bound down and roughly fucked, drooling epic deepthroat!
Bed bound pixie tightly tied and used hard from both ends
Read More »
---
---
Part two of Skin Diamond's live BaRS show continues at a merciless pace. She has already been throatboarded by two hard cocks directly into her tender face hole, and now we are ready to move onto the main course. Time to see why they keep throwing AVN awards at this hot piece of ass. Enough warm up, we want to see what that pussy has to offer…
All action happens live on camera, and we quickly bind Skin's hands between two posts. The position allows us to swivel her, dropping her to her knees or hauling her up to give us access to her pussy. Skin is now just sex on a stick and we make full use of that fact. A classic style INSEX stocking hood with tape cuts off her vision. She can not see or anticipate the dick, all she can do it take what we dish out.
A hole ripped in her hood gives us access to her face pussy and we slide in to continue her throat training while also pounding out that pussy. Skin is turned into a sex sandwich as both cocks attempt to meet in the middle. She drools all over the dick as we own her tight holes. Training should be done seriously, and we cram two cocks into her greedy mouth hole at the same time.
10 inches of chocolate thunder are brought out on that cunt, roughly slamming home balls deep. Most would tap out under the furious pounding, but Skin is not most people. She takes it with a grin on her eager face. We are not even close to done yet, and prepare to roll into the next bondage position. Stay tuned to see what else is in store for our sexy starlet…
Tight bodied AVN winner Skin Diamond restrained and roughly fucked by 2 cocks, drooling deepthroat!
Deepthroat slave training as Skin is bent over bound and services two cocks
Read More »
---
---
Lotus Lain is one sexy package of eager. And we love that about her. A cockslut that realized that she was so good with the dick that she should get on camera, she brings her A game every time. Her well trained throat produces epic amounts of drool and her pussy takes cock like a last meal.
Bound face down ass up on our well used fuckbed in a position that perfectly displays her flawless ass and leaves her face pussy exposed over the edge, our cockslut is ready for the ride of her life. A blindfold cuts off all vision, she can not see or anticipate the cock, all she can do is take the dicking down. We walk up from behind and slide right in between her tied together thighs.
In short order she is turned into a sex sandwich. Two hard cocks tag team Lotus relentlessly and without mercy. We rip off the blindfold and pick up the pace even more. Drool pours out of our fucktoy's mouth as that tight pussy is railed down. She cums hard, fiercely as the cock pounds out her pussy. The dazed look dancing across her face shows just how deeply she is in sexual subspace. It is this undeniable eagerness that keeps us inviting her back. This is what she was born to do and she does it very well indeed.
Tags: Big Dick, Blindfold, Blindfold Sex, Blow job, Brown Eyes, Brunette, Deep Porn Throat, Drool, Ebony Bondage, Ebony Kink, Natural Breast, Rough fucking, Rough Sex, Slave Bj Training, Slave Girl Training, Smeared Makeup, Tattoo
Epic brutal drooling deepthroater Lotus Lain bound down and roughly fucked by big dick!
Bound and blindfolded dungeon fucktoy roughly fucked with drooling deepthroat
Read More »
---
---
Tan busty blonde Leya Falcon bound and bent over, rough blindfolded sex and brutal deepthroat!
Sensory deprivation is the spice that can take fucking to the next level. And today we have the perfect subject to practice some spice on. Leya Falcon is blonde, busty and tan with a phat ass made for the pounding. Bending her juicy ass over our custom made wooden fuck box, Leya is shackled and bound into place. A metal bar makes both a handy grip bar and a convenient place to tie up her hair. With her hair restrained, Leya can not move her head away or dodge the dick. A leather blindfold is the final touch.
Once the blindfold is in place, Leya can not see or anticipate a thing. Firmly bound with both ends deliciously exposed, Leya is reduced to a bag of holes for our use. We can plunge home balls deep in either mouth or pussy as we see fit, and that is exactly what we do. We switch back and forth, pounding out her pussy and then using her mouth and then back again. Leya moans and cums gratefully as she is fucked so hard her teeth rattle.
It is a relentless training of her holes, and all the while Leya is locked in total darkness. The bondage and orgasm overload blasts her into sexual subspace and we are still not done with her yet. A vibrator rips yet another orgasm out of that smooth shaved pussy as Leya strains in her shackles. She is dazed and woozy, finally able to grasp the true meaning of Sexuallybroken.
Today was not a regular day at the LA porn office for Leya. Instead, it was a brutal throat and pussy training in strict bondage with relentless orgasm overload. She will not be forgetting her training anytime soon, will you my dear?
Tags: Bent Over Tie, Big Ass, Big Breasts, Big Butt, Blindfold, Blindfold Sex, Blonde, Blow job, Deep Throat, Drool, Extreme Rough Sex, Face Fucking, Hair Tie, Leather Blindfold, Tattoo
Read More »
---
---
Busty blindfolded MILF Syren De Mer restrained in strict device bondage and BRED by two hard cocks!
Hardbodied MILF blindfolded, gagged, bound and bred without mercy
Swinger Syren De Mer is the sort of MILF all other MILFs aspire to. She keeps her body toned, tan and fit for a reason…to better advertise her love of the cock and to increase her chances of getting stuffed full of dick. Trust us Syren, it is working. We will happily give you exactly what it is you crave so badly. You cock crazed slut you.
Bound down in a classic fuck me position, Syren's shapely legs are spread wide and cuffed into place. Shiny black heels, tight breast bondage, a big ring gag and a leather blindfold complete the package. We don't need to see her eyes, we just want at the pussy. Her perfectly shaved pink pussy makes a tempting target, and we avail ourselves of it to the hilt, siding in balls deep. Syren moans in pleasure as she gets her fix.
We overload her, fucking her, fingerblasting her to multiple orgasms, vibrating her to yet more orgasms. The blindfold cuts off all vision, Syren is just locked into pure sensation. The strict bondage reinforces her helplessness, she can not struggle. All she can do is submit to being used, which she does with abandon.
Time to fill this slut up. Both cocks unload in that eager pussy. Syren is bred and left in her bondage as creampie slowly trickles out of that talented cunt. She never saw a thing, but she most certainly could feel it. We will be back for another round when we feel the urge Syren…
Tags: Big Breasts, Black Cock, Black High Heels, Blindfold, Blindfold Sex, Breast Bondage, Finger Fucking, High Heels, Interracial, Long Hair, MILF, Milf Bondage, Older Woman, Ring Gag, Rough fucking, Vibrator
Read More »
---
---
Tiny 4'11 Tinslee Reagan blindfolded, bend over and used hard and rough from both ends by big dick!
Little fucktoy handcuffed down on a pipe frame and filled full of dick from both ends
Clocking in at under 5 feet, Tinslee Reagan is a tiny little thing. Tiny little feet, little perky breasts and big wide eyes that look best above a cock. She may be only 21 years old but this fresh faced starlet knows her way around a dick. The only thing one can do with this compact fucktoy is bend her over some metal pipes, handcuff her limbs in place and stuff her so full of huge cock from both ends that she becomes a sex sandwich. Which is exactly what we do.
Blindfolded, gagged, drooling, bent over and handcuffed is a very good look on Tinslee. That bubble butt is protruding out and makes an inviting target. We want to turn that pussy into a cock sheath, but first let's give her a little warm up. A vibrator makes short work of that hair trigger cunt and she cums almost instantly, yanking uselessly on her restraints. Enough warm up. We plunge home to the base as Tinslee moans in pleasure, stretched to the hilt by the huge cock.
One after another, the cocks own her hole. The blindfold cuts off her vision, she has no idea which of the dicks is running a train on her tight pussy, all she can do is take what we dish out. We want to take a crack at that mouth hole and remove Tinslee's gag, promptly replacing it with hard dick. We ramp up the pace, fucking this tiny toy limp. Yanking off the blindfold, we dial it up even more, smearing her cock earned drool all over her face. Tinslee sputters and cums.
The bondage, face fucking and orgasms do the trick. Her hair and makeup are destroyed and she is limp in her bondage, helped up only by the metal pipes. This fucktoy is used limp, unable to even get her eyes uncrossed. We leave her shackled and drained, leaning weakly on her bondage. We will be back later for another round when the urge strikes again…
Tags: Ball Gag, Bent Over Tie, Big Dick, Black Boots, Black Cock, Blindfold, Blindfold Sex, Breath Play, Brown Eyes, Choking, Cock Sucking, Face Fucking, Hand Over Mouth, Handcuffs, Oral Sex, Rough fucking, Rough Sex, Slave Bj Training, Sloppy Blow Job On Black Cock, Small Tits, Vaginal Penetration
Read More »
---
---
---
---
---
---
---