---
Not many people on the planet can edure the Sexaully Live live show. It's intense helpless bondage, and some the roughest sex in mainstream porn and it's 45 minutes of straight no cut, no breaks, rough sex! We only do 12 a year, and we carefully pick our girls for it. Dee Williams is one of the best all around models in the industry, able to take the most hardcore bondage and fucking.
Dress to kill in her stocking and black high heels, Dee is ready as she can be. Soon the boys of Sexaully Broken are going to bring the cock, and those boys know how to fuck a helpless girl. From brutal face fucking and deepthroating to hard fucking that causes Dee to squirt out several mind blowing, screaming orgasms, this update has it all.
Read More »
---
---
Rick Hunt saw Topgrl and knew he had to apply to be in a shoot with London. He was so enthusiastic that she decided that he wouldn't go home disappointed. London loves a hard cock, especially when it only gets harder when she introduces pain.
London first ties Rick on his knees, securing his member to the floor. She attaches some binder clips to some of his more sensitive areas before pulling out the single tail and adding stripes to his exposed chest. She canes his inner thighs as his screams are muffled by his tape gagged mouth. She then removes the clips, dragging them off his skin agonizingly slow and pinching the marks left over to get a few more screams out of him.
London Then bending him over, propping his ass up by his balls and proceeds to whip him and shock his exposed testicles. She giggles with delights as he wails some more. Finally she puts a leather hood on him and bends him over, securing his cock in a fleshlight as she fucks his ass. She has a vibrator tied to his junk so she can play with him some more while she rails him hard. Rick cums hard before she is through with him and through with him, she leaves him panting in the darkness of his hood.
Read More »
---
---
Kenzie Taylor is one of our favorite sexy bimbos, huge tits, a perfect ass, full lips, tan and sexy. Kenzie loves cock loves pussy and loves sex.
Bound on her back with her legs held open, and head over the edge of the table, Kenzie is completely helpess and exposed. Today we are going to overload our big tittes slut with pussy and cock. Dee will control her breathing with her perfect wet shaved pussy, her phat ass and massive boobs. Matt will stuff her throat with cock, not all of it fits in Kenzie's throat but enough so she can't breath while she is being throat boarded upside down. The pair completely controls Kenzie air intake. In the end our sex slave is spent from being made to cum over and over and over. A drooling dripping mess!
Read More »
---
---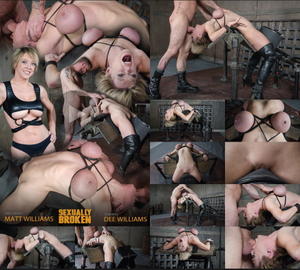 Dee Williams is back on Sexually Broken for a reason, No, it's not because she is my wife, it is because she simply puts most LA girls to shame.
Dee is brutally bound in a category five sex position, is completely stuck on the world's most powerful vibrator, the Sybian. She then is put through one of the most extreme Face Fucking scenes, all the while cumming almost non-stop while deep throated. Most LA models can only do one of those things at the same time. Dee is in the top 1%.
If you enjoy watching Bound girls getting completly sexaully destroyed with out any hitting or pain, then you my friend have found the motherload!
Read More »
---
---
Sexy Girl Next Door, gets bound on her back and brutally fucked until she is screaming and squirting
Sierra Cirque is not your typical porn star. She is local to the Seattle area, and has never done the LA thing. However she can take a fucking like the best A listers this industry can muster and then some!
Bound on her back, sexy stockings and heals on, we bind Sierra so her legs are wide open and we have access to her tight shaved cunt. We gag our little sexy bitch with a extremely tight ball gag. Her pussy is wet and ready, she knows what is about to happen to her and it excites her. She loves coming to Sexually Broken we know how to fuck a whore.
Brutal non-stop pounding, we fuck that shaved pussy for miles. Sierra screams though the gag as we pound orgasm after orgasm out of her helpless body. She thrashes, she moans she screams, she cums! In the end she is nothing but a squirting mess as make her cum so hard the squirt just flies across the room and everywhere else. Another satisfied slut destroy at Sexually Broken!
Read More »
---
---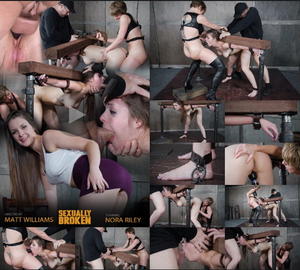 Cute girl next door is made to squirt from brutal fucking and deepthroating!
Nora Riley is as cute as a kitten and super slutty. She loves bondage and rough sex. She also loves MILFS and Daddies so today is the day most of her sexaully fantasies come true.
Bound, standing spread and helpless, we have Nora ready to spit roast. She is going to get brutally fucked in both holes from, both sides. Extreme throat fucking and deep throating from one side, fucked and made to squirt from the other. Dee and her massive tits and strap on make Nora squirt over and over. In the end our cute girl next door is breathless, standing in her own squirt, and exhausted from cumming so many times during deepthroating. A day this college student won't soon forget.
Read More »
---
---
Local college girl endures, brutal face fucking and massive orgasms while completely helpless!
Welcome Nora Riley to the AVN, ZBIX, 3 year running, nominated best BDSM site, Sexaully Broken. This local college girl is as cute as a kitten and as sexy as a mink!
Today we have Nora bound creatively on her back with her head over the corner of the table. Her shaved pussy and mouth are at cock level, her legs spread and helpless. Nora is completely at our mercy, and if you have ever watched Sexaully Broken, we don't have any mercy left.
Nora soon finds her throat filled with cock. Relentlessly, the cock fucks our helpless coed's throat, deep and brutal, breath play at it's finest. Then Dee with her big custom strap on and DDD boobs steps in and starts fucking Nora to several intense orgasms.
In the end our little coed, is dripping out of each hole, cummed out! Eyes glazed over and almost unable to catch her breath. Nora got a professional dick down today, one she won't soon forget.
Read More »
---
---
Tall leggy redhead is rope bound, face fucked, pussy fucked and made to cum over and over!
We have the tall leggy, Katy Kiss back. Her beautiful body just begs to be bound and sexually abused. She has a special lust for Dee Williams and her massive boobs and dick, so by Katy's wish Dee is back to bang the fuck out of our sexy redhead.
Katy is rope bound elbows together and strappado'd, her legs are frogged and she is completely helpless. The look of pure lust when Dee walks toward her alone, is worth the price of admission. A rope from Katy's neck is actually holding up her strappado, so if she tires she slowly begins to choke herself out.
Then we bring the cock, we work over Katy's throat with big hard dick. It doesn't take long for the neck rope and penis to make our sexy redhead struggle for air. Katy receives a brutal face fucking that sends her deep into subspace. Soon the throat is not enough, and we hike Katy up so we can get at her perfect shaved pussy.
Katy is fucked hard and brutally. She cums over and over while the neck rope does it's job. Soon Katy is cummed out and broken, we leave her struggling to breath as her strappado is slowly taking Katy into the darkness.
Read More »
---
---
Nikki Darling just gets hotter every time we see her and she never disappoints with her rough sex skill set. First we test her Deep throat skills as Matt and Dee Williams take turns fucking her willing mouth hole. She drools and her eyes roll back as dick blocks her breath. This is Nikki's happy place. Her ass is then propped up so Matt and Dee can have their way with her eager cunt. She cums over and over, making the most beautiful sounds as she is relentlessly fucked from both ends. Nikki is always impressive and today is no different.
Read More »
---
---
Kahlista is already a cum drunk little slut and Matt and Dee Williams are going to see to it that she stays that way. The belt her down on our Sybian with inescapable bondage. They proceed to take turns throat boarding her even after they turn on the most powerful vibrator. She cums over and over as they violate her throat and choke her.
There is no end to this little cutie's ability to orgasm and that's just how we like it. Good job Kahlista. We are sure to see you in the future.
Read More »
---
---
Tall, slender and beautiful, Zoey Laine could have just as easily been a runway model, but Zoey is too much of a kinky slut to settle for that. Lucky for us she decided that she would rather be dicked down on a regular basis. Matt and Dee Williams are experts in this area and they waste no time getting this sexy little slut bound, her mouth hole in the perfect position for hard use.
Zoey is no stranger to cock sucking, but after a thorough throat boarding session from Matt and Dee Williams, this sexy southern belle is drooling, crosseyed, and gasping for air. They aren't done with her yet. Dee turns on the vibrator that is pressed against Zoey's pussy and Zoey comes undone, seized by multiple orgasms and a face full of dick. Miss Laine brings her A game and she doesn't let us down. We haven't seen the last of this amazing slut.
Read More »
---
---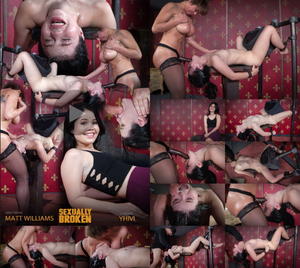 Little Yhivi is back doing what she does best, getting face fucked till shes stupid. We fuck all the drool out of this helpless throat slave.
Bound on her back her legs spread and head hanging over the edge of a table, Yhivi finds herself in a brutal predicament. The most powerful vibrator in the world is stuck on her clit and the mouth is helpless to stop the cocks that are coming to fuck her tight and messy throat into next week.
This is where Sexually Broken excels. No bullshit talking, no bullshit fake acting, no bullshit fake orgasms, no bullshit fake porn moaning, none of the bullshit that you hate about porn, we deliver you real girls, being completely sexually destroyed. We bring the real deal, and the girls have no choice, they can't fake it, because it's honest. They can't "act" they are to busy trying to survive the overload of cock and orgasms. It is pure, and it's only here at Sexually Broken.
Read More »
---
---
---
---
---
---
---