---
We have discovered another girl worthy of performer of the year. This tiny girl is a cock expert. She knows how to 'go there' to create an amazing scene, most girls in porn should take note, this is a PROFESSIONAL performer.
Lydia is bound and completely helpless in a custom bondage rig. Her neck is trapped between two bars, so she can not turn her head much at all. Her arms are spread out to custom leather cuffs and legs are kept apart and belted. She is about to survive a most intense face fucking and deepthroating while completely helpless.
It doesn't take long to throat her into subspace, after a few minutes Lydia realizes this is no ordinary face fucking, she can handle a mindless dude just jamming his cock in her face over and over and over, but she was not prepared for the finesses the boys of Sexaully Broken bring to the table. There is an art to everything and face fucking is no exception. Soon she is glassy eyes and drooling all over herself, that is how helpless she really is.
If you want to see great intense face fucking, with out all the guys yelling and hitting the girl every 4 seconds, then you have found the perfect site for rough sex and bondage. We don't hit or slap or denigrate our models, ever.
Read More »
---
---
We have tiny ALT girl Lydia Black with us today on the pages of Sexually Broken. This tiny ball of sex is amazing at deepthroating and taking hard brutal fucking, she is in the top 5% of all porn girls today!
Bound bent at the waist with legs spread, and her pretty mouth hole at the perfect height for a devastating face fucking, little Lydia is in some trouble here. She is going to get cock blasted from both ends. She is going to fight for air all while cumming from the huge cocks fucking her tiny pussy. It a sexual overload and Lydia finally discovers why we call the site Sexually Broken.
Read More »
---
---
Who is the hottest and best performing ALT girl in porn right now? It's Lily Lane, by a far margin. This girl knows how to let go and enjoy a moment, most porn girls could learn a thing or two from her!
Bound onto our custom spanking bench, Lily is about to get destroyed by cock. She is going to have her throat fucked deep and deeper, the best breathplay on the planet, while getting pussy fucked from behind while she cums uncontrollably over and over. It takes minutes for Lily to be blasted deep into subspace. We pull the deep deep spit from her throat and use it as lube for her tight pussy.
In the end Lily is barely conscious, her eyes are vacant, and drool is still just falling from her blasted mouth hole. We love making sluts stupid!
Read More »
---
---
Lily lane is destroyed by a brutal face fucking, while being made to cum over and over!
Our favorite ALT girl is back, and she brought her massive boobs, sloppy throat and squirting pussy with her.
We have Lily bound in the perfect face fucking position. Her arms are bound in hard metal in a strappado position, her legs are spread and tied to her neck, if she moves her legs to close them she will choke herself. Which means when we add the vibrator and make her squirt like a broken fire hydrant, she chokes herself big time trying to escape the evil vibrator.
A lot is going on in this scene, but the magic happens when the boys bring the cock. Believe it or not there is science to face fucking someone. Most porn guys, just shove a cock in the mouth over and over without thought or purpose, barbarians. The boys at Sexually Broken know how to treat a throat, that's why we are the best in the world at bringing girls into subspace by simply face fucking them.
Read More »
---
---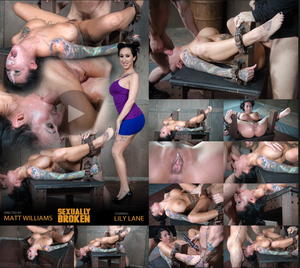 Who's the best ALT performer in the industry? We think it's Lilly Lane, we love fucking up this girl
Lily Lane is one of the best ALT performers out there, and this girl lets us destroy her, so there's that!
We put Lily in our favorite, "you're going to get fucked up" position! Most people do not realize how hard it is get your face fucked upside down. Not just fucked, but brutally fucked. Most girls won't even do it. But here we have Lily taking it, and getting her pussy pounded into several screaming orgasms! All the spit from the throat ends up running into the nose, the eyes, the hair, it's messy and beautiful! The girl can barely breath after a few minutes from all the spit covering her. That's what make Sexaully Broken special, we have so many way to destroy a girl.
Read More »
---
---
Lily Lane Cums Over and Over While Her Mouth is Filled With Cock!
Lily Lane has a body that is out of this world, so when we get her bound we are already eager to cut her clothes away revealing her big, perfect tits. Lily didn't come to us for a strip tease though. The strict belt bondage has her excited already, and she can't help but cum uncontrollably when the vibrator is turned on.
Read More »
---
---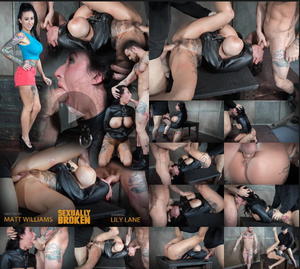 Sexy ALT model Lily Lane is bound in a straight Jacket and brutal manhandled, deep throated!
Welcome sexy ALT model Lily Lane with her massive tits and hard sexy tan body. This girl knows how to handle cock and loves it! We have Lily trusted up in a tight leather straight jacket. This sexy straight Jacket is specially cut to have Lily's massive boobs hanging out for us to abuse.
We call this type of scene a "ragdoll" scene. It's where the boys of Sexually Broken get to toss our helpless big tited slut around like a rag doll. We get to manhandle her into any position and fuck the living hell out of her. Both throat and pussy get destroyed every possable way in this amazing update.
Lily is left dripping out of every hole as we leave her exhausted and cummed out. Screaming squirting orgasms leave lilly in subspace, zoned out, trying to remember where she is and how she got here.
Check out why Sexaully broken is the best bondage and rough sex on the net. It's also the only site that updates 3 times a week, not 2 times a months like other discounted sites.
Read More »
---
---
Cadence Cross is Consumed by Her Own Suffering
Oh, Cadence. She is quite the character. I wonder what is actually taking place beneath that thin veneer? Cadence makes it difficult to pin down, and yet it is so obvious.
You'd think those big brown eyes of hers would be watching her tormentor. But she isn't the least bit interested. Instead, watch as Cadence turns her eyes away from her tormentor to instead gaze at her own image that's projected on the studio monitor. She can't help but be repeatedly drawn to her own reflection. Her own likeness.
This young Narcissist sits by her figurative pond, just as in the myth, so deeply in love with her own reflection that she forgets to eat, thus rendering her helplessly consumed by her own grandiose pride. Or is it insecurity? Is there a difference?
Being consumed by her own self, this particular bondage drama isn't between she and I. There is no room in her mind's drama for a supporting role. Cadence is the star and it is a one-woman show. This bondage drama is happening within the confines of Cadence's own psyche. Let's all watch as it unfolds….
Tags: Alt Model, Ass Paddling, Ass Whipping, Blindfold, Breast Whipping, Crotch Rope, Labia Clamps, Lesbian Bondage, Marks, Rope Gag, Small Tits, Spreader Bar, Squating, Strappado, Tape Gag
Read More »
---
---
Toned dancer Nikki Darling strictly shackled and throat trained by 2 hard cocks, brutal deepthroat!
Ebony stripper tightly restrained by chains and face fucked without mercy
Nikki Darling is a toned professionally trained dancer that has a banging body. This slut makes her living as a stripper and brings an incredibly well trained throat to the table. Today is simple, we are going to test that throat training to its very limits. Can this fucktoy handle the Sexuallybroken experience? Let's find out!
Restrained with chains in a brutal strappado and leather cuffs that stretches out and pulls her in all directions, Nikki is a bound butterfly. The neck collar and chain keeps her bed firmly in place, her arms are shackled to a post. Her wide open legs are cuffed and bolted down, perfectly displaying her high heels. A hitachi is screwed into place between those wide open legs, all the best to test her multi tasking skills. And then it is on.
We simply walk right up and make full use of that well trained face pussy that is conveniently placed right at dick height. One after another the rock hard cock reshapes her throat as Nikki gasps and sputters, taking it to the base. This is the type of fucktoy that knows how to put her nose on your belly. All the while the vibrator between those lean open thighs is working its magic, ripping out orgasm after orgasm. The look on Nikki's face can only be described as bliss.
By the time we are done stuffing 10 inches of BBC down her throat hole until she is cross eyed and dazed, Nikki is limp and slack in her bondage, held up only by her chains. She is so spent she can hardly lift her head, but we have no sympathy, instructing her to wait with her mouth open and tongue out for the next round of cock. The sure sign of a natural born slut, she does exactly as instructed. That is a good girl.
Tags: Alt Model, Bent Over Tie, Big Dick, Black Boots, Black Cock, Brown Eyes, Chains, Deep Throat, Ebony Bondage, Ebony Kink, Face Fucking, High Heels, Hitachi, Leather cuffs, Long Hair, Sloppy Blow Job On Black Cock, Stripper, Wrist Cuffs
Read More »
---
---
Sexy Nikki Darling squirts her brains out on a fucking machine and brutally facefucked by 2 cocks!
All natural ebony beauty shackled to fucking machine and throat trained by two hard cocks
Lean and sexy Nikki Darling has a dancer's body and a raging appetite for the cock. She might be a petite little thing, but her deepthroat skills are top notch and put the top porn stars of today to shame.. She can make a dick disappear like a magician with a rabbit and her hungry throat is never satisfied. This are exactly the qualities we like in a slut.
Not only is Nikki a deepthroat champ, she is a squirting queen. Today we are going to drain this squirt queen dry while simultaneously throat training her. Shackled down onto a fucking machine, Nikki's long lean legs are spread open wide for the pounding she is about to receive. And a punning is what she gets. She is so eager and ready to go, she starts cumming almost immediately when the machine is flipped on. Jets of squirt shoot out with every thrust of the fucking machine as she screams like a banshee in heat. Her oiled muscles strain in her strict bondage as waves of orgasms wash over her.
We don't want to waste that wide open mouth hole and step up to make full use of it. Can Nikki cum with a dick in her throat? Let's find out! For science. One after another the cocks own her face. All 10 inches of BBC disappear as she does brutal drooling deepthroat. We run a train on her throat as this lean dancer dissolves into a puddle of drool and cum, her eyes rolling into the back of her head.
By the time we have had our fill, Nikki is a spent and twitching puddle of flesh. The only thing holding her up is her bondage. She is limp in her shackles, surrounded by a huge puddle of her own cum and unable to even lift up her head. It is a good look on her. Always a pleasure dear, we will most definitely have you back again.
Tags: Alt Model, Big Dick, Black Cock, Blow job, Breath Play, Brown Eyes, Cock Sucking, Deep Throat, Dildo, Drool, Ebony Bondage, Face Fucking, Leather cuffs, Muscles, Natural Breast, Sloppy Blow Job On Black Cock, Squirt
Read More »
---
---
---
---
---
---
---