---
Olive Glass is in need of a place to relieve herself and she will accept pretty well anything at this point. She is running from door to door frantically trying to find a kind person to let her in to use their bathroom when she gives up and decides to pee next to a random house.
Turns out Olive chose the wrong house to relieve herself by. When O.T. comes by and sees her crouched down and pissing he is in no way happy with what he finds. In fact, he is so angry that he grabs her by her hair and drags her inside. As far as he is concerned, it is time for this girl to pay for her indecency.
He ties her up to a pole by her neck, despite her protest. He torments her, wrapping her in rope, stuffing her own panties into her mouth, and bending her over. He uses a cattle prod, shocking her over her skin. He spanks her. He flogs her. He tugs at bits of her with a crotch rope and nipple clamps and makes her suffer for the wrong she has done.
Read More »
---
---
Torment for Tiny Tramp with Tremendous Tits
Alyssa Lynn has one of the craziest pairs of tits anyone on our staff or elsewhere has ever seen. They stick out a solid nine inches from her tiny little rib cage and it's honestly a miracle her petite frame can hold them up at all. And Matt Williams is so excited to get his hands on them.
Alyssa's breasts may not be the focus of all of Matt's torment today, but they are absolutely the focal point of their time together, and Matt would like to make that very clear. After getting her undressed, one of the first thing he does to Alyssa is tie her tits off in a rope harness so that they look even rounder and bigger than they usually would.
He ties her ankles and spreads her legs so that her pussy is exposed. Then he drills a pole into the ground, a dildo and a hitachi taped to the end of it. Matt sticks the tip of the dildo inside her and pushes the hitachi up against her clit. Since she's strapped down there's nothing she can do to move away from the sensation as he begins to flog her tits and covers her face with a plastic bag so she can't breathe.
Read More »
---
---
Choking Hazard
Sasha is so excited she can't hardly speak, or perhaps that has something to do with the cloth gag taped into her gaping mouth. In fact, with her wrists tied down to her waist and her knees and ankles roped tightly together, the best she can possibly to to communicate is wriggle a little bit. Not to worry though, O.T. doesn't need her to tell him what to do, he's got plans of his own and he's sure that Sasha is going to love them, or at least feel strongly in some direction.
He takes her hair and wraps it up in string, pulling it tight behind her into a loop. He then strings a rope through that loop and and wraps the other end of that rope around her black high heeled shoes so that her head is pulled back into a kind of hog tie. Then he pulls her elbows together behind her back. She seems to still be able to make some noises, though, so O.T. tries a few ways to stop her. He pinches her nose for a little while, then gets bored and tries choking her. In the end he decides he'd rather play with other parts of her than keep up with that.
O.T. stands Sasha up and ties her wrists to the ceiling. He then takes out his handy dandy knife and slices the shirt away from her perky tits so that they are exposed and she is left even more vulnerable to him, not that she thought that was possible. He whips her breasts until there are red lines up and down her chest, and then he gets ready for her next torment.
Read More »
---
---
Lorelei Lee is having a relaxing day at home. She's cleaned some, cooked some, and has just eaten when she decides it's time to take a long luxurious bath with her new bath bomb. She fills up the tub with nice hot water, climbs in and drops the bomb. As all the water turns color, however, she starts to cough, and then to lose consciousness. As her vision fades, she sees a man with a hazmat suit walk in, and before she goes out, he grabs her.
Lorelei wakes up shackled to a hospital bed by her wrists and ankles. She tries to scream but there is a cloth jammed into her mouth, held there with tape. The gag girl really starts freaking out when the man in the hazmat suit comes back. He introduces himself as Doctor O.T. and says he is there to get a few samples. She wriggles and writhes as he takes blood, and then swabs the inside of her pussy.
Next she finds herself in a medical examination chair, her feet stuck in stirrups and her legs spread. Doctor London River comes in and sticks a metal plug in her ass, and then starts vibrating her pussy with a hitachi. Some of his methods seem questionable at best, bordering on downright absurd, but the good doctors are stuck in their ways. They absolutely need to make sure this girl isn't sick, and if she is they have to help her get better. The only way to do this, of course, is through electroshock therapy.
Read More »
---
---
Lauren Phillips is having a good time hanging out and chatting with her old friend London River about their weekends. Lauren is looking for a place to get her hair done, and London tells her she knows just the guy. This is how Lauren Phillips unwittingly walks into the parlor of O.T.. She sits down in his chair, asks for a trim, and before you can say "just a little off the end," there is a needle in her neck and she is out cold.
When she wakes up, Lauren has her wrists tied to the floor with rope, and her mouth is stuffed full with a ball gag so that her screams are muffled and drool drips from her mouth. She struggles feebly to escape, but then O.T. comes in to keep her company. He cuts her tight jeggings away with his knife so that her little white panties and her nice, round ass are exposed. He spanks it and punches it. He slaps her face and gropes her tits through her shirt, and all the while she groans and drools, defenseless.
Then O.T. has Lauren tied up, standing, with her hands pulled high above her head making her tits look even fuller and perkier than they usually do. Her friend, London, comes in to feel her breasts, since that's all she's wanted to do since they started hanging out, then leaves her to O.T. again. He binds her breasts tighter, and runs his hands all over her body and even inside her as he kisses her face through her tape gag. Then he takes out a single tailed whip and really makes her wriggle and scream.
Read More »
---
---
Run Ragged Wrapped in Rope
London River has claimed yet another sexy young victim. Bella Rossi was enticed and snared in by London's mischievous look and her tight body, but there is no way she could have understood the extent of what she was getting herself into. Now she finds herself stood up with her wrists and ankles bound in rope so that they are held spread apart, with London baring down on her with a pair of fabric sheers and that same look she had found so intriguing a little while ago. And once her skirt is cut away, it's time for London to have her fun.
She takes a piece of the skirt she just cut off of Bella, balls it up and stuffs it in Bella's mouth so that her shrieks are muffled, then tapes it there so there's no chance of it coming out. She takes out a whip, the sight of which alone is enough to make Bella jump back in fear, and starts lashing up and down her body. With each lash, Bella pulls away a bit, so London decides she needs to make that a little more difficult. She takes one of Bella's legs and strings it up to the ceiling so that she now has to struggle to balance and can't pull away so much. Then she cuts away the rest of her clothing and takes to the newly exposed skin with a flogger and a BBQ skewer.
London lays Bella down on her back and ties her down to a table, her ankles tied so that her legs are spread and raised up by her chest. For a little while she sits there spanking her, but after a moment it's time to give the girl what she was looking for. London leaves and comes back wearing a strap on dildo. She touches Bella's pussy gently with her hand at first, before sticking the thing inside her and fucking her hard. But London knows that isn't enough, and she wants Bella to have a good time, so she takes out a hitachi vibrator and puts it right on her clit. Now Bella is crying out with pleasure, cumming hard like she wanted from the beginning.
Read More »
---
---
Hot MILF is bound helpless to 'X' frame and fucked by a massive cock until she cums over and over'
ANV and Xbiz nominated MILF of the year is back at Sexually Broken, India Summers loves and is amazing at her job, we are lucky to work with such a talent.
Bound to a custom made 'X' frame, India has her amazing ass sticking out begging for cock. We put the Insex mask on poor India, gagging and blindfolding her at the same time, then we add one more bag for fun. It doesn't take long for our Purple Heart recipient SGT Doe to fuck the first orgasm out of our helpless MILF slave. The SGT sets up behind and just plows his massive dick in and out of our moaning cumming helpless slut. Orgasm after orgasm is fucked out of India, in the end India is left shaking, and dripping.
Enjoy you long holiday weekend!
Read More »
---
---
Sexy Sub Shows off Merchandise
Today's installment of Real Time Bondage is a little bit special. Typically we would show you the things we like to do to our models, but right now we want to help you figure out how you might want to play with a sub of your own. That's why today's show is just us showing off our favorite gags and telling you all about the goods and bads of each of them, so it's easier for you to find what you're looking for in a gag.
Our sexy model, Violet Monroe, spends the entire time tied up in a chair with no clothes on, showing off her smoking body as much as the gags our handlers are having her try on. Matt Williams and O.T. give her piece after piece to show off, including a wide array of ball gags, a leather gag, and even some made of metal. Each of our handlers tells the audience their favorite choice and why they picked it. The crown jewel of the show is a gag that fits inside the mouth with no strap, made special for our purposes at Insex On Demand.
Read More »
---
---
Hot Asian is bound, hooded, gagged, blindfolded, brutally fucked and licked, made to cum!
We have Milcah Halili bound and helpless on the only Bondage and rough sex site on the net. We don't hit our models (unless they beg), we fuck em!
Completely bound and helpless, our hot tiny Asian girl is hooded, gagged, and blindfolded, while stuck in a "fuck me" position. Matt and Dee bring the cock. Over and over they make Milcah cum. One cock after an another, non stop brutal pounding. Milcah can only scream into her gag as she is made to orgasm over and over without any hope of reprise.
From cocks to tongues, to vibrators, Milcah is powerless to stop any of those from ripping orgasms out of her exhausted body.
We update 3 times a week, with a different girl and unique custom bondage predicament! We have a live show each month so you can see how we really destroy these girls in real time. Often copied, but never duplicated, Sexually Broken is the only Premium hardcore bondage site on the net!
Read More »
---
---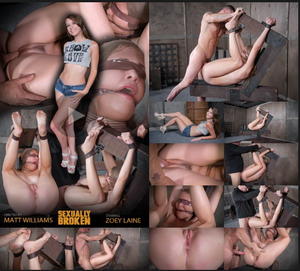 Zoey Laine is such an amazingly hot orgasmic little thing that we just had to have her back. She is put in an extreme position and rendered unable to see and is fucked so brutally that we worry our own furniture might break with the force. It isn't too much for Miss Laine though. In fact it's just right.
She doesn't need to see who's fucking her to cum over and over as Matt and Miles take turns with her. She cums and is made to squirt, but there is no wearing this lady out. She might be cum drunk but she is always ready for more.
Read More »
---
---
There is a long-standing question in the bondage community: how much abuse can a pussy take and still be able to cum when the time arises. O.T. is on a crusade to find out, but he's been hard pressed to find a girl willing to take part in his little experiments. He has chosen Violet Monroe to be his subject even though she's not a completely willing participant. That's fine as far as he's concerned. If she struggles a little that will only add to his tests.
Violet is being moved between different positions to allow O.T. to access her pussy with his different tools. First the flogger comes out, its tails sending pain up through her whole body making her shake and try to pull away. She continues struggling as she is laid back over a box with her arms and legs tied spread eagle, but the ropes are too strong for her and she has no success. Instead she gets a series of whip lashes straight to her crotch. She tries to scream from the stinging pain, but the sounds are muffled by the ball gag stuffed in her mouth.
Violet drools around the gag as O.T. moves on to the final phase of his experiment. He takes out the hitachi and presses it hard against her pussy and Violet starts arching up against it as much as her ties will allow. Then, when that doesn't do it for her, O.T. takes out the celebrator for a more centralized vibration directly on her clit. That's when she really starts bucking.
Read More »
---
---
Ruby Red is just relaxing in the comfort of her own home when she hears a noise from downstairs and goes to check it out. When she gets to her living room she finds a woman dressed in black trying to steal her things. She makes a break for the door to get help but the burglar is too fast and chokes her unconscious before she can reach the outside. When Ruby wakes up she is gagged with tape and her own panties and hogtied on her floor, but the woman is gone so she is safe. Or so she thinks.
While walking down the street, O.T. hears a commotion from inside the house and goes to check up on it. When he finds Ruby tied up on the ground he at first decides to help her out, but then his urges take over and he decides he deserves a little reward for being a good Samaritan. He takes advantage of the position she is in and starts paddling her feet with a rubber spatula and kissing her neck and face. He will help her out of her bondage soon, but for now he is going to have some fun.
O.T. moves her to the kitchen and ties Ruby up on the counter where he has better access to her pussy. Then he fingers her and vibrates her clit with the celebrator. Who could blame him? He just can't control himself. And after a few minutes of being finger fucked, vibrated, and choked by O.T.'s neck rope, neither can Ruby. He has her mind and body fighting against each other, her mind saying no, but her body screaming yes. She starts squirting all over her nice marble counter. Once O.T. is satisfied with how he's used Ruby, he abandons his original plan and leaves her tied up in the kitchen for the burglar to come back and finish the job.
Read More »
---
---
Mandy Muse came looking to get some glamour shots for her boyfriend, but O.T. wants to see her in a different kind of shoot. He's got a theme in mind, "Bondage and Discipline" and Mandy is naive enough to go along with it, without even negotiating her limits. She's scared, sure, but who wouldn't be, because in a matter of minutes she's completely tied up on the couch and he's making a video that she hopes her boyfriend never sees.
She's never been into pain before, at least not like this. O.T.'s got her on the couch, legs spread wide, and he paints a bulls-eye on her pretty, shaved pussy with her own lipstick. That's where the whip is going to land, replacing the bright pink with a deep, wounded red. Her whole body will get the same treatment; tits, back, ass, all of it covered in thin welts from the intense single tail action.
Mandy should hate this, but she can't control how her body reacts. Her wet pussy is ready to explode with anticipation. He puts a vibrator up to her clit and she can't control herself. He's calling her awful names and it just makes it worse. The orgasms come, she can't stop them, and she knows that she can't let anyone else see this tape.
---
---
---
---
---
---
---