---
Melissa Moore is a craven whore that can't get enough sex and pain, but her drive to be a good girl throws her salacious nature into conflict as she struggles to maintain good behavior and hold her orgasms. Kira Noir is a complete bondage angel and good girl, getting railed with a huge cock in her ass she she writhes in a tight suspension.
Read More »
---
---
It's a battle of the blonds as a scam artist faces off against a sadistic housewife resulting in brutal sybian, squirting, bondage, anal, humiliation, & pussy clamps. Cadence Lux is a hot little whore running a her last job, but picks the wrong rich and sadistic psycho's to pull one over on. Before she arrives from the third party designer app agency, Tommy and his hot and bothered wife Mona are playing power games. Instigating her sadistic husband's wrath is a time honored tradition, so Mona coyly throws her collar on the floor leaving herself open to Tommy's discipline.
Read More »
---
---
Kel Bowie is the quintessential Girl Next Door. Take a good look at the cute girls that live near you, chances are they are in porn, enjoying their secret life.
Kel get the entire SB experience. Bound to a Sybian, brutally deepthroated and face fucked into subspace. She is bound in a strict strappado, and made to cum over and over while hard cock fill her throat past the ability to even breath. She is completely helpless and used as a proper cock sheath, over and over we deepthroat her until she is a drooling spaced out slut. In the end she takes one of the most brutal fucking we have ever done on the site. Kel is completely wrecked and smiling.
Read More »
---
---
Bound onto a sybian we start by fucking our helpless sluts throat while the most powerful vibrator in the world makes her cum over and over. Then we put her upside down and mummify her to a bench so we can fuck her face into subspace. While getting throat blasted we step in and fuck her ready wet pussy to yet more orgasms. In the end we put her perfect ass up in the year and fuck her tight pussy to several screaming orgasms!
This girl love the big cocks and now she love the bondage as well!
Read More »
---
---
Syren De Mer is back on the pages of Sexually Broken, In our opinion this is your MILF of the year. Syren does all the pretty vanilla porn, and can also do the Hardcore bondage sex porn. Those two almost never mix.
Today Syren is fully tested. She is complety sexaully destroyed, bound down on the worlds most powerful vibrater and cumming about every minute with each one more and more destructive. Now add the catastrophic face fucking in, and it doesn't take long to send a girl into deep deep subspace. The lights are on but she's not home. That perfectly describes this scene. We blast Syren into subspace early and keep her there. It is hard to use words that really describe the intensity of this scene. So really, check out the free trailer, and then we will see you inside.
You do not want to miss this one!
Read More »
---
---
exclusive interview name dropping a paper, while she is actually just horny blogger with too many questions. Nikki and Xander are more than happy to give her an in depth answer, tricking this little humiliation slut into bondage, tearing off her glasses, and having her cum against her will pressed against a sybian while being degraded and made to watch Nikki anally pounded. Having her mouth stuffed with cock fresh from Nikki's ass is her first story of the day. To follow: corporal, strict caning, anal orgasms, Lauren's first rope suspension ever, begging, and flogging. The last scene has Lauren in an extreme pretzel tie shaking with a new story: that she is a complete anal slut that can't stop cumming when humiliated.
Read More »
---
---
Riley Reyes has been too up tight lately, stressed and tense. Matt Williams is here to get rid of some of that tension for her through whatever means he deems necessary. To start her treatment, Matt has Riley down on her knees, tied up to wooden posts by rope around her arms, shoulders, thighs, and neck. He fits her quickly with a black ball gag and removes any fabric protecting any part of her body from his torment.
Matt flogs Riley, working her over with the many leather tails turning her chest and her ass red. He clips some clamps onto her nipples and hangs weights on them, tugging her tits down, stinging them and drawing some of her attention away from her pussy where Matt is giving his attention. He presses a hitachi hard against her clit and vibrates it as she moans and sighs. Still, it doesn't seem quite enough. He's going to have to turn his treatment up a notch.
The clamps on her breasts are removed and replaced by a rope harness, squeezing them tight. The hitachi, in turn, is replaced by a sybian, the most powerful vibrator we have in our dungeon. Riley is sat down on the sybian and vibrated to the point of madness as Matt flogs her ass and tits. After this many orgasms, she should have no choice but to relax.
Read More »
---
---
Hot Redhead Amarna Miller is back, and suffers a brutal facefucking, while cumming and cumming on a sybian. Add in a nice leather neck collar and, Magic.
Neck bound and sitting on the world's most powerful vibrator, it doesn't take long for Amarna to be overwhelmed with cock. Over and over we fuck Armarna's tight throat.
The lack of air makes her dazed, as orgasm after orgasm is ripped from her Cum Drunk body. In the end Amarna is just another cum drunk slut dazed out of mind, wondering what the hell just happened.
Read More »
---
---
Two Girls bound, and cumming on a sybian while getting face fucked into oblivian! Screaming O's!
Today we have both Dee Williams and Bonnie Day. Both bound and helpless on the world's most powerful vibrator the Sybian. Both about to get their throats fucked while dealing with orgasm after orgasms being ripped from their bodies.
Bound to each other back to back, both girls are completely helpless on the world's most power vibrator, the Sybian. Non-stop face fucking and orgasms are in store for our two slutty bitches. Breathplay at its best, as both girls have their throats stuffed with cock while cumming over and over. It and intense and incredible scene, you have not seen anywhere before. Back and forth they cum and cum, while the boy destroys their cute faces with cock. Bondage, orgams and brutal deepthroat face fuckings, we specialize in this!
Read More »
---
---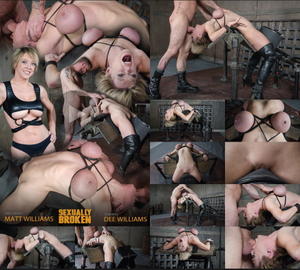 Dee Williams is back on Sexually Broken for a reason, No, it's not because she is my wife, it is because she simply puts most LA girls to shame.
Dee is brutally bound in a category five sex position, is completely stuck on the world's most powerful vibrator, the Sybian. She then is put through one of the most extreme Face Fucking scenes, all the while cumming almost non-stop while deep throated. Most LA models can only do one of those things at the same time. Dee is in the top 1%.
If you enjoy watching Bound girls getting completly sexaully destroyed with out any hitting or pain, then you my friend have found the motherload!
Read More »
---
---
Sexy Bimbo is bound, made to cum on a Sybian while being throat fucked to the extreme!
We have Kenzie Tayor and her tan, big titted blond bimbo body. Bimbos love cock, love sex and love cumming. We love Bimbos.
Bound on the worlds most powerful vibrator, Kenzie finds she can't stop cumming, she also can stop the boys of Sexually Broken from brutally fucking her hot throat. Over and over we jam hard cock down Kenzie's wet mouth, and over and over again she cums. Drool, spit, its all running down her huge tits. There is nothing better then a cummed out, spit covered, dazed slut, with that "what just happened" look in her eyes. Nothing!
Read More »
---
---
All Natural California Girl Squirts Everywhere!
Cadence Lux is fucking hawt. All natural, curves in the right places, gorgeous smile…and the hungriest pussy that has graced the set of Fucking Machines in a LONG time. No matter what position we put her in she just kept squirting juicy orgasms all over us. And, if all that isn't enough, in the last scene she took her very first ride on a sybian. Get out your raincoats and enjoy this instant classic!!
Read More »
---
---
Anal Slaves Serve Kinky Costume Ball
Ravenous Anal Slut Slaves are turned out and rode hard at the annual Kinky Halloween Ball. Sadie Santana and Amara Romani are perfect material for trainee submissive: eager to please, explosive orgasms, and perfect toned bodies. Their senior slaves are both well seasoned service whores, but neither have unlocked their anal capabilities, leaving the House with the question of how one teaches something they do not yet do themselves? Luckily the language of raw sexual desire and complete sexual submission is understood by all, and Kasey and Ember have their trainees trembling with well earned anal orgasms soon into the evening. Other moments to look forward to are Sadie Santana being introduced to the concept of orgasm control and The Sybian at the same time, Kasey Warner's tiny ballerina body rammed with hard cock under the cane, Ember Stone resuming her lesbian devotion to a cruel Aiden Star holding a strict crop, and sweating screaming begging Amara Romani being fucked in the ass in tight bondage doing anything she can to hold her orgasms back. Meanwhile, the crowd is spectacular tonight, riding the fucking machines, suspended and single tailed in tight shibari, shocked into orgasm with strange machines, submissive blowjobs, and plenty of swingers fucking on every available surface. Please enjoy.
Read More »
---
---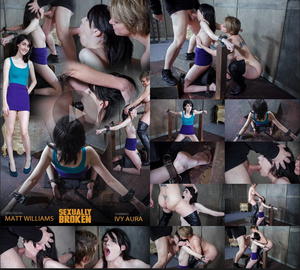 Ivory skinned Ivy Aura enjoys tag team attention from couple!
Ivy Aura said she loved bondage so we couldn't wait to get our hands (and restraints) on this pale, slender little hottie. She is belted down on the Sybian and vibrated to orgasm. Matt and Dee take turns working her throat open with cock as she writhes and wales with pleasure.
Ivy has such a pretty, tight little body that Dee can't help but reveal it and grope her as her face continues to be used as a fuck hole. Ivy is overwhelmed by continued orgasms.
Read More »
---
---
---
---
---
---
---
---