---
Format: WMV
Duration: 56 Minutes
Size: 708 Mb
Resolution: 1280×720
Petite blonde makes a scandalous videotape with 5 of her father's secret service men disguised in presidents masks that would ruin his poilitical career if ever leaked to the press. She is seen loving every minute of being manhandled, dp'ed, and brutally fucked by her father's thugs and talking to her daddy through the lens of the camera about how much she wants their giant cocks in every hole!
Read More »
---
---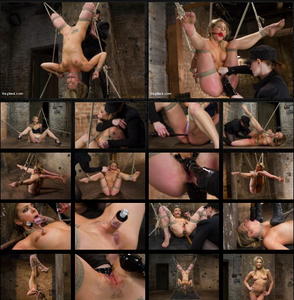 Format: WMV
Duration: 55 Minutes
Size: 693 Mb
Resolution: 1280×720
Welcome Bailey to round one. This hot princess gets introduced to the pain and pleasure of intense rope bondage, relentless orgasms, and pain games. In scene one, she is bound in an asymmetrical bondage arrangement and tormented with the tazapper, tickle torment, and flogging. She is then transitioned onto her side, so we can get better access to her cunt to take advantage of this wanton slut. Second, she is bound in a face up pile driver suspension. Her feet are mercilessly caned, now that we know how sensitive they are. Clamps are added and tightly grab the flesh of her labia, and clover clamps to her nipples. When in the air, her asshole is repeatedly violated by Claire's fingers and a thick black dick. Finally, she is bound in what looks like a comfortable position, but clearly not for long. Suction tubes suck in her nipples and clit, making them swell to a nice cherry red. Her tongue is clamped too and then, she is made to suck cock like a good whore. Since her cunt is busy being partially sucked in by the clit/labia tube, our self proclaimed ass slut is pounded in the ass. Now, comes the hard part. Bitch is hoisted upside down by her knees. Dangling in the air, she is fisted into multiple explosive orgasms. She writhes in pleasure and pain, not sure what to do other than cum and cum and cum. We'll see you again, bitch.
Read More »
---
---
Format: MP4
Duration: 45:14 Min Video
Size: 2548 Mb
Resolution: 1280×720
Tracy Sweet is a beautiful blonde looking for a good time. Her bondage adventure begins with a simple hog-tie and evolves into an intense predicament scenario.
The clamps on her nipples will conduct an electric charge and the controller box is very special. Instead of providing a steady shock the box is designed to go off if it detects any sounds louder than a whisper. The controller box and decibel sensor is placed next to her face.
She tries in vain to stifle her screams and moans of pleasure but the vibrator relentlessly buzzing on her clit makes the task impossible. The more orgasms she has the more shocks she gets.
Read More »
---
---
Format: WMV
Duration: 41 Min
Size: 531 Mb
Resolution: 1280×720
Compared to Amy, none of us even have an asshole let alone the ability to get fucked in it. She is an anal goddess and no matter if she is fucking the machines solo or with another girl, she is pure entertainment. There are times you may even stop jerking it just to lean in closer to your monitor in pure anal awe.
We can't do much but keep up and it's a damn good thing we have electricity and custom tools on our side because Amy demanding to squirt and get fucked at top speeds no matter what is happening to her holes. Double Anal, double vag, double pen, huge dicks, the vibrator in her ass hole, her fist in her ass while a machine rams her pussy. It's an Amy Carnival.
Read More »
---
---
Format: WMV
Duration: 7 minutes, 43 seconds
Size: 227 Mb
Resolution: 1280×720
Read More »
---
---
Format: WMV
Duration: 00:04:55
Size: 93.06 MB
Resolution: 1280×720
Mistress Kiki orders her slave girl to remove her boots and socks to suck on her toes and worship her bare feet
Read More »
---
---
Format: WMV
Duration: 00:05:31
Size: 202 Mb
Resolution: 1280×720
Miss Heather has this pathetic loser lick away at her boots. She verbally humiliates the naked man as he desperately tries to please her only to have her dig her heels into its flesh.She of course giggles as it flinches
Read More »
---
---
Format: MP4
Duration: 4 minutes
Size: 128.9 MB
Resolution: 1280×720
Your place is in my bathroom, ready to do your duty for me & my girlfriends. Your wet tongue will be used as toilet paper for #1 & #2. You'll be used over & over…
Read More »
---
--- Format: WMV
Duration: 16:37 Min
Size: 253 Mb
Resolution: 1280×720
Mistress TTease is taking one of her slaves for some hardcore training in the Mansion grounds. He is put through his paces, exercising under her watchful eye and crop before being punished for failing. Dragged through the mud, ridden like the animal he is and finally put down the slave pit to contemplate his behaviour. Welcome to Bitch World!
Read More »
--- Format: WMV
Duration: 07:09 Min
Size: 87.56 MB
Resolution: 1280×720
The stableboy foolishly takes a nap while he should be cleaning Jessica and Nikki's leather boots and is startled when they rudely awake him upon returning from their horse ride. He is immediately reprimanded, his first task is to clean their dirty boots with his tongue before feeling the sharpness of their heels and spurs on his body. None of the sweat they have built up on the gallops is wast…
Read More »
---
---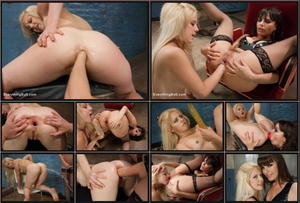 Format: WMV
Duration: 86 Minutes
Size: 1125 Mb
Resolution: 1280×720
Sexy girls with amazing anal skills, Holly Hanna and Dana DeArmond explore this fetish thoroughly.
Read More »
---
Format: WMV
Duration: 00:28:20
Size: 360.93 MB
Resolution: 1280×720
Beautiful Bailey Blue showed up for some hot lesbian BDSM sex with Goddess Aiden Starr. Bailey loves to get fucked. She loves to be tied up. She loves her boundaries pushed. And she loves Loves LOVES electricity. Who could ask for more? Bailey is put in a simple spread open tie with her pink juicy pussy exposed for penetration. Starting out with the violet wand, Bailey's body is filled with static electricity. Goddess Aiden uses this charge to give Bailey some sharp zaps with her tongue while licking her exposed cunt. After several orgasms, the action moves onto an electro-strap-on. Bailey cums uncontrollably from the electrosex sensations.
Read More »
---
---
Format: WMV
Duration: 57 Minutes
Size: 714 Mb
Resolution: 1280×720
Jessie Volt cums so hard she drools on herself, cries, begs for more, SCREAMS in both English and French, and then settles back in for more ass fucking or pussy fucking or Sybian riding.
To keep track of her orgasm party, we make Jessie mark the wall every time she cums, sometimes while she's cumming because it helps her focus and well, because it's fun to watch her struggle for enough bodily control to run a tiny piece of chalk in a line down the wall.
She's doesn't leave until her pussy and ass and CLIT are humming with the memory of a good, deep fuck and the machines lay in wait for the return of this amazing French mama.
Read More »
---
---
---
---
---
---
---
---