---
All natural, redhead Lauren Phillips has a business that helps troubled college students get back on track. Thinking she is going to the home of rich father to help his struggling son, Lauren gets lured into the secret underground lair of a devious band of clowns looking to gang bang an unsuspecting woman. She is nervous when she arrives at the address given to her, but she is desperate for money and decides to risk going into an old derelict building near the train tracks on the wrong side of town. She is quickly overrun by a gang of cackling madmen, frothing with raw sexual desire and hungry for her sweet pussy and tight asshole.
Read More »
---
---
Pleiadeans are among us and the want to infiltrate us by temping us with amazing anal skills. Lorelei Lee trains Lauren Philips butthole to be the most tempting butthole human kind has ever seen. Her round ass is opened up nice and wide with giant gapes. Lauren pushes herself beyond what she thought she could. Her Tushy is spanked until it's nice and red. She takes multiple toys in her ass to show how far she can gape before her asshole is fingered by the alien hands of Lorelei Lee. Lauren also sucks on the gape of the blond beautiful alien while a giant clear toy is popped in and out of Lorelei's ass.
Read More »
---
---
A Warm Gun
Sexy slut Lauren Phillips is back with her huge tits and juicy ass. She is on a mission to get a specialty item for her client and she will do anything to get it. Meet Derrick Pierce, a bad ass muscular gun runner who has just the items she needs. When Lauren comes to him flaunting her hot curvaceous body Derrick takes what he wants in exchange for the gun. He puts her down on her knees, ties her up and makes her suck his cock. Lauren's big brown innocent eyes stare up at him as he chokes her with a relentless deep throat blow job. But this whore is not so innocent after all. She makes off with the guns and the money leaving Derrick in the dust ticked off and bound to get revenge. With rope bondage, deep sloppy blow jobs, vibed out ass pounding, pussy fucking, flogging and squealing orgasms! Watch Derrick pull out the big guns to get back what's his as he shoots his load all over this thievin' bitch!
Read More »
---
---
exclusive interview name dropping a paper, while she is actually just horny blogger with too many questions. Nikki and Xander are more than happy to give her an in depth answer, tricking this little humiliation slut into bondage, tearing off her glasses, and having her cum against her will pressed against a sybian while being degraded and made to watch Nikki anally pounded. Having her mouth stuffed with cock fresh from Nikki's ass is her first story of the day. To follow: corporal, strict caning, anal orgasms, Lauren's first rope suspension ever, begging, and flogging. The last scene has Lauren in an extreme pretzel tie shaking with a new story: that she is a complete anal slut that can't stop cumming when humiliated.
Read More »
---
---
Anal Insanity
When sexy intern Lauren Phillips succumbs to the tormented cries of bound and sexually insane patient Ramon Nomar he escapes his bondage and goes crazy insane on her ass! This update includes huge tits, tight bondage, flogging, cunt fucking, deep orgasms and lots of anal sex. Watch Lauren with her big tits get fucked into Anal Insanity!
Read More »
---
---
Step-Sisters Gape for Inheritance
Barbary Rose and Lauren Philips are redhead step-sisters who must satisfy their devious and perverted step-mother Mona Wales in order to claim their inheritance. Mona spanks these two naughty brats and makes them share a butt plug and lick each other's gaping assholes. Barbary gets anally fisted and fucked while Lauren rides her face to orgasm. Lauren gets anally fucked and made to gape while Barbary watches and licks her asshole. Finally, Mona anally strap-on fucks both her gaping step-daughters to multiple orgasms while they pleasure each other using strap on cocks that have been molded from their fathers' cocks
Read More »
---
---
Bella Rossi Breaks in Redhead Lesbian Anal Slave
Mistress Bella Rossi has redhead bombshell Lauren Phillips bound and at her mercy. Lauren begs for orgasm while submitting to flogging, spanking, and finger banging. Next, Lauren is bound with all her holes exposed for her Mistress's pleasure. Lauren worships Bella's stocking-clad and naked feet before servicing her Mistress with enthusiastic pussy licking and ass licking. As a reward for bringing her Mistress to orgasm, Lauren gets a vigorous dick-on-a-stick fucking and tons of orgasms. Finally, Lauren is strap-on fucked in her pussy and ass while she continues to come over and over.
Read More »
---
---
The Fantastic Fucking Folsom Orgy Pt. 2
Join the Upper Floor for the second half of a wild night of BDSM players and swingers filling our halls with orgasmic bondage, single tail play, shibari rope, homemade fucking machines, electrical domination, and good old fashioned sex piles. Our house slaves are tied down tightly for some training: Eliza is to learn to control her waves of orgasms while getting fucked with hard cock until she can remember her rules. Busty babe slave Lauren Phillips meanwhile has her perfect ass size trained with large shining metal toys and Syren De Mer's curious tongue. Both the trainee slaves do such a good job we throw Syren on her back to her anal reward, a hard fucking from John Strong, followed by Aiden Starr's fist and a delicious young slave pussy in her face. Meanwhile gorgeous first timer Quinn is restrained in beautiful belt bondage by Jesse and tormented under the whip and rewarded with dick to the delight of the party. As our trainees go through their final endurance test before earning their collars there is literally no surface not covered in people suffering, fucking, and cumming. Please enjoy. We did.
Read More »
---
---
Lauren Phillips is fresh off the bus in Tinsel Town. When she answers an ad for a role in Xander's latest movie, she finds herself cast in his personal twisted narrative of bondage, captivity and anal sex!
Big tit redhead beauty Lauren Phillips plays the perfect naive actress to Xander's creepy producer. The pair deliver a highly entertaining fuck-fest of hardcore sex, BDSM and fantasy role play!
Read More »
---
---
On Folsom weekend The Upper Floor hosted one of its largest parties. It was a massive gathering, featuring 2 slaves working for their collars (under the "guidance" of Aiden Starr and senior slave Syren de Mer), 4 featured guests immersed in their own scenes of domination and depravity, surrounded by nearly 200 guests and lifestyle players, fucking and flogging and cumming in an unparalleled orgy. In Part One of this massive party, slaves Lauren Phillips and Eliza Jane are fucked in bondage and partial suspensions while struggling to memorize the house rules. Nearby, Tifereth, Davey Faye, Jessie Sparkles and Quinn put on their own show, where Davey is bound to a post and pushed well beyond the point of delight, deep into torment. Finally, as Eliza gets her pussy fisted by Aiden, Lauren gets what she's been begging for the entire night… tied down with her ass up, and John Strong pounding her ass full of hard cock.
Read More »
---
---
Big tit juicy redhead Lauren Phillips learns a very important lesson from her slave trainer: She is His Whore, His Cunt and His Bitch. Lauren endures tight bondage, gags, whips and a giant cock in her ass for a hard anal fucking in this slave training update!
Read More »
---
---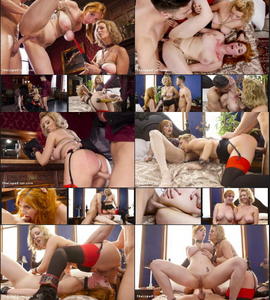 Lauren Phillips is a mean spirited big boobed rich bitch that humiliates & abuses her staff until news of her recent divorce comes through the pipeline and the tables turn violently in the house servants favor. The head slave and butler take control of the gorgeous woman and train her to be the anal whore she is meant to be, using rope bondage, electro wands, painful orgasms, humiliation, and canes to drive her lessons deep.
Read More »
---
---
When Lady Roxanne Rae catches her wealthy husband Derrick Pierce getting his dick sucked by the hot, big tit maid, Lauren Phillips, Roxanne can hardly voice her objections before Derrick puts both hot women to good use at the tip of his dick.
The two hot anal obsessed women are tied, gagged and fucked in all their beautiful holes by the swaggering, dominant Derrick Pierce. Derrick has no trouble putting the ravenous sluts in their place: in complete servitude to the Master of the house!
Steamy redhead Lauren Phillips has the most amazing, big creamy tits on the planet! When Pierce clamps her's and Roxanne's nipples together for some steamy two girl blow job action, all we hear are moans of pain, pleasure and submission. Fantastic ladies giving it up in spades!
When Pierce flips the two girls bottoms up and bangs them both in the ass and pussy, it is Ass to Mouth for days, and plenty of hot anal action.
Both ladies give it up to Derrick and get their slutty fantasies fulfilled at the same time. Enjoy this hot shoot of domestic submission with lot's of hot boy girl girl threesome action, BDSM, dominance and submission and rough anal action.
Read More »
---
---
A Strap-On Love Story!
Who would of though that these LOVE STORIES would take this turn! Sit back, relax and watch these gorgeous gals DOMINATE THAT ASS!
Read More »
---
---
Who would of though that these LOVE STORIES would take this turn! Sit back, relax and watch these gorgeous gals DOMINATE THAT ASS!
Read More »
---
---
---
---
---
---
---
---