---
Private Missy Martinez was taken by the resistance while on a routine scouting mission three months ago.
Read More »
---
---
Raven haired Gina Valentina and boyfriend Tommy Pistol are in love and are going away for the weekend but first they have to stop to give Tommy's ex-wife, Alana Cruise, her alimony. Gina has never met the bitch, i.e; ex-wife and is not happy about making the stop.
Read More »
---
---
Big ass Brunette Abella Danger models for tormented artist Ramon Nomar in this week's SAS update. When Abellas car breaks down out in hills of CA she has no cell phone reception to call a mechanic so she goes to a nearby house to use the phone. Ramon Nomar answers the door and is apprehensive to let a stranger in but Abella barges in anyway cuz she is desperate.
Read More »
---
---
Blonde pain slut Dresden is nervous as she enters the dungeon of the renowned Mona Wales. Luckily, Mona knows how to make shy slaves open up. First, Dresden strips for her Mistress. Once naked, it's time for Dresden to find liberation in bondage. Mona buckles Dresden in arm binders so her pet feels nice and helpless. Bound and unable to escape from her desires, Dresden admits she wants to be a good little ass eater! Now the real training begins! Dresden gets her tits cropped and her round ass spanked red. Dresden struggles and giggles as her feet are tickled and cropped. Dresden worships Mona's shiny black boots and legs. She works her way up to Mona's juicy pussy and is rewarded by her Mistress coming all over her slutty face
Read More »
---
---
Tommy Pistol anxiously sits in his leather chair, picks up the phone and orders two submissive sluts. Moments later a slight jingle of chains gets louder as James Mogul, holding two leashes, slowly approaches walking two hot submissive brunette sluts on all fours, Kimber Woods and Bobbi Dylan. Mogul has Bobbi and Kimber get on their knees in front of Tommy and commands them to rub each other's pussies. James give them both matching nipple clamps and flog them as they try to make the other cum. The two then are told to get back on their hands and knees and James grabs Kimber's head and burry's it in Bobbi's ass. Tommy claps his hands twice and the two come crawling over to his hard cock. Bobbi and Kimber work together worshiping Tommy's cock as James Mogul sticks a thumb up each of their pussies and smashes vibrators against their clits. The two scream muffled screams of ecstasy while they cum with ones mouth stuffed with cock and the other balls. Later we find Bobbi Dylan with her legs bound with rope spread eagle, her small natural breasts bound, suspended, swinging next to Kimber Woods in a predicament of very her own, suspended on her side by her tits and one foot. Tommy Pistol pounds Kimber's pussy and ass then moves over and fucks Bobbi's pussy while James flogs. After the two get fucked senseless in a double suspension, they're taken down and Bobbi gets placed on a trunk with her arms bound behind her back and one foot tied straight in the air. Kimber woods crawls on all fours to Bobbi's pussy and furiously licks while Tommy fucks Kimber's ass. Bobbi and Kimber switch places and Tommy presses Bobbi's face against Kimber's pussy giving him three holes to fuck.
Read More »
---
---
I had just enough chain to reach the end where it was attached to the floor, but it was locked to the ground. The thick metal collar around my neck was also locked. The rubber in my mouth was surrounded by a strap of metal that locked behind my head. I was trapped. As if I could have released the chain from the floor he came in and pulled it tighter so I could no longer reach the lock. When I had finally gotten comfortable he came in and pulled it even tighter.
The device he put me on next held me with my ass in the air. With my legs spread my sweet pussy was completely exposed. His tender caress and gentle kiss only made me more afraid of what he was going to do to me next. When the heavy paddle hit my ass for the first time I knew this was going to be worse than I had feared. My screams didn't slow him down. They only made him decide to finger my asshole before he shoved a thick metal hook inside.
His final contortion leaves my asshole completely open for a giant dildo and my ass exposed for a heavy caning. That's not enough for him though. He canes my feet till I'm near tears. Then he decides to try and get me to cum. It's not hard. Pumping the dildo a little and vibrating my clit is all it takes before I'm panting and shaking with orgasm.
Read More »
---
---
It's the end of an epic live show, there are few people reading this that can possibly understand what it is like to be fucked and deepthroated at this level of intensity for a straight 45 minutes. It's an achievement!
So, the finale is at hand. We pick up a dazed, sub-spaced Mona, bind her to a table so her head is off one side and her shaved wet pussy is off the other edge. Her legs are bound spread with chain and leather her hands trapped in custom leather cuffs.
The next 15 minutes is one of the best rough sex scenes we have shot to date, and remember we don't random slap and hit girls while yelling stupid shit out, just to hear our own voices. This is about Mona surviving a brutal deepthroat, face fucking, throat boarding, while being pussy pounding to several screaming squirting orgasms! This is the real deal, no breaks one continuous shot! Kudos to Mona, there are only a handful of girls that could handle what she just endured.
Read More »
---
---
Mona is 30 minutes into a no break brutal live Sexaully Broken show. It almost a non-stop brutal cock pounding and face fucking. Only a few girls can even handle one of our live shows, only 12 get invited in any given year. Only the best of the best make it to the most exclusive gig in porn today.
Bound in custom leather cuffs, we have Mona helpless in a backbending hogtied. It won't take very long for Mona to be face fucked, throated and cumming. With a vibrator we make her cum and squirt, all the time cock is stuck deep in her throat. It is hard enough to take a face fucking on a vanella set, but here at Sexaully Broken, they take the hard face fucking, the bondage, and the brutal orgasms all at the same time. It is an overload that most girls can even begin to handle, but Mona is one of the very best our industry has to offer!
Read More »
---
---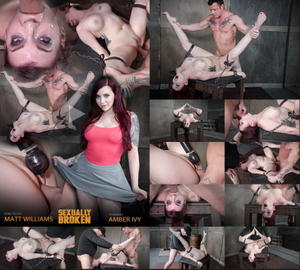 We have the beautiful Amber Ivy, bound hard, and fucked harder today on Sexaully Broken. This girl loves to be filled and the boys of Sexaully Broken know how to FILL a girl!
Upside down throat boarding, and brutal pussy fucking brings Amber to full on subspace. We have Amber completely at our mercy, she can't stop from cumming, and we can't stop fucking her amazing face! Screaming orgasms, subspace, brutal throat fucking and the best breath play on the planet. Another Wednesday here at Sexaully Broken.
Read More »
---
---
Time to instruct the rookie. Things are about to get rough chez Kommandant Ira. Not every one deserves to be at Her service and rookie riddler will have to prove blind obedience to his Owner. It won't be easy… Will She go too far? Would the rookie resist?
Featuring: Domina Ira Von Mesmer
Category: chains, training, boots, uniforms, exposed, spread, legs, smoking, mistress, soldier, restrictions, cage, army
Read More »
---
---
Slave abigail has been sitting a little too pretty lately…. getting a little too comfortable in her skin…expecting a little too much from her kind and lovingly sadistic Master. Master James decides it's time to teach her a little lesson in vanity and helpless submission mixed with a little bit of entertainment for His boredom. Bound tight in leather bondage and a hideous gimp hood created by her own slave hands, slave abigail lays on a rusty bed of springs salvaged from the wrecking yard. Immobilized by rusty ankle chains and a yoke like pair of heavy wooden stocks for her wrists and neck she waits for what lesson she may be learning from her Master today. Turns out she just needed to be broken… like the stubborn steed she is and continues to be. Reduced to a snotty blubbering mess she finds her place again at the feet of her Master. Be a witness to her humility… without you she will never learn.
Read More »
---
---
Eager Anal Cutie Returns to TUF to be Destroyed
Petite little trainee Emma Haize returns to The Upper Floor to earn her training collar after humiliating failure at her initiation some years back. Unfortunate for her our most prestigious and well trained slave Cherry Torn is on duty that day, already getting slammed with cock and part way through shining all the silver. Cherry is a perfect slave, and that means being a vicious dominating guide for the new slaves. She wastes no time stripping down Emma for an old school TUF training day: heavy chains, athletic torment, fucking machines, caged pussies in orgasm training, intense bondage, blow jobs with gags, electrical punishment, and plenty of corporal. This tiny little ballerina is screaming all day long trying take cock deep in her ass and keep her new mistress pleased.
Read More »
---
---
It is not simple by any means being Master to a fine tuned machine. I show you these displays not to boast of her "perfect submission… unquenchable masochism… hedonistic lust for the contrast between pain and sexual pleasure" but to give you a real life look into what I longed to see before I knew it first hand. Some days it comes easy, the knowlege of how to keep this slave challenged and teetering on the edge that she craves… but most days I spend in deep study of her mind…her silence… listening for that faint whisper of her screams.
slave abigail is haunted by her body's incessant need to challenge itself; against itself; for itself and for the purpose of gaining knowledge. knowledge of the limits of it's confines. She had braved multiple 40 day juice fasts long before she knew Me and all on her own because she simply craved a challenge. Her body does it on it's own now and without her approval sometimes. It's up to me to capture the rare momments in which I can push her just a bit further toward that edge. This is just the tiny snippet of what I could show you here of the challenges that I put her through after her 14th day without having a movement. This is where we are bound… where my Lion meets her goat and where my sadistic hunger is fed a lavish feast.
slave Life
the life of a sex slave
can be a lonely one
Neglect, over worked and mistreatment
are not to be confused with
kept in restraints
for extremely long periods of time
while being whipped and sodomized
BDSM is a choice
Read More »
---
---
---
---
---
---
---