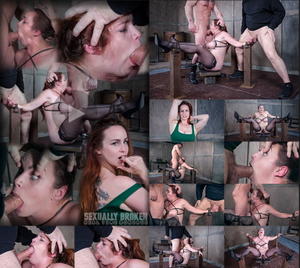 Big tited slut, has her tits bound and vibrater stuck on her clit. Face fucked to subspace!
Bella Rossi BaRS Part 1: Today we update with scene one of the March live show, the big titted and flexible Bella Rossi finds out fast, what helpless and subspace looks like while you're completely dick drunk!
Bound in a modified sitting strappado position, Bella has her huge tits tightly bound and a vibrater is locked onto her wet shaved pussy. She is completely helpless and about to get the face fucking of her life.
Orgasms after orgasms, that is Bella's new life, she can't stop the vibrator from making her cum, and she can't halt the brutal throat fucking the boy's of Sually Broken are giving her. Deepthroating, massive throat spit and a girl cumming uncontrollably! This is just the warm up and Bella is already broken, the next 3 scenes are going to be special!
Read More »